Jinger Duggar's Brothers Chaperone Her Date With Jeremy Vuolo In 'Counting On' Clip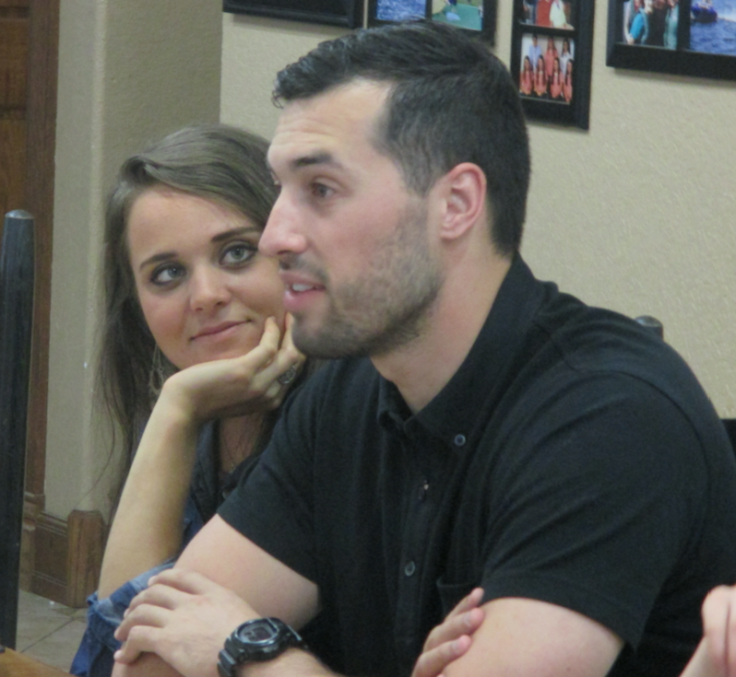 Jinger Duggar may not be following her family's courtship playbook as carefully as some of her siblings but that doesn't mean her dates are chaperone free. In a sneak peek of Tuesday's "Counting On," the sixth eldest Duggar brings two of her brothers and one sister along for a fun day out with boyfriend Jeremy Vuolo.
A sneak-peek video from episode 5 of "Counting On" Season 2, released to TLC viewers late Thursday, shows Jeremy, Jinger and her siblings Jeremiah, Jedidiah and Joy-Anna Duggar visiting a local amusement park. There, the group races Go-Karts (Jinger wins!) before engaging in a friendly bump boat competition. "We have to kinda watch and keep an eye on 'em," Jedidiah says.
At the bumper boats, Jinger decides to share a boat with Jeremy, saying it will give them a "teamwork" advantage. Jinger's brothers take notice and in response, spray the couple with water. "That was just like calling for an instant shower blessing," Jeremiah says. Jeremy took the soaking in stride, but Jinger was not pleased and decided to exit the ride early.
According to TLC's synopsis for episode 5, "A Big Surprise," Jeremy's date with Jinger will come after he surprises her with a trip to Arkansas. When Jinger isn't around, he'll even "browse for engagement rings" with her sister Jessa Seewald's husband Ben.
Jinger and Jeremy's courtship is a big storyline in Season 2 of "Counting On." Episode 4 saw Jinger and her parents, Jim Bob and Michelle Duggar, fly to Laredo, Texas, to meet Jeremy's parents and see where he lives and works as a pastor.
In "Meet the Parents,"Jim Bob made it clear he didn't want his daughter to move too quickly into marriage, telling Jeremy and his family Jinger isn't ready to "swap spit" just yet. In the end, the father of 19 agreed Jeremy was a good man for Jinger, but that he would need to pray about the timing of their relationship.
"Counting On" airs Tuesdays at 8 p.m. EDT on TLC.
© Copyright IBTimes 2023. All rights reserved.