Joe Biden Defends Obama's Iran Policy To Rabbis: 'We Were the Problem'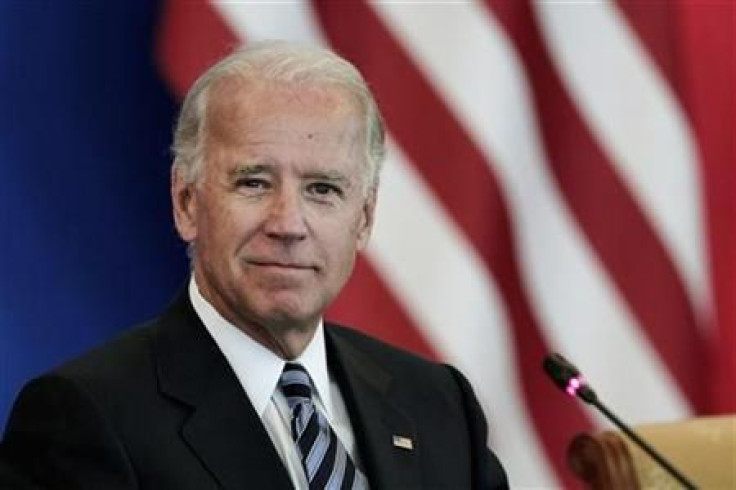 Vice President Joe Biden received a warm welcome from Conservative rabbis Tuesday as he sought to reassure American Jews about President Barack Obama's commitment to Israel and defend his diplomatic strategy with Iran.
In a speech during the Rabbinical Assembly's (Conservative/Masorti) three-day conference in Atlanta, Biden said Obama's diplomatic approach was in Israel -- and the world's -- best interest.
When we took office there was virtually no international pressure on Iran, Biden said. We were the problem. We were diplomatically isolated in the world, in the region, in Europe. The international pressure on Iran was stuck in neutral. ... Today it is starkly, starkly different.
Biden, an expert in foreign affairs and former chairman of the Senate Foreign Relations Committee, often acts as mouthpiece for Obama on international relations. He made another speech about Obama's policy overseas at New York University two weeks ago.
Echoing the tone of Obama's speech at the American Israel Pubkic Affairs Committee conference in March, Biden argued that the president wasn't going soft on Iran by going the extra diplomatic mile with serious sanctions and pressure.
The policy under Barack Obama is not one of containment. It is straightforward, Biden said, adding: We will prevent Iran from acquiring a nuclear weapon.
Obama has been under fire from Republicans for not taking a strong enough stance against Iran. Mitt Romney claimed last November that Iran will have a nuclear weapon if Obama gets reelected.
Biden outlined Obama's strategy by emphasizing that Israel and the United States' bond was unbreakable and cited collaboration on military projects like the Arrow anti-missile system. He called Israeli Defense Minister Ehud Barak a close friend and predicted that Iranian President Mahmoud Ahmadinejad would be gone in two years.
I'm proud of our record, Biden said. I don't think any president since Harry Truman has done more for Israel's physical security than Barack Obama.
Unlike in his NYU speech, Biden refrained from directly partisan attacks against Obama's presumed Republican presidential rival. The only time he criticized the GOP was a mention of Rep. Paul Ryan's budget plan, which he called contradictory to the social doctrine you teach and the social doctrine of my [Catholic] church leaders.
Biden was well received by the rabbis, who often clapped and at least once gave him a standing ovation. At the end of the speech, he was presented with a tzedakah (charity) box and thanked for his gracious and generous words.
Words offered from the heart can penetrate the heart as well, one of the rabbis said, quoting a Jewish proverb. Your sincerity is heartfelt and we feel it and we're most greatful.
Earlier in the speech, Biden called himself a Zionist because I later realized you don't have to be a Jew to be a Zionist. Showing the self-deprecating humor for which he is known, the vice president joked, No one's ever doubted that I mean what I say, it's a question a whether I say what I mean.
UPDATE: Mitt Romney's campaign criticized Biden for blaming America for its foreign policy issues. The statement from policy director Lanhee Chen, via the Weekly Standard: All too often, President Obama and his administration have sought to blame America first, yet Vice President Biden's reckless statement today blaming America for -- of all things -- the progress of Iran's nuclear weapons program, has reached a new low. The problem is not America. It is the ayatollahs who oppress their people, threaten their neighbors, and are pursuing nuclear weapons. President Obama's naïve approach to Iran has given the regime valuable time to get closer than ever before to a nuclear weapons capability. Vice President Biden's comments are wrong and completely inappropriate. Mitt Romney will stand up for America and our allies, and he will not apologize for America's leadership role in the world.
© Copyright IBTimes 2023. All rights reserved.