John McAfee, Eccentric Tech Exec With Links To Drugs, Guns And Murder Inquiries, To Run For US President: Exclusive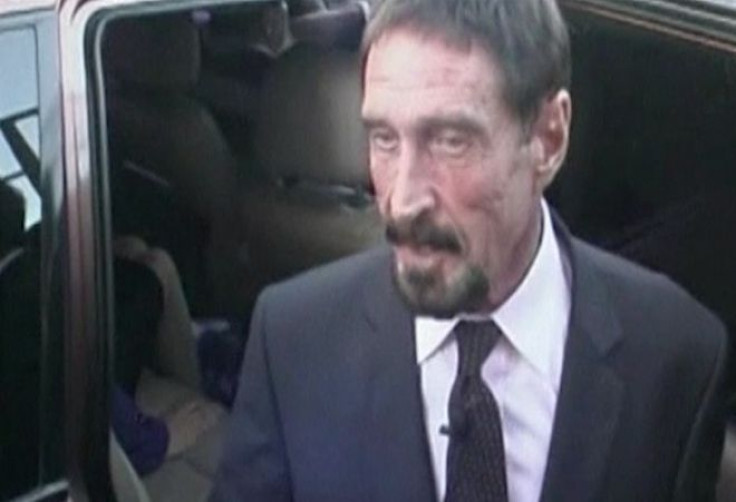 John McAfee is known for many things. He is the father of antivirus software. He was a multimillionaire who lost almost all of his $100 million fortune in the stock market crash of 2007. He was wanted for questioning by authorities in Belize over the murder of his neighbor. A former cocaine baron is writing his biography. And now the eccentric businessman is set to throw his hat into the ring for the 2016 U.S. presidential race.
While McAfee has not officially declared his intention to run, sources close to the campaign have told International Business Times that McAfee will publicly declare his intentions this week, with the source saying documents will be filed Wednesday, Sept. 9, in McAfee's bid to be the next president of the United States. He plans to make the announcement on Fox News.
A John McAfee - 2016 website has also been published with the homepage featuring a quote from George Washington --"Guard against impostures of pretended patriotism" -- on top of an image of McAfee superimposed on the American flag. The website has few details about the campaign except for information on how to vote in each state, and a page for donations which are accepted through PayPal.
The source said that to aid his campaign McAfee is creating the Cyber Party to address the fact that "national leaders have little or no understanding of the cyber science upon which national finance, military systems and every aspect of social systems from TVs to automobiles are based." McAfee has in the past charged those responsible for securing sensitive, personal information as being "incompetent," with the source saying McAfee feels that those in charge are "virtually illiterate in the science which runs every aspect of corporate and private lives."
McAfee will join the five declared Democrat candidates, 17 declared Republican candidates and numerous other independent candidates who have already announced their intention to run for the White House next year. Just this week, Harvard law professor Lawrence Lessig officially joined the ranks of the Democratic candidates when he successfully crowdfunded $1 million. Lessig is campaigning on the issue of campaign finance reform, having last year raised $10 million for a super PAC to fund those backing campaign finance reform -- though with little success.
While McAfee hasn't officially announced a run yet, he has hinted at it on social media:
McAfee has been a staunch critic of the U.S. government's handling of recent high-profile cybersecurity breaches, in particular the massive theft of data from the Office of Personnel Management (OPM),and he has accused government agencies of simply being unaware of the huge threat posed by hackers.
Presidential Credentials
While McAfee may have the expert knowledge needed to address cybersecurity challenges, he has no experience in politics, and there will be many who will question the presidential credentials of a man who was, as recently as last month, arrested for driving while under the influence of Xanax and in possession of a handgun.
A former NASA computer programmer, McAfee was employed in the early 1980s as a consultant for Booz Allen Hamilton, the same NSA contractor Edward Snowden worked for before leaking his trove of top-secret documents.
McAfee founded his eponymous antivirus company in 1987, but he has had nothing to do with it since he sold his final shares over 20 years ago. In the intervening years the McAfee name became synonymous with frustrated PC users who found the software bundled with their computers and who found it very difficult to remove. McAfee was subsequently sold to Intel in 2010 for $7.68 billion (£4.9bn) and its name was changed to Intel Security in 2014 in a bid to distance itself from the negative publicity around the software.
Indeed McAfee himself has dubbed the piece of software "one of the worst products on the planet" and even produced a tongue-in-cheek video titled "How to Uninstall McAfee Antivirus," which has garnered more than 5.5 million views on YouTube.
McAfee made headlines in 2012 when he was named as a person of interest in a murder investigation by the authorities in Belize, where he was living at the time. McAfee denied any knowledge of the death of his neighbor Gregory Faull and went on the run to Guatemala, where he was eventually arrested for illegally entering the country. He was deported back to the U.S., having faked a heart attack while in detention, to buy time for his attorney to file an appeal which prevented his deportation back to Belize. The Belize government has not charged McAfee with any crimes and no longer seeks him in relation to the murder of Faull, though it has auctioned off his seized assets.
In 2013 McAfee founded a new company, Future Tense Centralm, which has produced a number of security-focused products including encrypted messaging app Chadder and privacy-focused app D-Vasive.
© Copyright IBTimes 2023. All rights reserved.