Johnny Manziel NFL Bust? Where Is Texas A&M QB Projected To Be Picked In 2014 NFL Draft?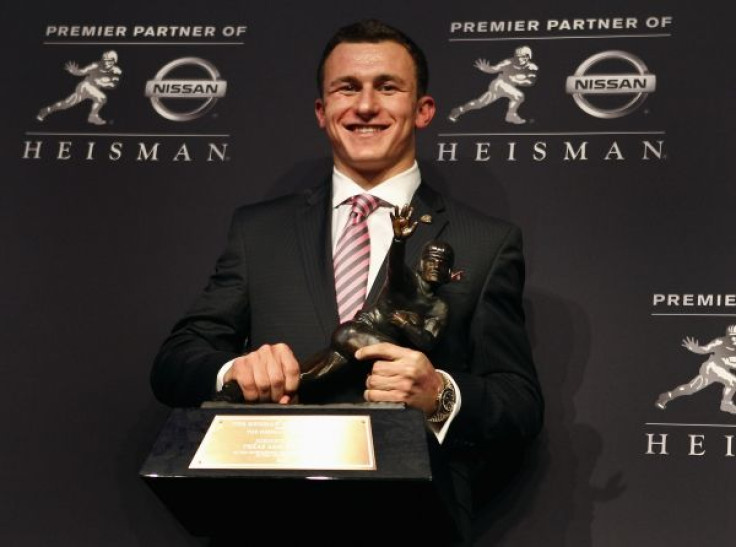 It's hard to believe that a quarterback who lit up the best conference in college football for 7,820 passing yards and 63 touchdowns and another 2,169 rushing yards and 20 touchdowns in two short seasons has his detractors.
But remember that that quarterback is lightning rod Johnny Manziel.
The Texas A&M superstar turned Nike endorser and soon-to-be NFL first round pick was recently discredited by ESPN's Merril Hoge, with the analyst quoted as saying: "…I see bust written all over him…"
Hoge's extensive scouting report on Manziel was reduced to a sound bite, but it's easy to understand why his comments are taken so seriously. The former Idaho State and NFL running back has spent nearly 20 years with ESPN as an analyst and boasts a solid reputation as one of the best film room rats in the media business. Hoge also famously questioned the abilities of Tim Tebow in 2011, and the former first round draft pick has since been regarded as a bust.
Essentially defaming Manziel's decisions, pocket presence and run-first playmaking, Hoge's full statement according to NFL.com reads: "He has absolutely no instinct or feel for pocket awareness. He has an instinct to run. That's a bad instinct if you're going to have that in the National Football League. You have to play in the pocket with traffic around you and throw it. When traffic comes around him, he runs, and that's dangerous in the National Football League. His skill set does not transition to the National Football League, and it is a big, big risk. In fact, I see bust written all over him, especially if he's drafted in the first round."
If Hoge's analysis is spot on, Heisman-winner Manziel could join the ever-growing line of first-round busts like JaMarcus Russell, Matt Leinart, David Carr and Joey Harrington. All incredible college performers who had their struggles in the NFL.
Even before Hoge's comments, the 21-year-old Manziel figured to be one of the first three quarterbacks taken in May's NFL Draft, contending with Louisville's Teddy Bridgewater and Central Florida's Blake Bortles. For now that first-round prediction is unlikely to change.
Sports Illustrated senior NFL writer Don Banks has Manziel going fourth overall to the Cleveland Browns, while ESPN's Mel Kiper originally predicted the Houston Texans would take Manziel No. 1 but his most recent mock draft projected a six-pick slide to the Minnesota Vikings at No. 7.
Hoge's opinion is one many have shared regarding how Manziel's unique skill set, as well as his smaller 6-foot-1, 200-pound frame, will translate to a professional league where the prototypical passer picks apart defenses by staying in the pocket or not straying too far from it.
Manziel supporters will point to recent young quarterbacks like San Francisco's Colin Kaepernick, Seattle's Russell Wilson, and Washington's Robert Griffin III, who all use their legs to extend or make plays.
Kaepernick has guided the 49ers to two of their three consecutive trips to the NFC title game as well as one Super Bowl appearance by using his arm but also his rushing abilities, especially in the playoffs. In six playoff starts, Kaepernick has gained 507 rushing yards and scored four touchdowns.
Wilson lifted the Seahawks to a Super Bowl title earlier this year with his smart passing and used his wide frame and power to break tackles from would be pass rushers for 539 rushing yards.
Comparing Griffin to Manziel is where this becomes a cautionary tale. The Redskins talent-laden quarterback torched opposing defenses for 3,200 yards passing and 20 touchdowns and was the most accurate passer in the NFL in his rookie season. Griffin would also post 815 rushing yards and seven touchdowns, but exposed himself too much to opposing defenses and ultimately suffered a horrific knee injury that ended his postseason limited his production and development in 2013.
Manziel might have to learn the hard way like Griffin that he'll have to pick and choose when to take off from the pocket and risk injury.
© Copyright IBTimes 2023. All rights reserved.