Joy Duggar's Pregnancy Shocker And 5 Other Things We'll See On 'Counting On' This Season
The Duggar family is back with more big announcements. Monday will see the premiere of an all-new season of "Counting On" on TLC. Check out the trailer above and find out what's in store for fans below!
Jinger and Jeremy's Move
Jinger and Jeremy Vuolo are moving house. The premiere will see the couple relocate into a bigger place in Laredo, Texas, with Jeremy especially excited about his new office. The couple will continue to "put their stamp on their new home" in episode 2. TLC has shared Jinger's family will even travel to Laredo to help them move and "decorate it to perfection." After all, Jana Duggat did volunteer to decorate their nursery.
Joy and Austin's Honeymoon
Joy-Anna Duggar and Austin Forsyth said their "I Dos" last season and Monday's premiere will kick off with Joy and Austin's honeymoon. The synopsis for episode 1, "I Love in Switzerland," reveals the couple will "finally get to enjoy some alone time" after their wedding. TLC has revealed their honeymoon will take the pair hang gliding, chocolate making and skiing.
Kendra and Joe's Struggles
While viewers already saw Kendra Caldwell and Joe Duggar's wedding day, the new season will go back in time and show their relationship leading up to their marriage. The premiere will follow the pair as they take their engagement photos. With their courtship rules still in place, the shoot won't be entirely easy, though. In one scene from the trailer the photographer tells Joe to put his hand on her waist, but he refuses.
"I would say when you're engaged, you almost need more chaperones," Kendra says in the teaser. "You're getting closer, the desires are getting stronger."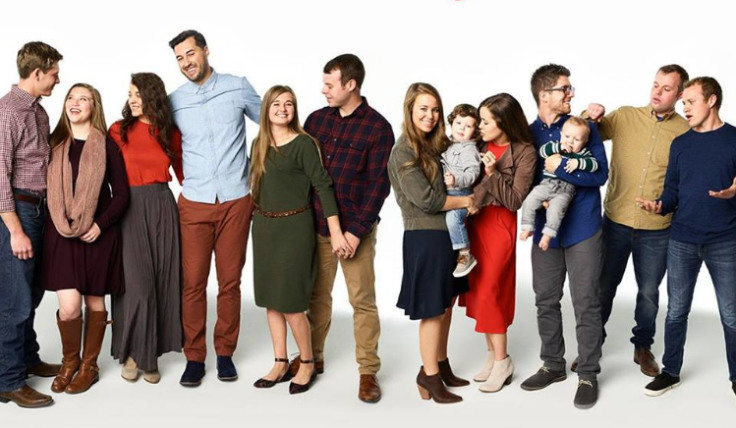 Kendra and Joe's Big Day
Viewers will get to see more of Joe and Kendra's wedding in the new episodes. The season preview shows Kendra admitting her wedding day is both a happy and sad affair. "It's the best day of my life but it's also really emotional, too," she says.
Joy's Pregnancy Reveal
Why it isn't outright said, the trailer does hint that fans will get to see Joy and Austin's pregnancy reveal to her family this season. The clip in question shows the newlyweds arriving to Jim Bob and Michelle Duggar's Arkansas abode with balloons in hand. Joy then tells her younger siblings to pop the balloon they think holds a "secret message."
"Now that all of us are growing up and kind of having our own lives, you're going to have big news a lot," Joy says.
Joy and Austin'​s Home Renovation
Joy was hoping to get her home with Austin fully renovated before their wedding, but it doesn't seem that happened. TLC's synopsis for episode 2 states that Joy and Austin will "try to make the most of their less-than-ideal living situation." Based on Joy's recent home tour, they are still trying to finish up the project.
"Counting On" returns Monday, Feb. 26, at 9 p.m. EST on TLC.
© Copyright IBTimes 2023. All rights reserved.