JPMorgan Mortgage Lawsuit Could Be Bad News For The Bank ... or Not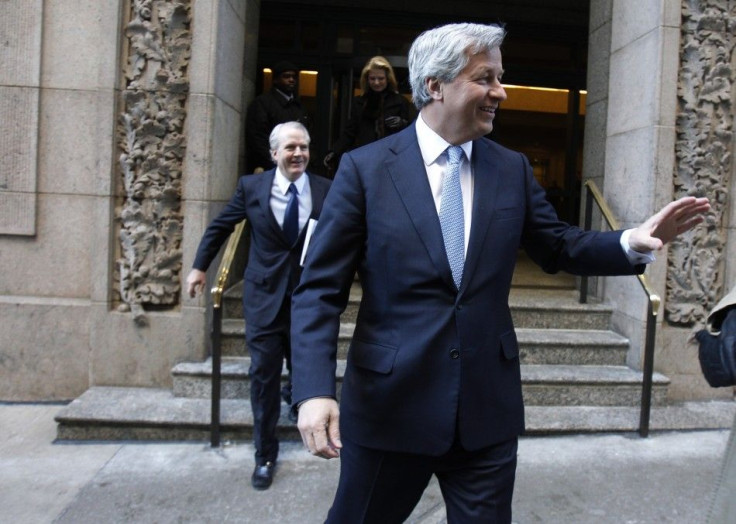 Near the beginning of the great unraveling in the financial markets that took down the global economy in 2008, JPMorgan Chase & Co. (NYSE: JPM) got to snap up one of its major investment bank rivals on the cheap.
The government-brokered transaction not only let JPMorgan pay less than market value for its competitor but also shifted responsibility for some of the toxic Bear Stearns liabilities it didn't want to the Federal Reserve.
It was a sweetheart proposition, quickly baptized by New York and Washington power players as a too-good-to-be-fair "Jamie deal," after Jamie Dimon, the chief executive of JPMorgan.
Four-and-a-half years later, the other shoe in the Jamie deal may finally be dropping.
On Monday, New York State Attorney General Eric Schneiderman filed a lawsuit against JPMorgan, as the legal successor to Bear Stearns, asking the bank to pay some $22.5 billion to make up for alleged malfeasance by Bear Stearns' mortgage securitization unit in how it sold its financial products.
Specifically, New York is alleging that Bear Stearns committed fraud by misleading clients about the underwriting standards used to construct mortgage-backed bonds, even as the bank systematically abandoned any semblance of quality control over loans it picked to churn into securities.
The lawsuit states that the losses on mortgage-backed securities issued by Bear Stearns were "astounding," totaling more than a quarter of the principal balance being packaged, and its claims that those losses were "caused, directly or indirectly, by the fraudulent and deceptive acts."
Perhaps the most damning evidence in the lawsuit comes from allegations the bank knew just how bad the products it was offering clients were, and it includes an email in which a bank employee allegedly referred to a securitized product as a "sack of sh-t."
JPMorgan expressed dismay at the New York State litigation.
"We're disappointed that the NYAG decided to pursue its civil action without ever offering us an opportunity to rebut the claims and without developing a full record -- instead relying on recycled claims already made by private plaintiffs," a JPMorgan spokesman said in a statement.
"We will nonetheless continue to work with members of the president's RMBS Working Group and are fully cooperating with their inquiries," he added.
The "RMBS Working Group" JPMorgan was referring to is the initiative under which Schneiderman's lawsuit is being brought, which was created earlier this year to consolidate various state and federal investigations looking at fraud in that market. Attorney General Schneiderman presides over that working group.
"We intend to follow up with similar actions against other sponsors and underwriters of" residential mortgage-backed securities, an official in the attorney general's office told the Wall Street Journal.
Pundits were divided Tuesday as to the level of damage the lawsuit would cause JPMorgan.
Commenting on the suit, BBC News' business editor Robert Peston said it disclosed "a manic and frenzied culture of procuring and packaging as many mortgages as humanly possible, to maintain the bonds spewing from the investment bank, to generate as much short-term profit as humanly possible," with allegations he described as "jaw-dropping."
"All this is a bit like the fifth installment in a series of horror films, with each succeeding production gorier than the preceding one," he said.
Others caught the fact that Schneiderman's promise to go after other issuers was a warning shot to the financial services industry.
The Campaign for a Fair Settlement, an activist organization, also told the Journal that the suit is "an encouraging first step to holding Wall Street banks accountable for [their] reckless and deceitful practices."
But not everyone was convinced the suit was such a win-win proposition for the government, or that JPMorgan would have to pay too dearly as a result.
Wall Street bankers cited by Politico told that newspaper the suit was being rolled out due to political motivations designed to appear as cracking down on finance, and not on its merits. That view was echoed in the liberal-leaning financial blogosphere, with Yves Smith at nakedcapitalism.com saying the timing of the suit was not only suspect, but that it showed "Eric Schneiderman is living up to his track record as an 'all hat, no cattle' prosecutor."
A fitting analogy in a case where the cows seem to be finally coming home.
JPMorgan Chase & Co. shares were down 19 cents to $40.76 each, during lunchtime trading on the New York Stock Exchange.
FOR FREE to continue reading
✔️ Unlock the full content of International Business Times UK for free
offer available for a limited time only
✔️ Easily manage your Newsletters subscriptions and save your favourite articles
✔️ No payment method required
Already have an account?
Log in
© Copyright IBTimes 2023. All rights reserved.