Kansas City Royals Tickets: How Much Are 2014 ALCS Tickets Going For In Baltimore And KC?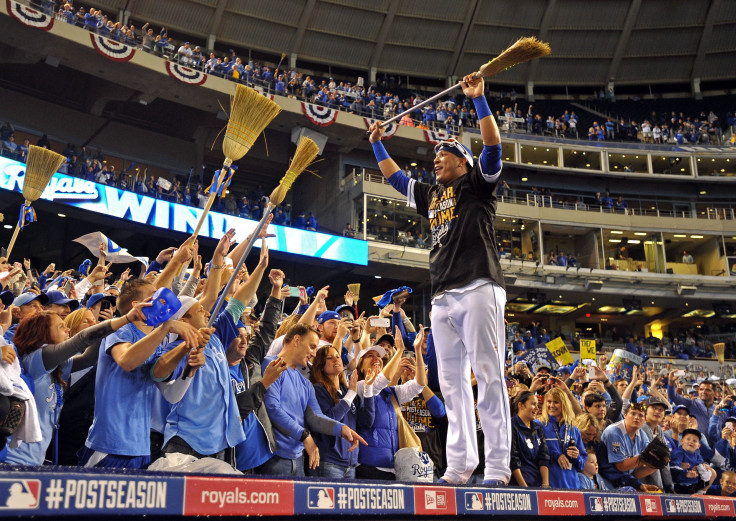 Combined, fans of the Kansas City Royals and Baltimore Orioles have waited 52 years for a World Series appearance, and now the clubs will battle for that opportunity in the American League Championship Series beginning with Game 1 Friday in Baltimore.
But if loyal Royals and Orioles supporters want to witness a stunning chapter in their respective histories, they should expect a huge bump in ticket prices compared to the regular season. According to Forbes, the average ALCS ticket price in Kansas City costs $449, nearly 10 times more expensive than the $48 regular season seat. And the same goes for Baltimore. The average price for a ticket at Camden Yards will cost a fan $502, nearly nine times pricier than a $56 regular season ticket.
Forbes also points out that fans using secondary market sites like TiqIQ.com and Stubhub.com should expect to pay as much as $100 extra in fees.
The boost is not surprising for two cities that don't boast an NBA or NHL franchise. Restless and championship-hungry Kansas City and Baltimore fans might be willing to break the bank. The last time the Royals even made the postseason was in 1985 when they won the title, and their prized NFL organization, the Chiefs, have only hosted two playoff games in the last 17 years.
Still K.C. fans might feel like it's their year to shine, with a team that's found numerous ways to win and just swept the Los Angeles Angels, who posted the best record in the AL with 98 victories, in the Division Series.
The Orioles are right in the middle of their second postseason trip in the last three seasons, but this year is the deepest they've gone since back-to-back ALCS appearances in 1996 and 1997. But unlike K.C., Baltimore's celebrated two Super Bowl victories from their Ravens.
There are some cheaper alternatives for cash-strapped fans. For those hoping to save a little, there are still tickets available on TiqIQ as cheap as $127 for Game 1 in Baltimore. When the series turns to K.C. for Game 3, the cheapest seats are available for $146.
© Copyright IBTimes 2023. All rights reserved.