Kate Middleton, Meghan Markle Wear This To Avoid Marilyn Monroe Moments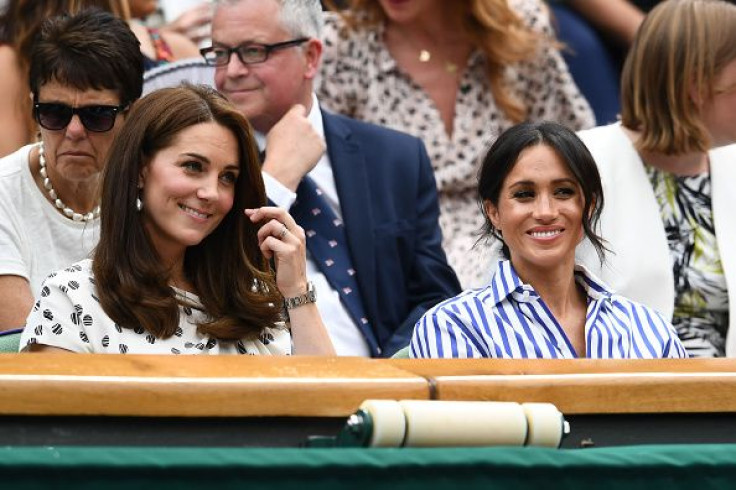 Kate Middleton and Meghan Markle use this secret to avoid any Marilyn Monroe moments.
The Duchess of Cambridge and the Duchess of Sussex are among the most photographed women today. As a result, they are keen to avoid embarrassing moments like being photographed with their skirts caught in the wind. According to an etiquette expert, Middleton and Markle use a particular piece of clothing to avoid this incident.
"Often they wear body suits and clothes that actually increase static so it's much hard for something to fly up," Myka Meier, founder of Beaumont Etiquette, told The Sun. "So you have an undergarment that is almost like a body suit that is one tactic that is used."
"I know when I went to finishing school we were taught that when you are on the tarmac if you do not use weights or heavy weighted material, you make sure it will not fly up by wearing undergarment that keep the fabrics connect to your body," she continued. "Also the undergarment would be chosen for that reason."
According to Meier, heavier fabrics are recommended for runway appearances. Aside from this technique, royals usually wear hats to keep their hair in place, so they would look picture perfect even if it's windy.
Meanwhile, the Queen has a different approach to combat windy weather. Stewart Parvin, who holds a royal warrant for his store Peter Jones, previously revealed that he just adds weights to Queen Elizabeth II's hemline to avoid those disgraceful incidents.
"I just pop a couple of weights into the hemline of her dresses and coats and it makes them hang beautifully," Parvin said.
In related news, a body language expert has compared the way Prince William and Prince Harry kiss their wives. According to Judi James, the princes learned their romantic side from their mom, Princess Diana. However, the Duke of Sussex mimics the People's Princess' trait of public displays of affection.
"His kiss with Kate at polo is suitably cautious and free of any open displays of emotion beyond general happiness," James said about Prince William and Middleton's kiss. "He leans in for his kiss rather than touching torsos and he even holds his award high up next to his ribs to ensure the spatial gap between them is more the 'friendship' variety rather than 'lovers.'"
On the other hand, Prince Harry and Markle engage in eye-flirting before they kiss passionately. In addition, the Duchess of Sussex apparently tilts her head back as the duke leans forward to add romance as they lock their lips.
© Copyright IBTimes 2023. All rights reserved.