Kate Middleton Admitted To Making Meghan Cry But Wouldn't Set Record Straight, Prince Harry Claims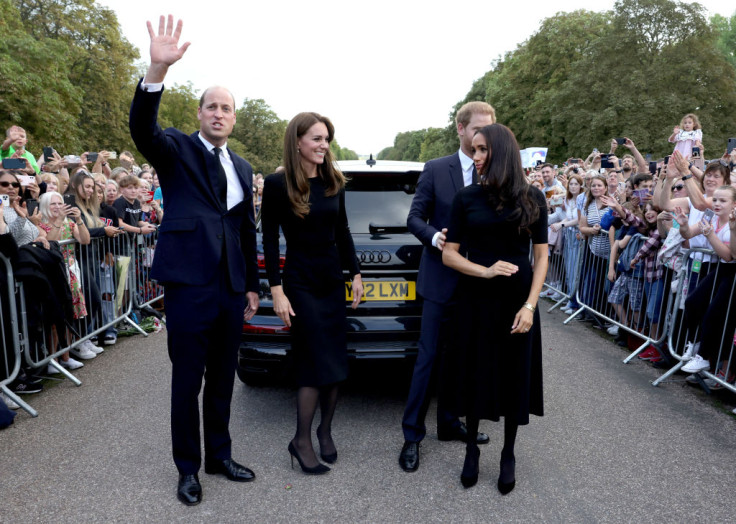 KEY POINTS
Prince Harry claimed Kate Middleton privately admitted the tabloids got it wrong in reporting that Meghan Markle made her cry
He claimed Middleton became "flustered" when Markle asked why no one was correcting the tabloids
The Duke of Sussex accused King Charles of leaking the story of Middleton and Markle's feud to the press
Prince Harry claimed in his newly released book that Kate Middleton privately admitted to making his wife Meghan Markle cry but became "flustered" when asked why she didn't publicly stand up for the Duchess of Sussex.
In "Spare," which dropped Tuesday, Prince Harry claimed that he and Markle secretly met with Prince William and Middleton in December 2018, after tabloids reported that the former "Suits" star had made the Princess of Wales cry during a fight over flower girl dresses in the run-up to her and Harry's May 2018 wedding.
"Kate got things rolling straightaway by acknowledging that these stories in the papers about Meg making her cry were totally false," he wrote in his memoir, Page Six reported.
Harry alleged that Middleton confessed during their meeting, "'I know, Meghan, that I was the one who made you cry.'"
Prince Harry said he was relieved after Middleton's admission, noting, "Meg appreciated the apology, but wanted to know why the paper had said this, and what was being done to correct them? In other words: Why isn't your office standing up for me?"
Middleton allegedly became "flustered," while Prince William "chimed in with some very supportive-sounding evasions."
"But I already knew the truth," Prince Harry went on to claim. "No one at the Palace could phone the correspondent, because that would invite the inevitable retort: Well if the story's wrong, what's the real story?"
He said he realized that would not ever happen because the palace would protect the future queen and "the monarchy, always at all costs, had to be protected."
Prince Harry also alleged that the four of them found out that King Charles III may have been behind the leaked story.
Prince William reportedly admitted that while the Sussexes were on a royal tour in Australia, he and Middleton had gone to dinner at King Charles' home.
"He said sheepishly, he might've let it slip that there'd been strife between the two couples," Harry wrote, accusing his father of leaking Middleton and Markle's tearful fight to the press.
In his book, Prince Harry also revealed the alleged exchange of text messages between his wife and Middleton that led to Markle "sobbing on the floor" days before their 2018 wedding.
Middleton allegedly complained that her daughter Princess Charlotte's flower girl dress was "too big, too long, too baggy." But when Markle asked her to take Charlotte to the tailor to have the dress altered, the Princess of Wales allegedly insisted that "all the dresses be remade" and said she discussed the issue with her own wedding designer, who agreed with her.
Markle reportedly then asked Middleton if she was aware of the drama involving her dad, Thomas Markle Sr., to which the princess responded that she "was well aware" but was more focused on the dresses, Harry claimed.
Prince Harry alleged that his sister-in-law had "problems with the way Meg was planning her wedding. Something about a party for the page boys? It went back and forth."
"I'm not sure what else to say. If the dress doesn't fit then please take Charlotte to see Ajay. He's been waiting all day," Markle reportedly responded.
"Fine," Middleton allegedly replied.
Prince Harry said he found his wife "sobbing on the floor" of their home following her exchange with Princess Kate.
Prince Harry claimed in his book that Markle made a comment about Middleton having "baby brain because of her hormones" following the spat. Markle was allegedly reprimanded for her remark and told she wasn't close enough to Middleton to say something like that. She reportedly became offended and was reduced to tears, according to the Duke of Sussex.
Markle also spoke about the incident in their interview with Oprah Winfrey in 2021. She denied making Middleton cry and said "the reverse happened."
Buckingham Palace said it would not comment on the claims in Prince Harry's book.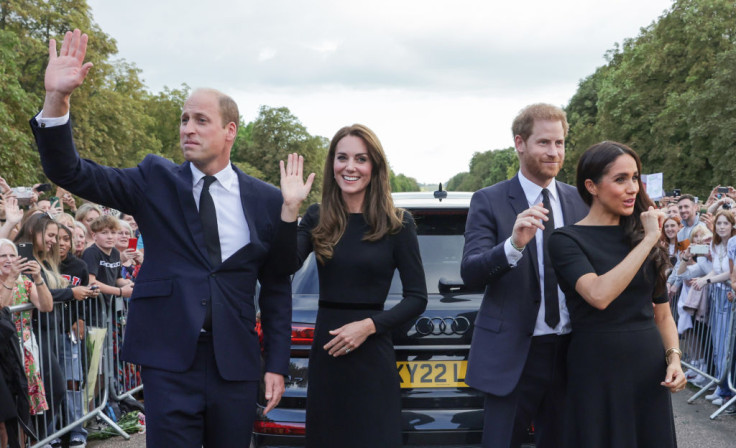 © Copyright IBTimes 2023. All rights reserved.