Kate Middleton, Meghan Markle Had A 'Twinning Moment' During 2 Separate Events
Kate Middleton and Meghan Markle shared a sweet twinning moment with each other at two separate engagements.
Markle went to the Hubb Community Kitchen for a full day of cooking on Wednesday. She was photographed in an all-red ensemble from Club Monaco. Middleton, on the other hand, paid a visit to the neuroscience unit at University College London to learn about the brain development of infants.
Middleton was photographed in an all-red and black ensemble for her recent outing. The mom of three's outfit is by Paule Ka, and she has worn in multiple times in the past.
Despite the similarity in the two Duchess chosen color for their attire, it was evident that their styles are still different from each other. Markle wore a straight dress to cover her baby bump and paired it with a thick trench coat to keep her warm. Middleton wore a two-piece coat and skirt and used a black turtleneck top and black leggings.
Last month, fashion sociologist Dr. Anna Akbari compared Middleton and Markle's style choices. She said that Markle seems to be making more conformist choices because she knows that whatever she wears is under the microscope.
"The research I've done on how individuals self-present in somewhat homogenous situations, be it corporate environments or whatever, is that if you already stand out – which certainly Meghan does as an American coming from Hollywood – you aren't looking to accentuate your differences as you try to be effective in your own setting," she told Cosmopolitan.
Middleton is known as a preppy and super colorful royal that loves to wear full skirts, cheery patterns, and coat dresses.
"She's mastered that look, and it suits her. Imagining Meghan Markle in the same style would feel forced – she's never been preppy, so it would be weird to see her fully embracing that," she said.
Markle, on the other hand, is known for wearing pantsuits, monochromatic separates, and sleeker silhouettes, unlike Middleton.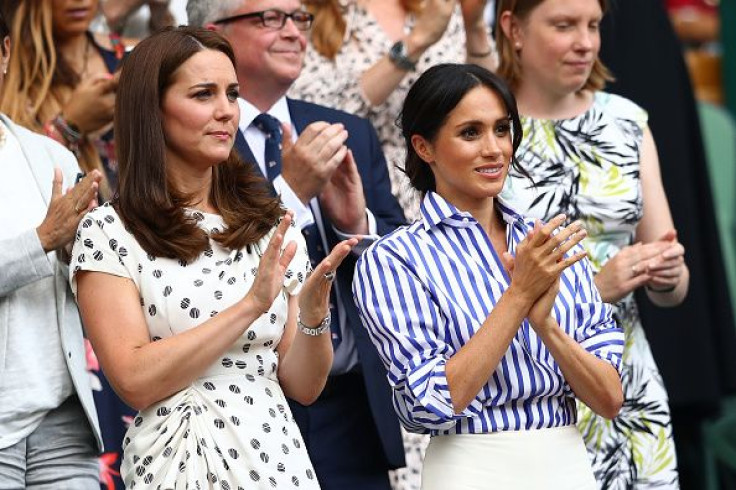 © Copyright IBTimes 2023. All rights reserved.