Kate Middleton, Prince William Showcase Rare PDA, Caught Walking While Holding Hands
Kate Middleton and Prince William's rare PDA was caught on camera.
The Duke and Duchess of Cambridge aren't as tactile as Prince Harry and Meghan Markle in public. Although Prince William and Middleton sometimes hold hands, many do not notice it because they do not expect the couple to do it in public.
A clip of Prince William and Middleton during one of their royal tours was shared on Instagram. In the video, the royal couple appears very comfortable and are holding hands while walking.
This sighting is new to some royal fans who didn't see them do it before. The Duke and Duchess of Cambridge rarely engage in PDA and the clip showed that they sometimes do when they are not in a formal event.
"First time I see them holding hands How sweet," one royal fan commented.
Another netizen said that it was lovely to see the Duke and Duchess of Cambridge hold hands in public. Meanwhile, many find Prince William and Middleton "cute" for doing it.
In May, Prince William and Middleton subtly packed on PDA when they arrived in Cutty Sark, east London to launch a new sailing competition. The couple was in great spirits upon arrival and were seen smiling and affectionately looking at each other while they talked about Prince Harry and Markle's baby.
In one of the photos, Prince William can be seen touching Middleton's back as they walked toward the venue. Royal fans went into a frenzy as the royal couple usually avoids physical contact when they are in public.
Earlier this year, Prince William and Middleton's marriage was tested when rumors about the Duke having an affair with Rose Hansbury made headlines. The duke reportedly just laughed it off when Middleton confronted him because it was not true. However, the negative reports rocked the palace and the couple just wanted the infidelity rumors to end.
Despite the speculations, the Duke and Duchess of Cambridge never showed any sign of a strained marriage when they were seen together. In fact, their relationship has become stronger.
"Judging from a recent courtside appearance at Wimbledon, Kate and William's vibes are stronger than ever post-scandal," a report stated when Prince William and Middleton watched Wimbledon last month.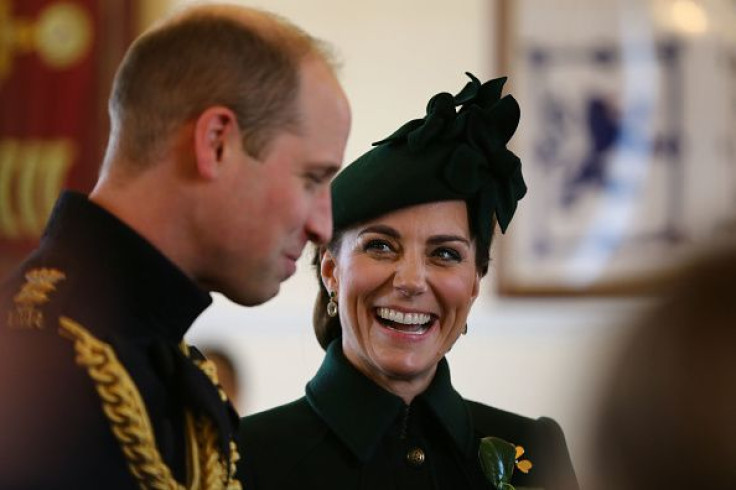 © Copyright IBTimes 2023. All rights reserved.