Keith Scott Shooting: Family Views Charlotte Police Shooting Video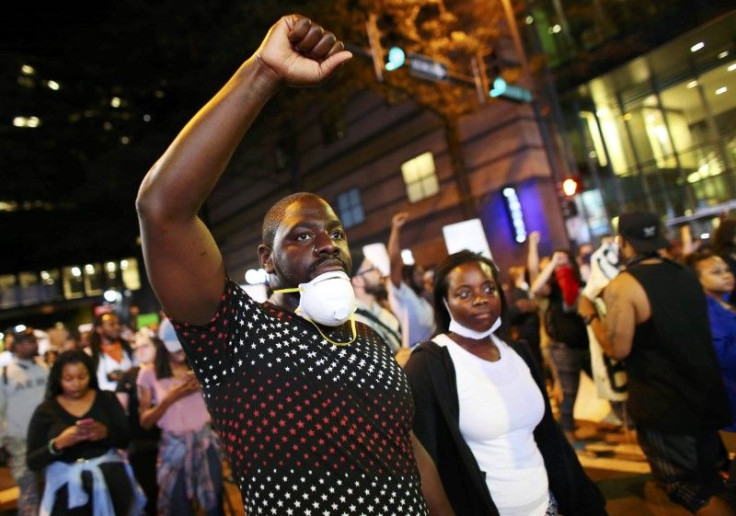 UPDATE: 9 p.m. EDT — U.S. Rep. Robert Pittenger of North Carolina Thursday apologized on Twitter for saying the Charlotte protesters "hate white people."
Pittenger, whose congressional district encompasses part of the area struck by two nights of violence in the wake of the shooting of a black man by a police officer, told the BBC the hatred stems from the success whites have had, the Charlotte Observer reported.
"The grievance in their minds – the animus, the anger – they hate white people because white people are successful and they're not," Pittenger said, blaming the welfare system. "It is a welfare state. We have spent trillions of dollars on welfare, and we've put people in bondage, so they can't be all they're capable of being."
Pittenger said he was quoting what angry protesters said on television.
"My intent was to discuss the lack of economic mobility for African-Americans because of failed policies," Pittenger said.
UPDATE: 8:25 p.m. EDT — Mayor Jennifer Roberts imposed a curfew to begin at midnight on Charlotte, North Carolina, in the wake of two days of violent protests following the shooting death of a black man by police, WSOC reported. The curfew will go until 6 a.m.
Justin Carr, the protester shot Wednesday night in Charlotte, North Carolina, died Thursday. Police said Carr was shot by another civilian, the Los Angeles Times tweeted.
UPDATE: 8 p.m. EDT — Protesters marched through parts of downtown Charlotte, North Carolina, Thursday in a third night of demonstrations in the wake of the shooting of a black man by a police officer.
The protest was peaceful in contrast to the violence that erupted the past two nights.
Police charged Ian Bowzer of Charlotte with damage to property for allegedly kicking in the glass doors at the Hyatt Hotel. The vandalism was caught on video.
Original story
The family of a black man shot to death by police in Charlotte, North Carolina, earlier this week Thursday said police video of the incident left them with more questions than answers. The shooting has sparked two nights of violence that caused widespread property damage and left one protester hospitalized in critical condition.
The family issued a statement as Police Chief Kerr Putney urged officers to be professional as the city braced for a possible third night of violence.
"I want you to be professional and to protect our city," Charlotte-Mecklenberg Police Chief Kerr Putney said as the family of Keith Lamont Scott viewed a police video of the incident that took his life.
WSOC-TV, Charlotte, reported the family issued a statement, saying viewing two police body camera videos was extremely difficult.
"While police did give him several commands, he did not aggressively approach them or raise his hands at members of law enforcement at any time.," the statement said. "It is impossible to discern from the videos what, if anything, Mr. Scott is holding in his hands. When he was shot and killed, Mr. Scott's hands were by his side and he was slowly walking backwards."
The family urged police to make the videos public.
Police said Scott was armed with a handgun and refused to put the weapon down when confronted by officers who were in the University City area to serve a warrant. A woman who described herself as Scott's daughter said her father was holding a book, not a gun, but police said no book was found at the scene.
Though the family pleaded with protesters to demonstrate peacefully, violence erupted for a second night Wednesday.
"We don't want to see people getting hurt. We want you to voice your opinion, but we don't want you to get hurt or killed. Feel free to speak up against the things you see as injustice, feel free to do that because that is your right. But do it the right way," family attorney Justin Bamberg said.
Gov. Pat McCrory declared a state of emergency Wednesday, called in the National Guard and sent state troopers to help police.
WCNC-TV, Charlotte, reported Scott's wife was at the scene when he was killed. It was something "she will never, ever forget," Bamberg said, adding the couple were married for 20 years and the family was close knit.
Basketball great Michael Jordan, one of the owners of the Charlotte Hornets, issued a statement, saying it's more "important than ever that we restore calm and come together as a community." The NFL said it was monitoring the situation and as of now, the Vikings-Panthers game would go on as scheduled Sunday.
© Copyright IBTimes 2023. All rights reserved.