Kevin Love Trade News: Are The Cavs Giving The T-Wolves Too Much For Love?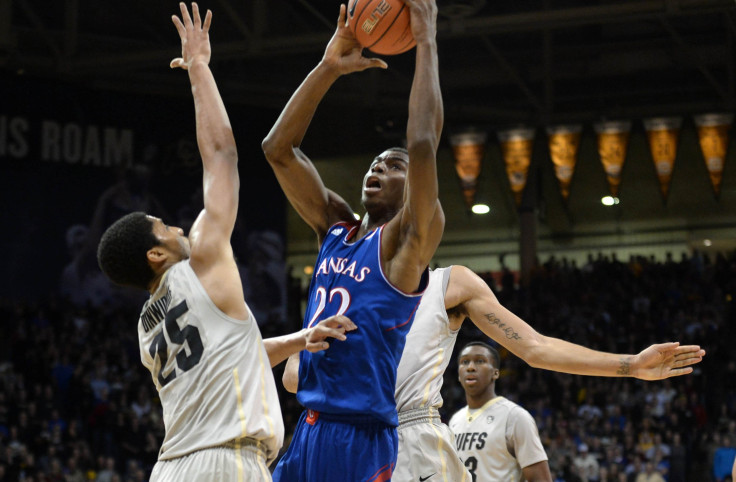 The Cleveland Cavaliers and Minnesota Timberwolves have reportedly reached a "handshake" agreement that will team All-Star forward Kevin Love with four-time MVP LeBron James, with the Cavs surrendering 2014 No. 1 pick and much-heralded prospect Andrew Wiggins. Over the course of six weeks, the speculated deal took form once Cleveland realized they could not keep the 19-year-old former Kansas guard and land maybe the best power forward in the NBA.
Whether the deal is made official on Aug. 24 or a day or two later, the Cavs will instantly morph into contenders for the Eastern Conference crown with James and Love expected to dominate inside and outside, and point guard Kyrie Irving assuring both stars equal touches for perhaps the next several seasons.
Still, the Cavs reticence to part with Wiggins means they mulled the idea of whether or not they were giving up too much for Love, a 25-year-old scoring and rebounding machine with three-point shooting range who's coming off the best season of his career and entering his prime. The Cavs certainly aren't losing on the deal, but they are gambling with their long-term future. The trade-off essentially comes down to losing James's heir apparent for five years of contention and maybe one or two championships.
So the question is: Are the Cavs cashing in early on James's return and gunning for a title right away, rather than exercising patience and building a perennial contender?
The key to answering that question starts with weighing Love's already proven abilities to dominate in the NBA to Wiggins's superstar potential three or four years down the line. Wiggins set Kansas records with 17.1 points per game as a freshman and 176 free throws made, and helped the Jayhawks claim their fifth outright Big 12 title of the last six years. Earning his third All-Star berth, Love poured in 26.1 points and ripped down 12.5 rebounds while dishing out 4.4 assists per game. Minnesota failed to reach the postseason in the crowded Western Conference for an 11th straight year, but that letdown can't all be placed on Love's shoulders. Cleveland's thinking likely centered on Love being a proven commodity who simply didn't have enough talent around him to be successful in Minnesota, and its presently unknown if Wiggins, though a tremendous athlete with lots of skill, can translate his success from college to the NBA.
There's no question that pairing Love with James would make the Cavs one of the most dangerous offensive teams in the league, but Wiggins isn't the only player or asset the Cavs will part with should the deal go down. Most of the reported trade scenarios have Wiggins packaged with 2013 No.1 pick Anthony Bennett, and a future first-round pick. Bennett struggled mightily in his rookie season, averaging 4.2 points and three rebounds in 52 games while shooting .356 from the floor.
With numbers like those, it would be too easy for the Cavs and rest of the league to hastily call Bennett a bust. However, he battled sleep apnea and a severe shoulder injury throughout last season, and he's only 21, with several years ahead of him to prove he was worthy of the top selection. ESPN's most recent report says a three-team deal would send Wiggins and forward Thaddeus Young to the Wolves and Bennett to Philadelphia, a move most NBA general managers would call "low-risk, high-reward" for the rebuilding Sixers. And by all accounts, Bennett is healthy, in better shape, and ready to take on his next year in the league.
Furthermore, how much could he and Wiggins grow under James's leadership?
The same could be asked about the rest of Cleveland's young stars. The Cavs were one of the worst defensive clubs in the league over the last four years, and the offense lagged even with Irving picking up Rookie of the Year honors. High draft picks like Bennett, shooting guard Dion Waiters and power forward Tristan Thompson hadn't developed the way the Cavs had hoped, and the team ran through two head coaches in four years with a sub.-500 regular season record. Thus even with the addition of James, and by his own acknowledgement, the Cavs have a long way to go before a championship parade can be mapped out. Inserting James, and everything he learned with the Miami Heat, could be enough for Bennett, Wiggins, Irving and the rest to turn a corner in their pro careers.
Furthermore, there's no telling how Cleveland's young stars would mesh with Wiggins. Though his offense does need some polishing, most experts believed Wiggins could immediately contribute on the defensive end thanks to his long wingspan, quick feet, leaping ability and strength. Meanwhile, Love's defensive liabilities could be an issue for the Cavs.
Though Cleveland improved to 16th in the league in points allowed per game last season, Love's team defense leaves much to be desired and won't help Cavs be a better defensive team. As Sporting News pointed out, as a one-on-one defender Love is more than capable, but his lack of athleticism hurts him when it comes to switches on pick-and-rolls and help defense altogether. Still, James, along with Anderson Varejao, could make up for Love's inefficiencies on defense, and new head coach and much-hailed offensive guru David Blatt will likely be more concerned about running opponents out of the arena rather than getting stops.
The truth is we won't know who "won" this expected trade, or whether it was "good" or "bad" for either team for at least two or three years. During that time, Wiggins may have earned an ROY award and a few All-Star berths, but Love and James might be hoisting a title in the air. At least that's what Cleveland is betting on.
© Copyright IBTimes 2023. All rights reserved.