Kevin Love Trade Rumors: Can The Lakers Or Knicks Acquire The Forward?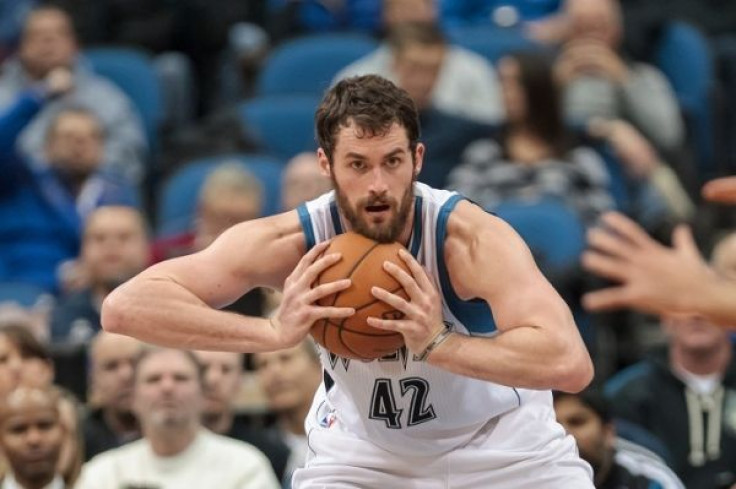 Minnesota Timberwolves big man Kevin Love is one of the most sought-after NBA free agents on the market, even though he won't become a free agent on July 1.
The likes of LeBron James and Carmelo Anthony are likely to be looking for new deals this summer, but Love has one year left on his contract. Still, the Timberwolves appear to poised to trade their best player, considering he's made it clear that he won't re-sign with his team.
With Love on the trading block, several teams are looking to acquire him, and even more have been rumored to have interest. There's been a lot of talk about where Love could end up next season, but only a few teams have a realistic chance to acquire him.
Golden State Warriors (Contender)
The Warriors appear to be the frontrunners to land the power forward. According to multiple reports, Golden State has been in discussions with Minnesota about making a deal.
Unlike any of the other rumored destinations for Love, Golden State can offer Minnesota a young, proven star. Klay Thompson would be at the center of any proposed deal between the two teams. While the shooting guard has yet to make an All-Star team, he's just 24 years old with a lot of potential. He's shown significant improvement in each of his three seasons, increasing his scoring average every year. Thompson continues to be more efficient, shooting a career-high 44.4 percent from the field in 2013-2014, while taking 6.6 three-pointers per contest.
In addition to Thompson, the Warriors can add David Lee and a first-round pick to a potential deal. Lee isn't as good as Love, but can score points and grab a lot of rebounds, while not contributing much defensively.
It's hard to imagine Love not agreeing to stay in Golden State. The Warriors have averaged 49 wins in the last two years, and the combination of Love and Stephen Curry would be one of the best one-two punches in the NBA.
New York Knicks (Pretender)
Whenever a big name appears to be on the move, the Knicks are often mentioned in the conversation. When it comes to Love, though, New York might have the same odds of getting the All-Star as Minnesota does of keeping him.
During the postseason, the New York Post reported that team president Phil Jackson has been "plotting" to land the prized star. While there's no doubting that the Knicks want to acquire Love, it might not be realistic to think they can offer the Timberwolves an intriguing package. Tim Hardaway Jr. and Iman Shumpert are the extent of young talent that they can trade, neither of whom have shown they'll turn into All-Star caliber players. Because of prior trades, the Knicks can't deal a draft pick until 2018, meaning they'd have to hope Minnesota is willing to accept a package that is based on expiring contracts.
Love might revel in the notion of playing in New York. If he really wants to become a Knick, his only course of action is to sign with the team as a free agent, and leave millions of dollars on the table.
Boston Celtics (Contender)
Unless the Celtics were to trade Rajon Rondo to the Timberwolves, which is highly unlikely, Boston doesn't have much to offer Minnesota in terms of current NBA talent. However, their embarrassment of riches in the draft makes them a legitimate player in the Kevin Love sweepstakes.
In the 2014 NBA Draft, Boston has two first-round picks. They hold the No.6 and No.17 selections, both of which could be packaged for Love. Despite the Celtics not owning a top-five pick, their selections are more valuable than they would be in most other years. The 2014 draft class is considered to be the best in the last decade. Boston is guaranteed to have two picks in the 2015 first round, and they would land a third if the Philadelphia 76ers make the playoffs.
Draft picks alone won't get a deal done, but Boston has other pieces that could make a trade work. Minnesota might be interested in Kelly Olynyk, who was named to the NBA All-Rookie Second Team. A veteran like Gerald Wallace might have to be added to make the trade work under the rules of the salary cap.
The Celtics became one of the NBA's worst teams when they traded Kevin Garett and Paul Pierce, but pairing Love and Rondo would improve the roster greatly. Love was recently seen with Rondo at a Boston Red Sox game, and he's reportedly interested in playing for the NBA's most storied franchise.
Los Angeles Lakers (Pretender)
Ever since rumors began to swirl that Love wanted out of Minnesota, many have pegged L.A. as the 25-year-old's most likely landing spot. While Love may have interest in joining the Lakers, it's hard to fathom the team actually pulling off a deal.
There might be some buzz that Love could become a Laker, but no legitimate reports have detailed the Lakers and Timberwolves discussing a trade. Once free agency officially begin, Los Angeles is likely to only have four players under contract. Kobe Bryant is not going to be traded, and the likes of Steve Nash, Robert Sacre and Kendall Marshall won't get a trade done. L.A. doesn't have a bevy of draft picks like the Celtics, and the No.7 selection in this year's draft won't be enough to acquire Love.
Much has been made about Love's desire to play for the Lakers, but he won't be a free agent until 2015, and Minnesota is likely to trade him this year. According to NBA reporter Chris Sheridan, Love's infatuation with Los Angeles has been overblown, and his top priority is playing for a contender. If Love wants to win a title, L.A. likely isn't the place to do it.
© Copyright IBTimes 2023. All rights reserved.