Kevin Love Trade Rumors: Wolves Forward Won't Sign Contract Extension With Cavs, LeBron James? Or Any Other Team?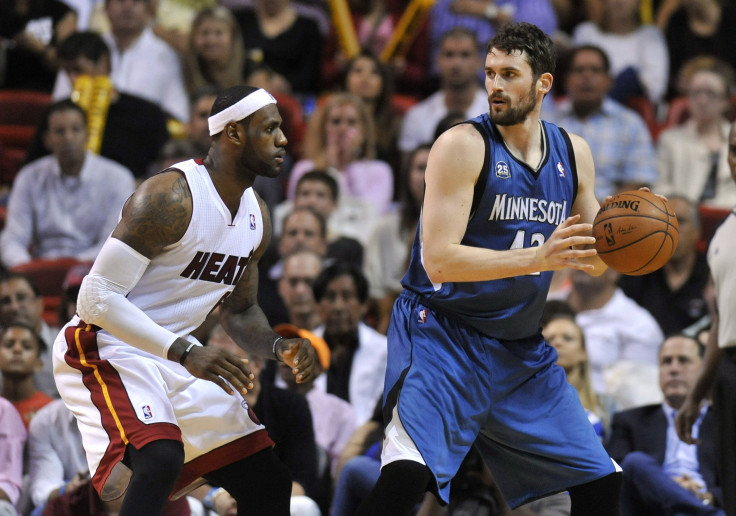 Kevin Love joining the Cleveland Cavaliers seemed like a foregone conclusion. He had already spoken to LeBron James, and the Cavs reportedly decided they were willing to part with coveted No. 1 pick and swingman Andrew Wiggins if it meant teaming the game's best all-around player with arguably its best power forward.
However according to a report from the Lake County News-Herald late Thursday, the Minnesota Timberwolves star will not sign a contract extension with any team he's traded to, a development that raises the stakes for Cleveland and James.
Love can reportedly earn more money by hitting the open market after next season, and then re-signing with the team he's traded to. It was originally believed that Love would agree to a sign-and-trade to the Cavs, with the Wolves getting a package built around former Kansas star Wiggins and 2013 No. 1 pick Anthony Bennett. Furthermore, a report from ESPN Thursday said Cleveland and Minnesota have engaged in lengthy discussions and officials around the league stated it was a matter of "when" not "if" the three-time All-Star would join James and the Cavs.
Love added to the speculation that a trade was looming when he pulled out of his obligations to USA Basketball last week. Love and James were teammates on the 2012 Olympic team that captured the gold medal in London.
The same outlet that first reported Cleveland's willingness to let go of Wiggins, the News-Herald also reported that the two teams were working on a "framework" for a trade that would send Love and possibly forward Corey Brewer to the Cavs with Wiggins, Bennett and a 2018 first-round pick to Minnesota.
A third team, possibly Philadelphia, may also be involved with the Wolves hoping to shed guard J.J. Barea's $4.5 million contract and the Sixers hoping to acquiring Cavs two-guard Dion Waiters.
Cleveland signed Wiggins to his rookie deal, and he cannot be dealt for 30 days, or until Aug. 23.
Still any such moves might be out of the question unless Love agrees to a long-term deal. The Cavs have tried to keep Wiggins out of the trade believing, like the rest of the league, that he could one day be a superstar and maybe the heir-apparent to James, who turns 30 later this year. Now Cleveland is forced to contemplate a possible one-year rental of Love in exchange for one of the best prospects to enter the league in more than a decade.
While Cleveland requires some assurances from Love, he may need some from James as well. Though he stated his goal is to bring Cleveland its first professional sports title in 50 years, James is only signed for the next two seasons. Many believe James only signed a two-year contract so he can be a free agent in 2016, when the NBA's new television rights deal with Disney's ESPN/ABC and Turner's TNT is expected to raise the league's revenue and thus every team's salary cap limit.
© Copyright IBTimes 2023. All rights reserved.