Kim Dotcom Out on Bail: Megaupload Founder Under House Arrest With No Internet Access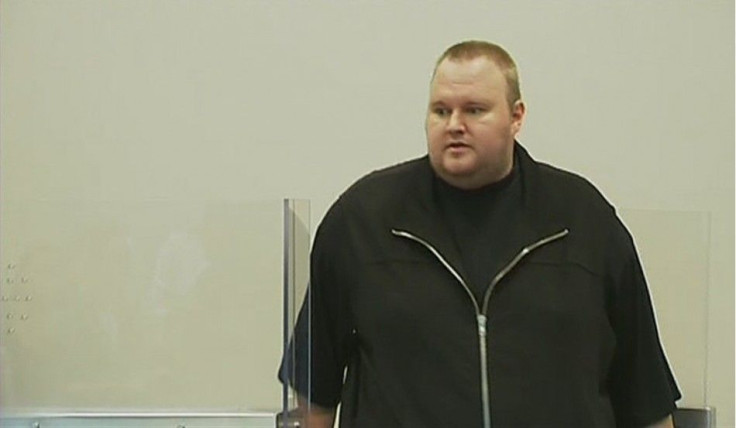 Megaupload founder Kim Dotcom was released on bail on Wednesday, Feb. 22 after he was arrested over a month ago on Jan. 20 during a police raid on his New Zealand mansion. Judge Nevin Dawson made the decision, noting that Dotcom no longer posed a flight risk after the majority of his assets had been seized and releasing the notorious file-sharer from custody, along with three of his coworkers (Finn Batato, Mathias Ortmann and Bram van der Kolk). Dotcom will be held under house arrest and will not be allowed to access the internet while he awaits the hearing over his extradition to the United States, which he intends to fight.
After being released, Dotcom, who wore his trademark trousers, black shirt and jacket, told reporters he just wants to go home to his family.
I am relieved to go home to see my family, my three little kids and my pregnant wife, he said. I hope you understand that's all I want to say right now.
Dotcom is charged with racketeering, copyright infringement and money laundering. U.S. authorities claim that Dotcom helped facilitate millions of illegal downloads through Megaupload, costing the American entertainment industry half a billion dollars in lost copyright revenue, according to the Associated Press.
AP also revealed that the U.S. has yet to file the necessary extradition papers, which must be filed by March 5 according to a treaty between New Zealand and the United States.
Dotcom's lawyer, Paul Davison QC told the Courier Mail that, since the bail has been resolved, the need to get to the extradition hearing is no longer as pressing.
It's a long time, but there's a lot of work to be done and I expect that we'll be needing all of that time, he said.
When asked about his experience in jail, Dotcom responded cryptically, Well, it felt a little bit like an audition to 'American Idol.'
Born Schmitz, Kim legally changed his last name to Dotcom. He is a German and Finish citizen and was granted New Zealand residency in 2010. His now defunct file-sharing website Megaupload and its sister video-streaming site Megavideo were registered in Hong Kong.
Megaupload was shut down by the U.S. government in January when 70 armed New Zealand police officers raided Dotcom's highly fortified mansion outside Auckland. In a showdown reminiscent of Brian De Palma's Scarface the police forced their way into Dotcom's home and found him retreated into the safe-room with a shotgun. Since then New Zealand authorities have seized millions of dollars in investments and assets from Dotcom, including artwork and luxury cars.
Under his bail conditions, Dotcom must live in a small house near his mansion and wear an electronic tag at all time. His travel will be restricted and the judge also banned any helicopters from landing on the property.
© Copyright IBTimes 2023. All rights reserved.