Kim Kardashian, Kanye West Want North West To 'Try Everything,' Toddler Takes Make-Up Lessons, Eats Fat-Free Food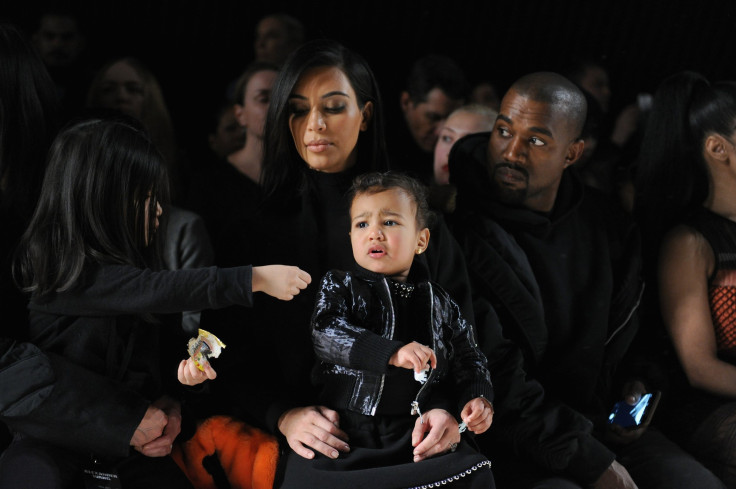 North West may just be two years old but she sure has a very hectic day, a report by Radar Online said, publishing her schedule on Monday. The report cited insiders to say that not only does the daughter of Kim Kardashian and Kanye West take too many classes but also eats fat-free food.
The unidentified source told Radar Online that as a result of her hectic schedule, the toddler is often cranky and sleepy. The source added that other members of the Kardashian family were also worried that the child was being pushed too hard but the couple did not seem to be bothered about it. The source told Radar Online: "North takes way too many classes — dance, ceramics, tai chi, even fencing," adding: "Her parents want her to try everything, and think North needs constant stimulation. They don't seem to get that toddlers need downtime, and North doesn't get enough!"
The source continued: "Kourtney and Kris keep telling Kim there's plenty of time for North to do all this stuff. She doesn't need to take French lessons and be exposed to Vivaldi ... but Kim won't listen!"
The source also told the online gossip website that the "Famous" singer did not feel there was anything wrong with the toddler's schedule because he thinks she is a genius and deserves superior education. The source said, according to Radar Online: "Kanye brags North has already memorized several pieces of classical music on her xylophone, when most kids her age are just watching Sesame Street."
The report also cited the source to say that the couple compares North's capabilities with Tom Cruise and Katie Holmes' daughter Suri, 10, and Victoria and David Beckham's 4-year-old daughter, Harper.
"They read about Suri Cruise dancing on pointe when she was 3, so they rushed to the ballet teacher to see when North would be able to do the same," the source said, adding: "Or they'll see a photo of 4-year-old Harper Beckham painting, and start discussing North's 'portfolio' — as if she's the next Picasso!"
Radar Online also went on to publish her itinerary and her diet, which includes eating non-fat yogurt, gluten free bread, low-carb and sugar free shake. The schedule also includes a fitness lesson, story-time in French, reading and writing in English, swimming, make-up and ballet lessons, gymnastics, origami, pottery, Chinese calligraphy and music lessons in flute and African drums. She reportedly wakes up at 6:30 a.m. to Vivaldi and also works on her fashion blog with a fashion assistant. The Radar Online report said the toddler ends her day at 8:00 p.m., after being too tired to even move.
Kardashian gave birth to her son Saint West in December and was seen discussing her difficulty in raising two children in a teaser clip for the final episode of "Kocktails with Khloe," Daily Mail reported Monday. Kardashian was heard saying that in June, North flushed West's phone in the toilet and added that the "Keeping Up With the Kardashians" star had to stop breastfeeding Saint because North was jealous.
© Copyright IBTimes 2023. All rights reserved.
FOLLOW MORE IBT NEWS ON THE BELOW CHANNELS