Kim Kardashian Robbery A Hoax? Video Released From 'Keeping Up With The Kardashians' Star's $10 Million Jewelry Heist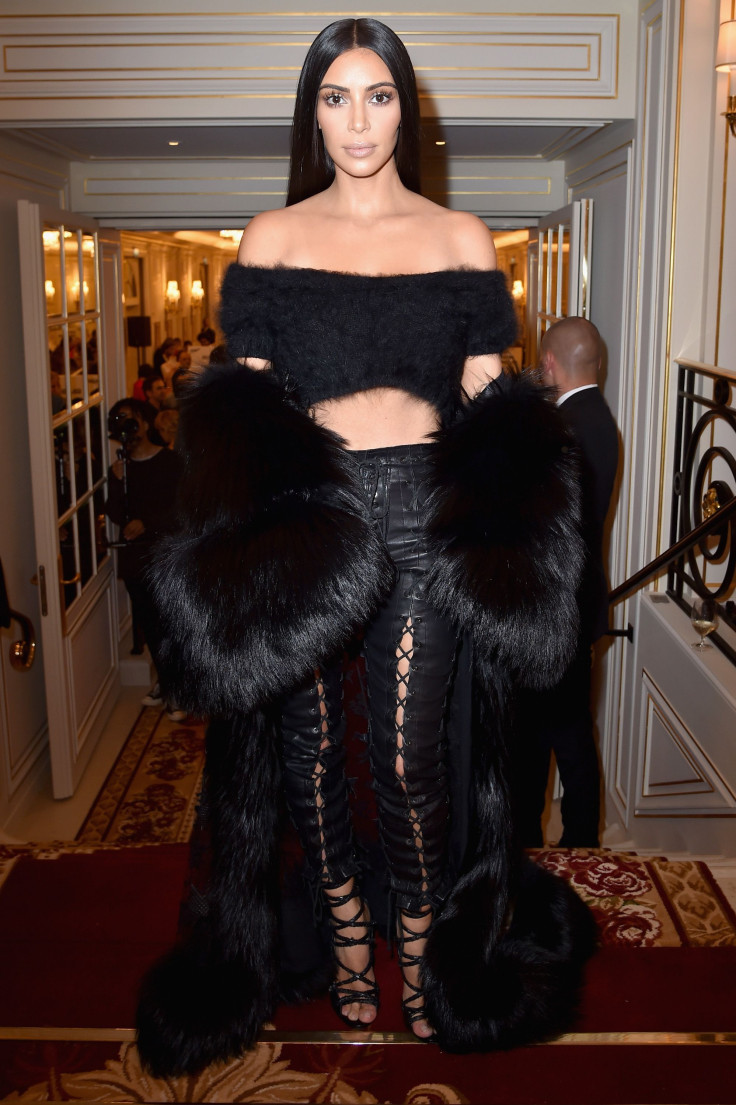 Kim Kardashian is still reeling after reportedly being bound, gagged and robbed in Paris early this month, but she's not letting that get in the way of taking a stand for herself.
Multiple reports have surfaced claiming to contain evidence that the "Keeping Up With the Kardashians" star had a hand in planning the heist, which cost her $10 million in jewelry and her overall sense of personal safety. On Tuesday gossip blog Radar Online published video showing police inside the building in the 8th arrondissement where Kim and husband Kanye West's Paris apartment is located, suggesting that it was proof that the robbery was a hoax. MediaTakeOut and several other sites have shared similar stories regarding the incident. While this is hardly the first time stories have circulated accusing the Kardashians of staging something for publicity, this particular batch of rumors has struck a chord with the mother of two.
According to TMZ, Kim filed a federal lawsuit against MediaTakeOut for three separate posts they featured in regards to the Paris jewelry heist. TMZ was able to obtain a copy of the paperwork, in which Kim accuses the site of writing false stories based on social media sources. MediaTakeOut published multiple takes on the incident stating that Kim "staged" her own robbery, "let the robbers in,"and even going as far as to suggest that if the stories were true she had "just committed a FEDERAL CRIME." Before filing the lawsuit Kim had her legal team reached out to MediaTakeOut and got no response, thus being forced to pursue further legal action.
Although Kim is making it her mission to fight fake stories about the theft, it seems highly unlikely that fans will hear her address the rumors on social media. On Tuesday Khloe Kardashian confirmed that her sister was taking a break from Twitter, Instagram and Snapchat amid fears that her frequent posts and transparency with fans made it easier for thieves to find her. During an appearance on "The Ellen DeGeneres Show" Khloe said that Kim was "not doing that well," adding that she was still dealing with a lot of trauma. The youngest of the Kardashian girls did, however, pass along a message from Kim, thanking fans for their "love and support."
"She's not doing that well. It's incredibly traumatic what happened to her, but our family is super close and great and we'll get through it together," Khloe said. "We do appreciate all of your guys' love and support. It will talk time. It was horrible what happened to her."
The incident in question took place on Oct. 2, while Kim was in Paris for Paris Fashion Week with mom Kris Jenner and sister Kendall Jenner. Five masked men are said to have forced entry into her apartment with the help of a concierge who had no prior knowledge of plans to rob the reality star. Kim was handcuffed, gagged and thrown in a bathroom while the robbers ransaked her apartment looking for jewels.While Kim survived the attack physically unscathed, she is said to have been afraid for her life. Sources told Us Weekly she thought for certain that the thieves intended to rape or kill her, and attempted to plead for her life. Her diamond engagement ring was among the most expensive items taken during the incident and has been valued at $4.5 million. A diamond cross necklace taken that night was found outside Kim and Kanye's apartment. Police are said to be checking it for potential DNA leads.
© Copyright IBTimes 2023. All rights reserved.