Kyrie Will Be 'LeBron-ish Special' In Celtics' Playoff Run, Cris Carter Says
Kyrie Irving will embark on his first post-season with the Boston Celtics when the playoffs get underway this weekend, with the Indiana Pacers posing their first hurdle. Former NFL player Cris Carter expects the point guard to be on a mission when Game 1 of the playoffs gets underway.
He missed the team's run to the Eastern Conference finals last season owing to a knee injury that ended his campaign early. The 26-year-old guard's last post-season appearance was during the 2017 NBA Finals when the Cleveland Cavaliers went down in five games to the Golden State Warriors.
Irving has been pining for the post-season since much earlier in the year and revealed that he has missed fighting for a chance to lift the "gold trophy" which is the ultimate goal for a basketball player in the NBA.
"I missed it a lot," Irving said, as quoted on MassLive. "I've been training and being a professional since I was 16 years old, just really dedicating myself to the game, sacrificing a lot of my time with family and friends to be able to have a shot at the gold trophy."
"It takes a seven-game series and good teams and good players. To see the players that have done it before me and really idolize how successful they have been under those bright lights, it's something that you admire and want to be a part of," he added.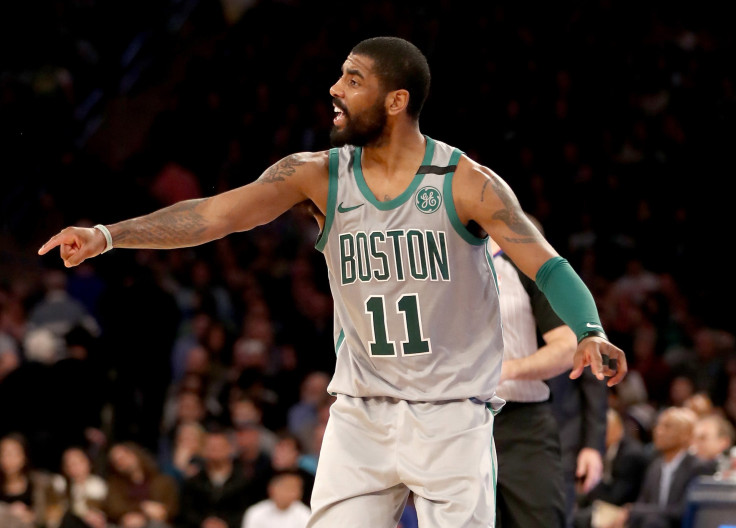 Everybody in the sport knows that a different Irving arrives when it comes to the playoff and he has proven it when he scored the game-winning bucket in Game 7 to clinch the Cavaliers' NBA title in 2016 when they came from 3-1 down against the Warriors. He also put on a 40-point masterpiece during their only game win against the Warriors in the 2017 NBA Finals.
And former NFL player Carter is certain Irving will be "LeBron-ish Special" when the playoffs come around. He expects the Celtics point guard to be at his best from Game 1 against the Pacers and even if the Boston franchise do not make a deep run, he is certain Irving will ensure his stats "look good".
Carter believes there will be immense pressure on Irving going into the playoffs, but backs the six-time NBA All-Star to take it on and affect games and quarters like he did during the regular season. But he will need the support of his teammates — namely, Jayson Tatum, Gordon Hayward and Jaylen Brown — if they are to make a deep run in the playoffs.
"I expect Kyrie to try to be LeBron-ish — special. I expect him immediately from Game 1 to be on a mission. Even if the Celtics follow up a lackluster season with a lackluster postseason, Kyrie will personally be on a mission to make sure his stats look good," Carter said on "First Things First".
© Copyright IBTimes 2023. All rights reserved.