Lakers Injury Report: Will Kobe Bryant Return Saturday Against Sacramento? Steve Nash Also Hurt?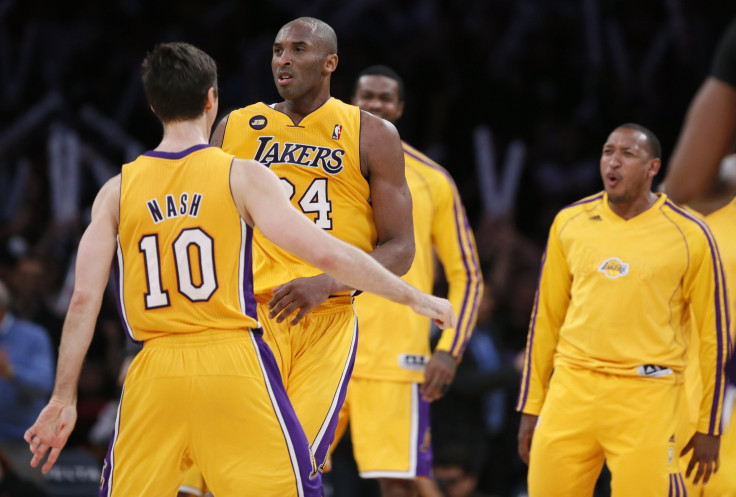 Kobe Bryant was seen using a crutch following the Lakers' last loss, and it isn't the Bryant who is hurting on the club.
The Lakers, who have lost four of their last five games, will play the Sacramento Kings Saturday night at Arco Arena.
Bryant reportedly has a bone spur in his left foot, which has been bothering him for several games. The 15-time All-Star is four points away from passing late Hall of Famer Wilt Chamberlain for fourth on the NBA's all-time scoring list.
Bryant is listed as probable against the Kings after seeing a specialist Friday, according to the OC Register.
The injury may slow him down and ease whatever reported tension he might have with head coach Mike D'Antoni.
The Register also reported that D'Antoni looked annoyed with Bryant resorting to his old "ball-stopping" ways. On Thursday, the first-year Los Angeles coach reportedly called a pick-and-roll for Pau Gasol, to have the clearly injured Bryant pass the ball, and his comment after the game may have been teeming with frustration.
"Just play the game," D'Antoni said. "We try to go a little bit too much one-on-one."
Point guard Steve Nash is listed as "probable" with hamstring and hip injuries. The 39-year-old has battled through injuries this season, while leading the team with 6.8 assists per game. However that is Nash's lowest assist total since his 1999-00 season with the Dallas Mavericks, when he averaged 4.9 per contest.
Nash has missed 24 games already this year, and the Lakers will need his leadership as they battle the Utah Jazz for the final playoff spot in the Western Conference with nine games remaining in the regular season.
© Copyright IBTimes 2023. All rights reserved.