Lakers Rumors: Jimmy Butler, LaMarcus Aldridge On L.A.'s Free Agency Radar?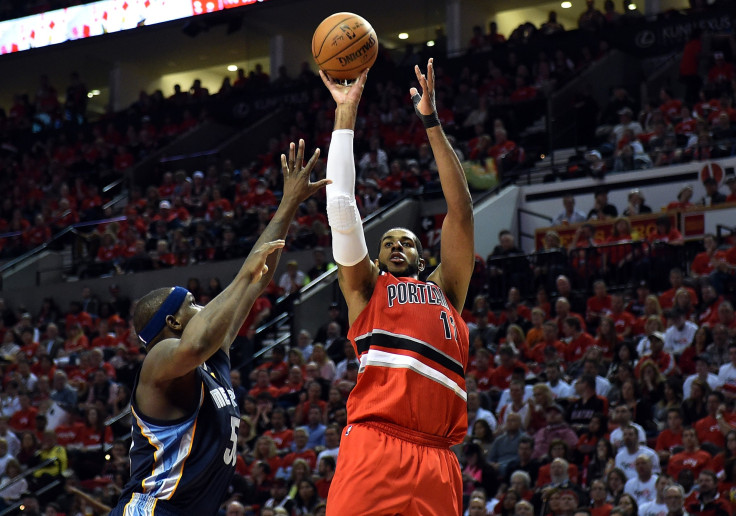 Less then two days from the start of free agency, the Los Angeles Lakers appear to be in contention for two of the most coveted players available on the open market: Chicago Bulls shooting guard Jimmy Butler and Portland Trail Blazers power forward LaMarcus Aldridge.
On Thursday, ESPN's Chris Broussard said that "Aldridge is the No. 1 guy on [the Lakers'] wish list," and the talks are not expected to go away after the Lakers failed to reach a trade with the Sacramento Kings over big man DeMarcus Cousins. Lakers general manager Mitch Kupchak may have as much as $23 million in cap space this summer, which is more than enough to sign either Butler or Aldridge to a presumed one-year deal.
Either player would quickly jumpstart the Lakers' rebuilding efforts after a disastrous 21-61 run that saw Kobe Bryant go down with a season-ending shoulder injury. Butler, a vastly improved swingman, could help ease the development of second-year point guard Jordan Clarkson as well as No. 2 overall draft pick and former Ohio State star D'Angelo Russell. In 2014-2015, Butler averaged a career-best 20 points per game, 5.8 rebounds, and 3.3 assists.
Aldridge, who turns 30 years old on July 19, is also coming off a strong season but offers the Lakers a different set of skills. Scoring a career-best 23.4 points and 10.2 rebounds last season, Aldridge provides L.A. with a post presence it has missed since Pau Gasol's free-agent departure last year. At 6'11, Aldridge would also provide head coach Byron Scott with a solid mid-range jump shooter and an effective rebounder -- two areas that were lacking for the Lakers last season.
When midnight strikes on July 1, the Lakers will be in the mix for both All-Stars, with the restricted Butler reportedly interested in a short-term deal and unrestricted Aldridge all but gone from Portland. The two were actually seen hanging out earlier this month.
As of now Butler seems the most eager to make his way to Los Angeles. The league's Most Improved Player would like to sign a one-year deal with the Lakers, according to L.A. Daily News. However, Chicago is expected to match any offer Butler receives.
Earlier this month, a report surfaced that Butler would be seeking a short-term deal so he can eventually ink a longer contract after 2016, when the NBA's new television rights deal kicks in and exponentially increases the salary cap floor from roughly $67 million to potentially $90 million.
Butler could certainly fill Bryant's role after the former MVP retires in the next year or two, but Chicago's insistence on retaining him likely means L.A. won't land him. The No. 30 pick in 2011 draft, Butler developed into one of the best two-way guards in the league under former head coach Tom Thibodeau. Internal strife with management resulted in Thibodeau's firing after Chicago was eliminated from the playoffs last month, but he and Butler are still in contact as evidenced by their dinner at a famous Chicago steakhouse over the weekend.
On top of his contract situation, Thibodeau's dismissal and a perceived rift with point guard Derrick Rose are seen as indicators that Butler no longer wants to be a Bull. It was the 25-year-old who led Chicago's offense for most of last season while Rose healed up once again from knee surgery.
As the Chicago Tribune pointed out, Butler firing off 12 shots and Rose playing second fiddle in the second half of the Bulls elimination game loss to Cleveland in the conference semis was seen as a sign of a possible rift. But Bulls brass downplayed any talk of dissension, and said they could still play together.
"I haven't seen (friction)," Chicago general manager Gar Forman told The Tribune. "In all our minds, you've got two guys who can attack, want to run, can play off the dribble and play-make for themselves and others. They haven't had a chance to do it a whole lot because of the injuries. But there's no reason those two shouldn't be able to play at a high level and be one of the best backcourts in the league."
Aldridge, on the other hand, seems like a much more realistic opportunity for the Lakers, after it was reported he was "99.9 percent" sure on leaving the Trail Blazers, feeling the franchise didn't appreciate him and couldn't attract quality free agents to contend for a title. After nine years in Portland, Aldridge has tasted the second-round of the playoffs once in his career.
In a free-agent market that includes big men Kevin Love, Marc Gasol, and DeAndre Jordan, Aldridge could land a four-year, $80 million deal with the Lakers. But no other team besides Portland can offer him a fifth-year.
Originally from Texas, Aldridge is reportedly interested in the Lakers, as well as the Dallas Mavericks and San Antonio Spurs.
© Copyright IBTimes 2023. All rights reserved.