Lakers Rumors: Kevin Love A Top Free Agent Target For LA In 2015 Offseason?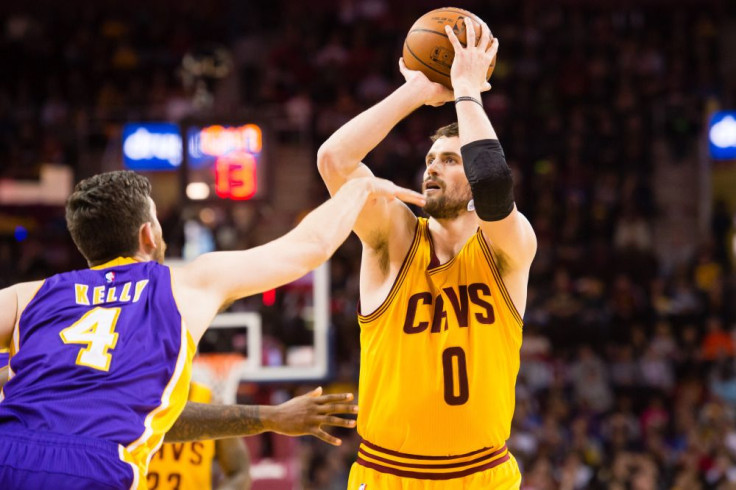 The Los Angeles Lakers tumbled to the bottom of the NBA with a franchise-worst 21-61 record in the 2014-2015 season, marred by superstar Kobe Bryant's second major injury in as many years and a defense that ranked No. 29 in the league allowing 105.3 points per game.
However, there's plenty on the horizon to suggest L.A. will rebound next season. There's of course the return of Bryant, who or may or may not call next season his last, as well as 2014 first-round pick Julius Randle and the solid development of rookie point guard Jordan Clarkson. The Lakers also own the No. 2 overall selection in next month's draft, a pick that could be spent on a big man like Kentucky's Karl-Anthony Towns or Duke's Jahlil Okafor.
But what could rapidly facilitate the Lakers' return to the top of the Western Conference is their significant salary cap space, and the possible addition of All-Star Cleveland Cavaliers power forward and potential free agent Kevin Love.
Yahoo Sports NBA columnist Adrian Wojnarowski told The Jason McIntyre Show that Love plans to "explore" the free-agent market this summer by opting out of his current deal with the Cavs.
"He's got options," Wojnarowski said "He could stay another year (by not opting out) and go into free agency next year. But he's had injuries, and he might just want to sign a four-year deal somewhere else."
Those options include the Lakers, Boston Celtics, Houston Rockets, Dallas Mavericks and San Antonio Spurs, according to Wojnarowski.
L.A. currently has the fifth-most salary cap space available this summer, with only $37 million devoted to player contracts, and $25 million of that will go to Bryant.
The Lakers have longed been tabbed as a potential suitor for Love. He rose to stardom with the UCLA Bruins while averaging 17.5 points and 10.6 rebounds in his one season, and the Lakers' deep championship history coupled with California's sunny skies and high-profile ticket holders make Los Angeles a desired destination for most players.
Teaming up with Bryant, even if for only one year, while learning from the future Hall of Famer and eventually inheriting the team could prove too difficult for Love to turn down. He would also immediately become the face of the organization, as Bryant enters the final year of his contract. Though Love could potentially clash with defense-minded head coach Byron Scott, it's difficult to envision the two butting heads.
Love may also benefit from additional reinforcements lured to the Lakers and their hefty cap space. Free-agent guards Goran Dragic and Rajon Rondo are considered high on the Lakers' list, as well.
But, after toiling in six losing seasons with Minnesota, Love's enjoyed the winningest season of his career with the Cavs. He was forced to take on the third-scoring option with LeBron James and Kyrie Irving commanding the ball, and Love liked to reports of difficulty meshing with James.
Love still put up 16.4 points and 9.7 rebounds while shooting 36.7 percent from three-point range as Cleveland earned the No. 2 seed in the Eastern Conference with a 53-29 record.
Even with Love sidelined due to a dislocated shoulder that required surgery, Cleveland reached the NBA Finals, a fact Love can't disregard when it comes time to deciding to stay or go. Should the Cavs fall to the Golden State Warriors they'll still be considered favorites to come out of the East with Love on the roster.
Love owns a $16.7 million player option for next season, which he can turn down and hit the open market. With the way NBA contracts are structured, and Love's stellar all-around offensive game, he could certainly garner much more per season in his next deal. However, only the Cavs can offer him a fifth year on any contract.
The possibility remains that Love plays out the rest of his deal with the Cavs and hits free agency in 2016, when contracts could balloon significantly. The salary cap ceiling, without incurring any penalties, is projected to be roughly $81 million in the 2015-16 season, and from there it could accelerate to $89 million in 2016-17 and $108 million the following year. Those numbers will rise exponentially because of the NBA's new television rights deal increasing the total amount teams will have available to spend on players under the collective bargaining agreement signed in 2011.
If Love opts out this year, he'll be locked into a contract that will play him less compared to one he could sign in 2016.
Boston also has major cap space to spend, with only $40 million in contracts next season, but Love sustained his postseason-ending surgery when he got tangled with center Kelly Olynyk. Love stated afterwards he believed Olynyk injured him on purpose, and has since refused the seven-footer's overtures of an apology.
Love underwent surgery late last month, and he faces a four to six-month rehab, which could push his return back until the start of next season or a little later.
The Spurs have nearly as much space to burn as the Lakers, with $33.7 million committed to player salaries next season. Yet Love's issues on the defensive end of the court might not mesh well with San Antonio head coach Gregg Popovich.
The Rockets could be quite intriguing for Love, with the chance to team with MVP runner-up James Harden and center Dwight Howard backing him up on the defensive end. Love could also learn from head coach Kevin McHale, one of the greatest post players in NBA history. Even though Houston's already on the hook for $60.7 million in player contracts next season, it could still make some minor moves to create enough space for Love.
© Copyright IBTimes 2022. All rights reserved.
FOLLOW MORE IBT NEWS ON THE BELOW CHANNELS