Lakers Trade Rumors: Kevin Love On His Way To L.A.? Pau Gasol To Bobcats?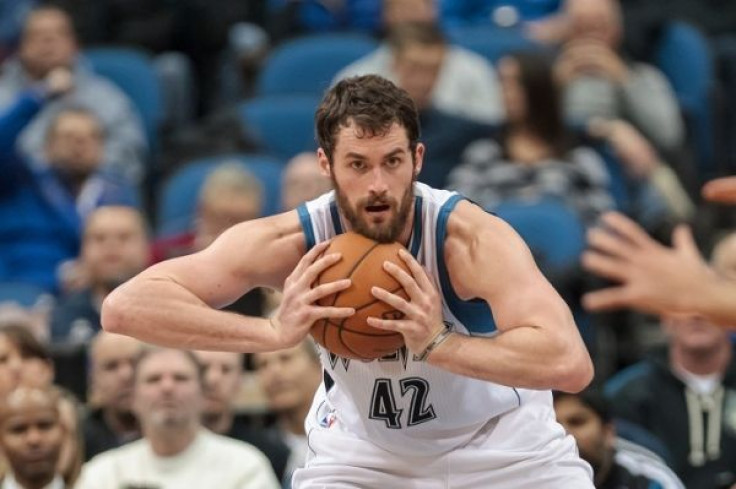 The Los Angeles Lakers are in the middle of one of their worst seasons in franchise history. With the trade deadline scheduled for Thursday, the organization is hoping to make a deal that would put them right back in contention next year.
According to Ken Berger of CBS Sports, L.A. is trying to put together a package that will land them Kevin Love. The power forward is set to be a free agent in 2015, and the perception around the league is that the chances of Love re-signing with the Minnesota Timberwolves are very slim. The 25-year-old is one of the premiere players in the NBA, but he's languished in a small market, never reaching the playoffs.
It doesn't look like the Lakers have enough to acquire Love. Minnesota hasn't shown any signs that they want to move their best player, and Los Angeles doesn't have much to offer the Timberwolves. Pau Gasol would probably be the centerpiece of a proposed deal, but Love is younger and better. L.A. will have a lottery pick in what's considered to be a very strong draft, but they aren't allowed to trade their first-round selection. NBA teams can't trade first-round picks in consecutive seasons.
Minnesota has time to decide what their best course of action is, regarding Love's impending free agency. However, the decision to hold onto him this year may just be delaying the inevitable. Multiple reports say that Love wants out of Minnesota, and Los Angeles is his preferred destination. The big man has already experienced playing in the area, having gone to college at UCLA, and joining forces with Kobe Bryant would make the Lakers a formidable team in the Western Conference.
Even if Love wants to sign with the Lakers in 2015, they could miss their chance to acquire him by not making a trade. L.A. should have a lot of salary cap space this summer. If the club chooses to spend a lot of money on available free agents, there might be no room for Love on the payroll in a year.
A proposed Love trade isn't the only way the Lakers could move Gasol. The Suns and Lakers have discussed a deal that would send the veteran to Phoenix. According to Rick Bonnell of the Charlotte Observer, the Bobcats have inquired about Gasol, but a trade doesn't appear to be on the horizon.
Both the Suns and Bobcats are looking to solidify their chances of making the playoffs and improving their seeding. As the No.6 seed in the West, Phoenix is the biggest surprise in the NBA. Charlotte is six-games under .500 through 54 contests, but they are in the postseason in a weak Eastern Conference.
Berger reports that Gasol will be traded if a team that wants to re-sign him for next season decides to make a good offer. The big man's contract is up at season's end, and L.A. won't mind losing him for nothing, since his absence will free up almost $20 million of salary cap space.
© Copyright IBTimes 2023. All rights reserved.
FOLLOW MORE IBT NEWS ON THE BELOW CHANNELS