Latest Honduras Prison Fire A Testament To Overcrowding
ANALYSIS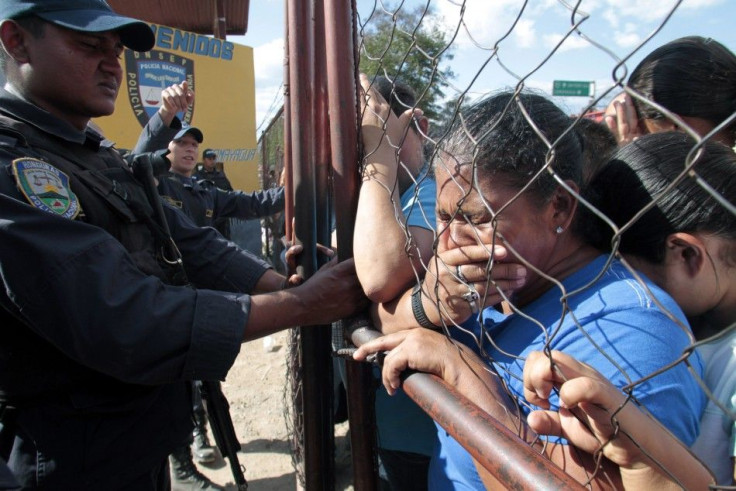 The death toll from the latest prison fire in Honduras rose to 18 people by Friday morning, according to reports.
The fire, which started at a prison in the northern city of San Pedro Sula on Thursday, erupted during an uprising by prisoners who had smuggled arms into the facility. At least 13 of those killed died of burns or asphyxiation and one inmate was decapitated during the riot.
Inmates put out the fire themselves using buckets of water. They also carried the charred bodies to a site in the prison yard, according to the Associated Press.
Prison riots are not uncommon in Latin America, especially in countries like Honduras and Mexico where a glut of crime is pushing prison populations well beyond capacity. Often, the high incarceration rate mixed with government initiatives to mix pre-trial detainees and convicted criminals clog local courthouses and some of those who have died in riots and fires have yet to be formally charged.
''You have this tremendous public security crisis and the quick answer that prevailed for all of these years is 'iron fist,''' said Jose Miguel Vivanco, Americas director for Human Rights Watch last month.
''By 'iron fist' you mean increasing penalties, making it more difficult for prisoners to get out of prison,'' he said.
This has turned Honduras into what one national newspaper calls the Prison Fire Capital of the World.
It's now official; you think prison fire, you think Honduras. It's fair, said Marco Cáceres in Honduras Weekly. After the Comayagua prison fire that killed more than 360 people on February 14, along with the other prison fire in San Pedro Sula in 2004 (107 dead) and the one at the prison in El Porvenir in 2003 (69 dead), Honduras just has to take the cake.
The San Pedro Sula prison was built to hold 800 people, but was housing 2,200 inmates Honduras Attorney General Ethel Deras said in a statement. Nationwide, Honduras' prisons are overcrowded by more than 4,000 people, and they are also fire traps -- old, poorly ventilated, in disrepair. Moreover, guards are underpaid and jails understaffed.
Everybody has known for some time that the authorities have no interest in the prisons. They are a time bomb that will continue to explode, Bishop Romulo Emiliani told the Associated Press after the San Pedro Sula fire.
In Mexico, where a five-year drug war has resulted in some 50,000 deaths, rival gang members are often crammed into the same facilities. While they are generally kept in separate blocs, that sometimes doesn't stop violence and tragedy from escaping through the barred cells.
In February, 44 inmates were killed during a riot in the Apodaca prison in Monterrey after soldiers from the Los Zetas and the Gulf Cartel, once-allied gangs that have become bitter enemies, clashed inside the detention center, sparking an investigation into the prison guards and a possible jail break.
The Apodaca prison was 180 percent over capacity at the time.
Prison riots are also common in Venezuela, where the country's 30 federal prisons are designed to hold 12,000 inmates but actually have closer to 50,000 locked up.
In the first six months of 2011, more than 150 prisoners died in Venezuelan prisons, according to CNN, including 19 last June when inmates took over a section of the El Rodeo I prison near Caracas.
© Copyright IBTimes 2022. All rights reserved.
FOLLOW MORE IBT NEWS ON THE BELOW CHANNELS