LeBron Rumors: How The Rest Of NBA Free Agency 2014 Plays Out After Decision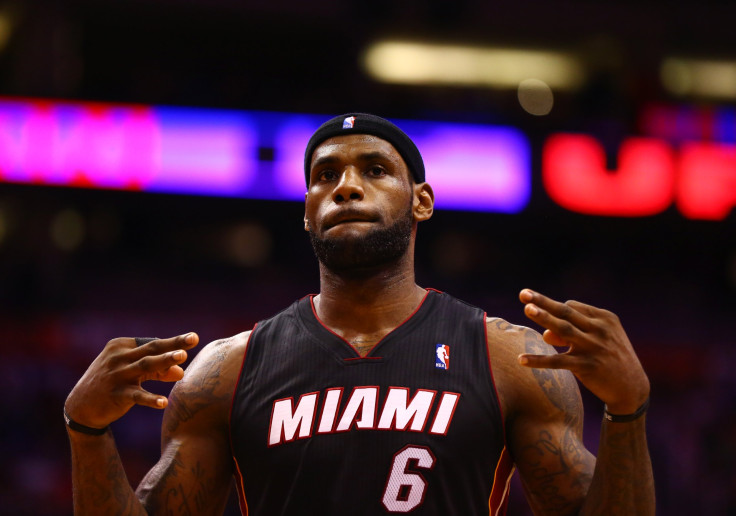 One decision by LeBron James has the potential to completely alter the landscape of the NBA, as well as the future of some of its biggest superstars.
But as of now, we have no idea what that decision will be. No report can seem to pin down exactly what the four-time MVP plans to do, but he seems to be torn between a return to the Cleveland Cavaliers or another go-round with the Miami Heat.
Either decision will create ripple effects across the league, with Carmelo Anthony's future with the New York Knicks in play, as well as Dwyane Wade's with Miami and Chris Bosh's with Miami or Houston. But even more is in play.
It could also decide if coveted Minnesota Timberwolves forward Kevin Love is traded to Cleveland or the Boston Celtics, or if he stays put until the February trade deadline. Love was reportedly open to signing an extension and approving a trade to Cleveland, but only if James was there too.
Houston is also in a precarious position. Currently, they are unable to match the offer sheet restricted free agent Chandler Parsons signed with the Dallas Mavericks, and begrudged guard Jeremy Lin's possible trade to the Philadelphia Sixers is also in limbo unless Bosh signs.
While we can only speculate, let's look at how each scenario would play out whether he chooses Miami, Cleveland or somewhere else. Each will assume James signs a maximum contract.
LeBron Stays In Miami
James reportedly flew back to Miami with Wade, which has fueled speculation that they'll be teammates once again. Bosh would only turn down Houston's four-year, $88 million deal if James signs anywhere other than Miami, while any chances of Anthony landing with the Heat likely fall off a cliff.
-James signs with Miami for max.
-Wade and Bosh take less money to stay in Miami.
-Anthony re-signs with the Knicks or forces a sign-and-trade that sends him to Chicago and gives him a max five-year, $129 million deal.
-Love stays put or heads to Boston for a boatload of draft picks.
-Houston matches Parsons's offer sheet, and keeps Lin and his expiring deal.
-Cleveland either picks up big-man Greg Monroe with all the cap space they created for James, or convinces Luol Deng to come back.
LeBron Returns To Cleveland
The Cavs were apparently told to clear cap space by James's agent and friend Rich Paul, according to Yahoo!Sports, but again nothing is final. Owner Dan Gilbert's scathing letter to fans after James left in 2010 is still an issue for James, as reported by ESPN, but a return offers James the opportunity to do right by Cavs fans.
-LeBron signs for the max with Cleveland
-Bosh goes to Houston, and Wade re-signs with Miami
-Anthony's situation remains the same, its Knicks or Bulls with the Lakers and Suns tempting, but the Western Conference is too tough.
-Cavs push for trade for Love, and give up No. 1 pick Andrew Wiggins.
-Parsons heads off to Dallas, and Lin goes to Philly.
LeBron Goes To Lakers Or Suns
It's a very big outside chance at this point, but both L.A. and Phoenix have the cap space to sign James to the max. Wade and Anthony, or even Bosh, would have to take less money if James desires the max. But James could make it easier and take less himself.
-James signs for the max with L.A. or Phoenix, but less than what Miami can pay him.
-Bosh goes to Houston, and Wade could take less with both L.A. or Phoenix to keep playing with James.
-If James and Wade take less, so could Anthony and he winds up wherever they go.
-The Knicks are hamstrung by Anthony, and can't sign a superstar but maybe make a push for Pau Gasol, Deng, Monroe, or Pacers guard Lance Stephenson.
-Chicago misses out, but still remains a contender and doesn't have to give up Taj Gibson, and can hold on to Carlos Boozer's expiring deal to be major free agent players in 2015.
-Cavs use space on Stephenson, Monroe or Deng, with Gasol holding out for a contender.
-Love to Celtics or stays with Minnesota right up until trade deadline.
-Parsons and Lin stay put in Houston
So James's pending choice will affect at least 10 teams, or a third of the league, and upwards of 12 players, but that number could be much bigger if any sort of sign and trade is reached between Miami and any other team that James picks.
James is attending the World Cup final between Germany and Argentina in Brazil, and it's believed he'll announce his decision before he leaves the country. And when he leaves, the entire NBA will be turned upside down.
© Copyright IBTimes 2023. All rights reserved.