Lindsey Graham: 'Tell Donald Trump To Go To Hell' And Make America Great Again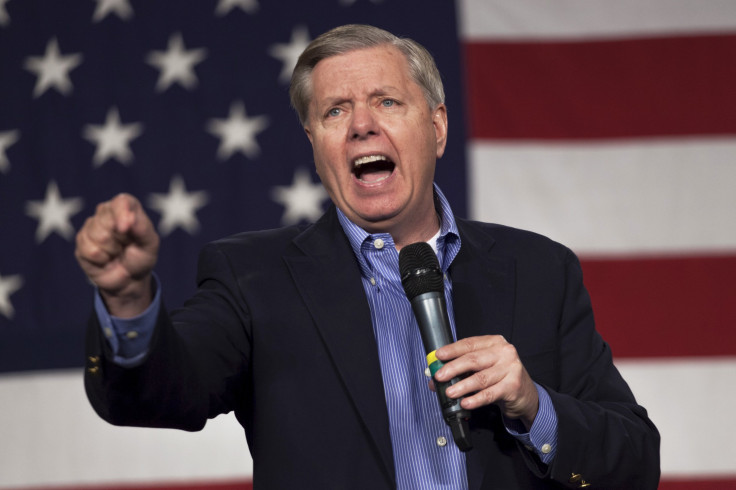 Republican presidential candidate and South Carolina Sen. Lindsay Graham on Tuesday slammed statements made recently by front-runner Donald Trump that Muslims should be banned temporarily from entering the U.S. In an interview on CNN, Graham condemned Trump's message before offering up his own interpretation of the billionaire's campaign slogan. "You know how you make America great again?" Graham said. "Tell Donald Trump to go to hell."
Trump announced his position Monday afternoon in a press release and was quickly criticized by members of both parties for his divisive tone. Republican presidential candidates Texas Sen. Ted Cruz, retired neurosurgeon Ben Carson, New Jersey Gov. Chris Christie and former Hewlett-Packard CEO Carly Fiorina all joined in the chorus of condemnation. All of the major Democratic presidential candidates also denounced Trump.
Graham tweeted repeatedly Monday to denounce Trump's message. His first tweet said that the billionaire's campaign had transformed from being absurd into "downright dangerous." He then tweeted that Trump's rhetoric was "putting at risk the lives of interpreters, American supporters, diplomats and the troops in the region" by making these bigoted comments.
Trump held a campaign rally in South Carolina Monday night to honor the anniversary of the Pearl Harbor attacks and used the opportunity to repeat his position banning Muslims from entering the U.S. In doing so, Trump cited a suspect survey that claimed that over 50 percent of American Muslims wanted to be ruled by Shariah law and that nearly one-fifth of American Muslims felt physical punishment was an appropriate response to insults on Islam. The group that conducted that survey, the Center for Security Policy, has been criticized in the past by legislators and political players on both sides of the aisle as an organization that promotes conspiracy theories. The group has previously said that President Barack Obama is complicit with jihadi efforts from the Muslim Brotherhood.
© Copyright IBTimes 2023. All rights reserved.
FOLLOW MORE IBT NEWS ON THE BELOW CHANNELS