LOOK: JVKE's Local Fans Google SB19 During Their Performance At House Of Blues
KEY POINTS
SB19 joined American singer-songwriter JVKE's "What Tour Feels Like" finale show in Boston
The Filipino pop band and JVKE collaborated for the remix version of the latter's "golden hour" song
SB19 got local JVKE fans Googling about the group during its opening performance
New international fans may soon be added to the continuously growing A'TIN – SB19 fans – community after SB19's appearance at JVKE's "What Tour Feels Like" finale concert held Saturday at the House of Blues in Boston.
Weeks after SB19 and American singer-songwriter JVKE released their collaboration – a remix version of the latter's hit single, "golden hour" – they performed the song live on stage on JVKE's show in Boston.
Aside from "golden hour," the five-member group, also known to A'TIN as "Mahalima," performed "Gento," a track from SB19's "PAGTATAG!" album, which led local fans of JVKE Googling about the group on the spot.
In a video clip shared by @jamesdator_ on X, formerly Twitter, two local female fans who came to watch JVKE were seen searching for more information about SB19 on their phones.
This scene got A'TIN more proud of the group and eager to welcome and make more room for new SB19 fans in their community.
"Into the rabbit hole, they go," commented one fan; another said, "I say right! Go, look [them] up."
"I mean, I would do the same every time I watch a movie and like the actor/actress. I would immediately Google them," stated another fan. A fourth fan commented, "The highlight [of this show] is seeing casuals search about [SB19]."
"WOW, #SB19 IS A TRULY WORLD-CLASS TALENT 💙," added another proud fan, while another quipped, "It looks like more A'TIN will be recruited [into the fandom]."
"From the beautiful land [of] the Philippines, I'm really so proud of you @SB19Official," tweeted a different fan.
"Golden hour," SB19's first international collaboration, fulfilled its aim to promote the beautiful Filipino language on the international scene when SB19 performed the Filipino lines of the remix at JVKE's Boston show.
SB19 shared that its collaboration with JVKE was a big opportunity not only for the group but also for the Philippines, per CNN Philippines.
SB19's performance at JVKE's "What Tour Feels Like" finale show in Boston came after the group concluded the North America leg of its "PAGTATAG!" world tour.
While abroad, SB19 also represented Filipino talent on the international scene with appearances on "Good Day New York," "Wish USA" and "New York Living," among others.
Meanwhile, the dance challenge for the group's hit song "Gento" continues to rise to new heights, with several K-Pop idols jumping on the craze.
K-Pop stars who joined the "Gento" dance challenge on TikTok include ZEROBASONE's Sung Han Bin and Park Gun-wook, BAE173's J-Min, Lee Han-gyul and Muzin, TIOT's Kim Min-seoung, MCND's BIC and Huijun, THE BOYZ's Juyeon and Sunwoo, 8Turn's Myungho, Minho and Yungyu, ATEEZ's San, ONEUS' Hwanwoong and Leedo, WEi's Kim Yo-han, ATBO's Ryu Junmin and Jeong Seunghwan and ENHYPEN's Jay and Jungwon.
Other South Korean personalities like singer-songwriter Oh Sae-bom, TikTok star Vincent Hsu and fashion model Haesung also joined in on the "Gento" dance craze.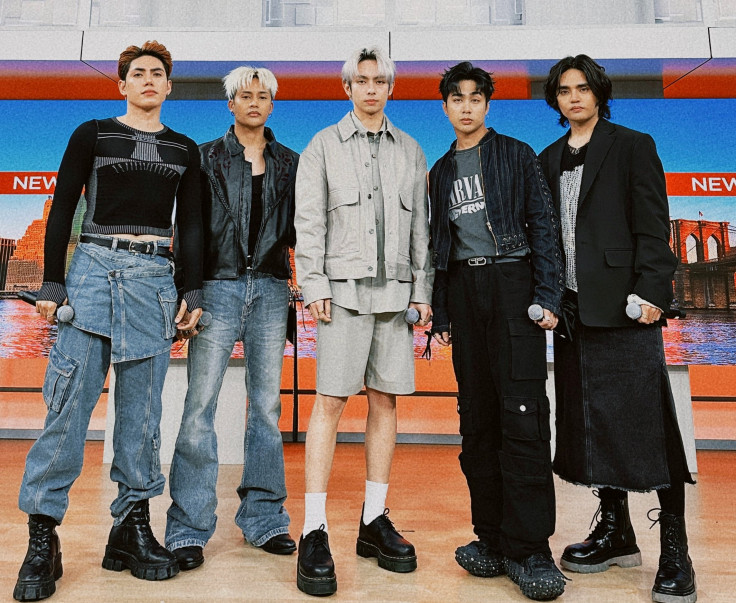 © Copyright IBTimes 2023. All rights reserved.