LOOK: NewJeans Fansign Attended By Middle-Aged Men; Fans Question If They're Really Bunnies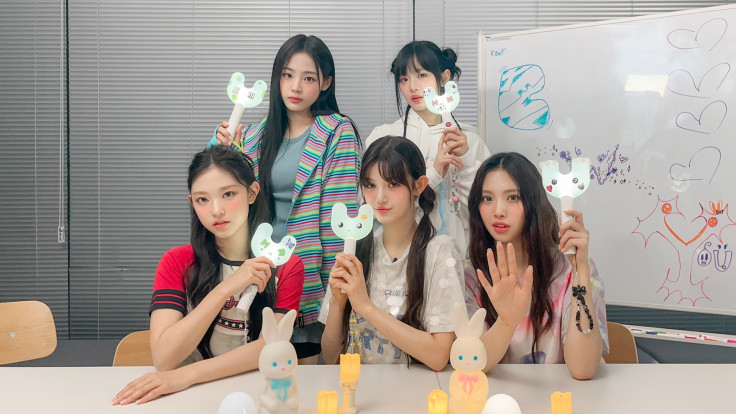 KEY POINTS
NewJeans held a fansign event to celebrate the release of its second EP, "Get Up"
Fifty lucky winners were randomly selected to participate in the fansign event
Videos from the event went viral and earned different reactions from fans and netizens
Videos from the recent fansign event of NewJeans, whose members' ages range from 15 to 19 years old, sparked an online debate after the videos reportedly showed that the majority of the event attendees were middle-aged men, leading fans and netizens to wonder whether they were real Bunnies – NewJeans fans.
In one video reposted by @lilac.cloudy on TikTok, she claimed that she found it hard to believe that a man in his late 30s could relate to teenagers. "Why would they attend fansigns instead of giving [a] chance to girls or boys their age?" the uploader asked.
As shown in the video, the men were holding up their phones, taking photos and videos of the girl group, while some were having their albums signed by the members.
In the last part of the video, some men even brought ladders to have a better view of NewJeans.
In another video uploaded by another fan, a man opened his hand, allegedly wanting to hold Hanni's hand. According to the uploader, the man did the same to all the members. He also claimed that a staff member told the man that touching wasn't allowed, but he still did it.
The video went viral with over 1.4 million views, causing fans and netizens to express their concern for the members of NewJeans.
"I really think that whenever minor idols, male or female, get someone older at fan meetings, they should have their managers by their side," commented one user.
"Ok, they need to put those clear glass dividers so there won't be any 'touches,'" suggested another.
"The way Hanni knew immediately," claimed one fan because Hanni seemed to flinch when the man moved his hand.
Meanwhile, a male user commented, "Bruh, that's just how he talks while moving his hands. [H]e's not reaching out to grab her hand. [You] all judging too quick. Another stated, "[It] could be a hand gesture like [you know] when [you] talk and [your] hand moves a lot."
A third viral video showing middle-aged men getting their albums signed sparked another debate among netizens and fans. While fans expressed concern, other netizens argued that there shouldn't be discrimination against older fans.
"We can't discriminate older fans and gatekeep because of their age or gender," commented one user. Another shared, "They paid for it, and they didn't break the rules. I think it's fine."
"As long as they aren't being creepy and making the girls uncomfortable. I don't care what age they are. [You all] are the ones being weird," commented a different user.
Meanwhile, Bunnies questioned whether the men who attended NewJeans' fansign event were real fans.
"Ok, people can enjoy their music, but [for] a grown man [to] be obsessed with underage singers is creepy," claimed one fan.
"I feel like grown men can enjoy their songs, but do you really have to go to their fan meeting? [Attending] concerts is ok, but [going to] a fan meeting is too much," another fan opined.
On Twitter, user @hyevuitton shared a different video clip from NewJeans' fansign event, showing that the event also gathered fangirls.
"[NewJeans] might be the first [K-Pop] group that has no 'specific' demographic. [G]irls, boys, [your] [mom], [your little] brother, [your] non-[K-Pop] friend... everyone loves [NewJeans]. [There's] no way you can deny that," she tweeted.
The 50 lucky participants for NewJeans' "Get Up" fansign event Tuesday were randomly selected from those who purchased the group's "Get Up" Bunny Beach Bag version or THE POWERPUFF GIRLS X NJ Box version, per Weverse's notice.
Winners were announced on Aug. 10.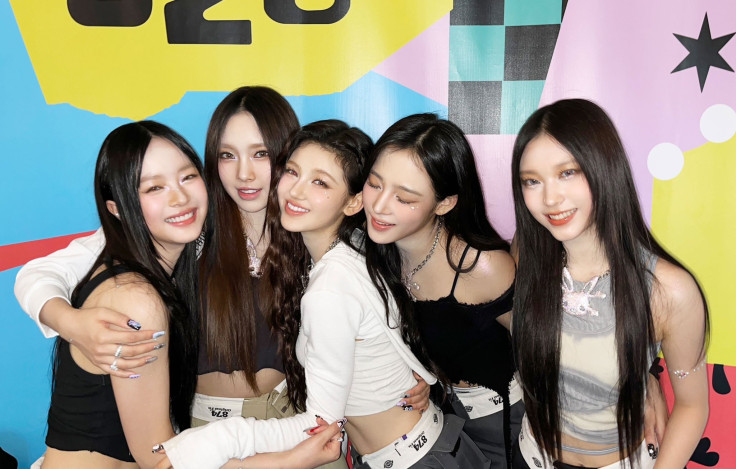 © Copyright IBTimes 2023. All rights reserved.