lululemon Accused of Racist Advertising: reddit Thread Questions Choice of Model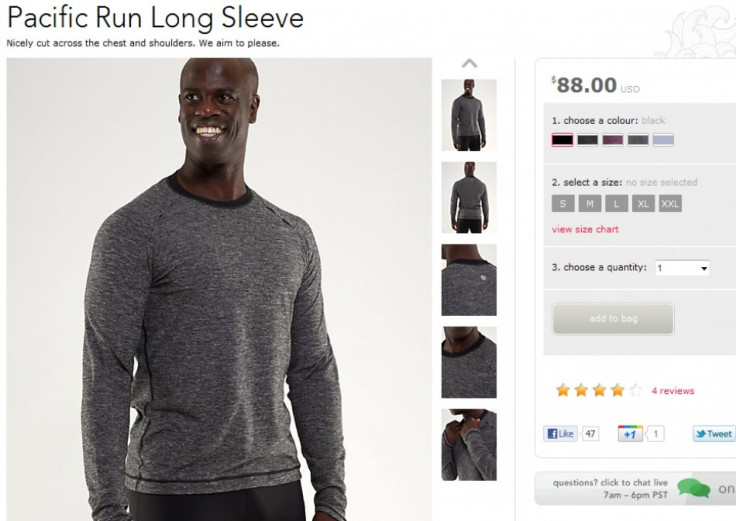 A popular reddit thread has questioned whether an entry on lululemon's online catalog is racist, and redditors are divided on whether lululemon is politically incorrect or if the athletic clothing company made an unfortunate oversight. The catalog entry for the Pacific Run Long Sleeve men's shirt features two male models and five colors. A white male models the gray, purple, blue and striped shirts. The title of the reddit thread is Try selecting the colour black for this shirt.
Indeed, when you click on the black color square, a black male model appears. However -- as multiple redditors pointed out -- the shirt he is wearing looks to be more gray in color than black. Still, when you hover over the color selection with your mouse, the color is described as black.
But is it really racism?
Actually it is racist, one redditor said. Not only did they change the man, but they changed the pants. White man gets poofier shorts, black man gets tight spandex with big bulge. Why can't the white man show off his bulge too? What are they trying to say?
Others felt the racism charge was much ado about nothing.
I don't see any difference between the black guy's shirt and the white guy's 'herringbone Black' shirt, a redditor wrote. I think the important thing we need to realize about this site is that it is hideous and overpriced clothing.
Indeed, the redditors who contributed to the thread seemed just as -- if not more -- concerned by the cost of the shirt ($88) than the skin color of the men modeling it.
IBTimes has attempted to contact lululemon for a comment on the reddit thread, and to ask why a black man was chosen to model one shirt color, with the same white model in the remaining four.
lululemon specializes in yoga clothing and activewear.
An email sent to lululemon's Media Relations department was not immediately returned. We attempted to reach the company by phone as well, but after waiting on hold for a significant amount of time, a representative from the Guest Education Center answered and said she had no way of transferring us to someone in media relations and could not provide an alternate contact number. She said email was the only way to contact someone in the company for matters relating to the press, and added that if no one from lulumelon responded to our email inquiry, it meant they weren't interested in commenting on the story.
lululemon was in the news recently regarding a much more serious matter: A Lululemon Athletica employee was convicted earlier this month of murder a co-worker in a Bethesda, Md., store.
© Copyright IBTimes 2023. All rights reserved.