MacBook Pro 2012 Teardown: A Look Inside Apple?s New Retina Display Laptop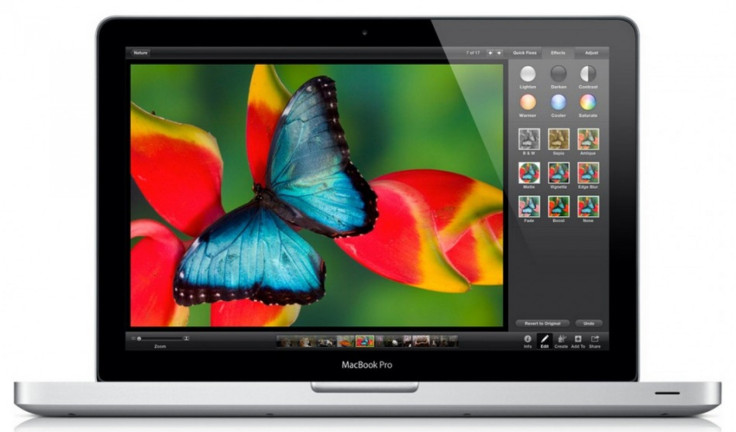 At its annual Worldwide Developers Conference, Apple announced a new MacBook Pro model, which will boast sharp high-resolution Retina Display and a thinner profile. Some critics have already gotten their hands on the upgraded edition and have done a full-body teardown, examining the inner workings of Apple's new laptop and gaining further insight into how it differs from its predecessors.
It still looks like a great piece of hardware, but it's also apparent how similar it's becoming to the MacBook Air, writes Adi Robertson, of the Verge.
After taking the computer apart, iFixIt has learned that the MacBook Pro's RAM is soldered to its logic board just like the Air. This means that a RAM upgrade isn't available, and the amount purchased with the computer is the only RAM users will get.
The battery is also secured with glue instead of screws, which makes it much more difficult to change the battery since it's located right above the trackpad cable; however, the battery has received a noticeable upgrade from last year's model, which is necessary to power the Retina display. The newest MacBook Pro will boast a battery with 95 Wh at 10.95 V, compared to the preceding model, which contained 77.5 Wh battery power. This will still last seven hours when fully charged, and will only be able to be replaced personally by Apple since it is nearly impossible to remove.
This is typical of Apple, as they usually find ways to ensure that users don't turn to third-party vendors by limiting compatibility with other platforms. This is apparent in the new MacBook Pro when being gutted by iFixIt. Laptops typically contain a warning label alerting owners that the battery must be disconnected when tearing apart electronics to avoid the risk of shock. Apple, however, does not have this label in its new MacBook Pro.
Is it possible Apple wasn't expecting us? writes iFixIt.
A first for the MacBook Pro, Apple's new Retina Display laptop contains proprietary screws and flash memory. Since the upgraded screen is one-piece, users will have to replace the entire assembly if there is any malfunction.
This could mean that unlike previous MacBook Pro models, when a customer brings it in for a repair at the Genius bar, it's likely that the Apple employee will replace the faulty equipment. This is typically the case for iPhones and iPads, but not MacBooks, as PCWorld points out.
Apple has also introduced a brand new model number for the Retina Display laptop: A1398.
Go ahead and let it sink for a minute, writes the iFixIt staff. Apple finally introduced a new MacBook Pro model number! (It's the little things that make us happy).
The Apple-centered tech specs site took a close up photo of the Apple logo and Finder icon as they appear on the Retina Display. The 220-pixel-per-inch images zoomed in show a bunch of tiny square-shaped units that come together to create the final image.
All jokes aside, the resolution of this display is really incredible, the iFixIt staff writes. There's no doubt that the cost to manufacture the Retina display is a big reason for the new MacBook Pro's price tag.
When digging deeper into the device, a 512 GB Samsung flash memory module is found along with a set of three different types of Samsung chips. The new MacBook Pro also contains a fan with asymmetrical blade spacing, which should spread the noise produced over multiple frequencies making it less noticeable to users.
The teardown has confirmed some features that have already been leaked beforehand, and be sure to take a look at iFixIt's gallery to see the step-by-step process complete with photos of every piece.
© Copyright IBTimes 2023. All rights reserved.