Mad Cow Disease Discovered In California; No Human Threat Seen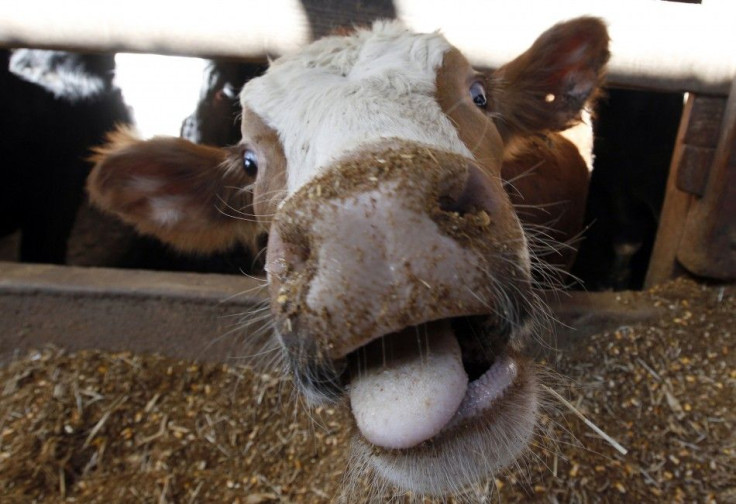 WASHINGTON (REUTERS) -- U.S. authorities reported the country's first case of mad cow disease in six years on Tuesday, swiftly assuring consumers and global importers that there was no danger of meat from the California dairy cow entering the food chain.
Agriculture Secretary Tom Vilsack gave assurances that the finding posed no risk to the food supply or to human health, a line that seems to have been accepted by major foreign buyers.
Fears of a potential backlash among consumers and big importers of U.S. beef fueled a sell-off in Chicago live cattle futures on Tuesday, with memories still sharp of the first case in 2003 that caused a $3 billion drop in exports. It took until 2011 before those exports fully recovered.
Mexico, Korea and Japan, three of the top markets for overseas U.S. beef sales, will continue imports, although two major South Korean retailers halted sales of U.S. beef.
Experts said the case was atypical - meaning it was a rare occurrence in which a cow contracts the disease spontaneously, rather than through the feed supply.
The risk of transmission generally comes when the brain or spinal tissue of an animal with BSE, or mad cow disease, is consumed by humans or another animal, which did not occur in this case.
First discovered in Britain in 1986, the disease has killed more than 150 people and 184,000 cows globally, mainly in Britain and Europe, but strict controls have tempered its spread. The first U.S. case was found in late 2003 in an animal imported from Canada, followed by two more in 2005 and 2006. Two of those cases were also atypical.
I would say this is an extremely isolated, atypical event, said Dr. Bruce Akey, professor of veterinary medicine and director of the Animal Health Diagnostic Center at Cornell University, which tests for Mad Cow and Chronic Wasting diseases for New York state and several Northeastern states.
There is still no evidence at all that BSE is anything but an extremely rare event in the United States, and nothing that poses a threat to the human or animal food chain.
Import restrictions from major customers would have dealt a fresh blow to companies such as Tyson Foods Inc and Brazil-based JBS that are still smarting from the pink slime furor.
Korean retailer Lotte Mart, a unit of Lotte Shopping Co., said it had suspended sales due to what it said was customer concerns, as did Home Plus, a unit of Britain's Tesco PLC.
NOT IN THE FEED
The USDA has begun notifying authorities at the World Organization for Animal Health (OIE) as well as U.S. trading partners, said John Clifford, the USDA's chief veterinary officer.
The systems and safeguards in place to protect animal and human health worked as planned to identify this case quickly and will ensure that it presents no risk to the food supply or to human health, Vilsack said in a statement.
The USDA is still tracing the exact life of the infected animal, and the carcass of the cow is under quarantine and would be destroyed.
The cow was found at a rendering plant, which processes diseased or sick animals into mainly non-edible products for use in things like soap or glue.
Live cattle futures on the Chicago Mercantile Exchange edged higher in Asian trade on Wednesday after falling by the daily 3-cent-per-pound limit in the previous session. The June live cattle contract was up 0.4 percent at 112 cents per lb by 0736 GMT.
EXPORTS BOOM, TROUBLE AT HOME
The news comes at a time of booming beef exports, with total shipments reaching a record last year thanks to expanding markets in countries like Russia and Canada, according to Commerce Department data.
But exports to Japan, Mexico and South Korea, which bought more than 80 percent of U.S. beef and veal exports in 2003, have yet to match their earlier peaks, with many of them maintaining certain restrictions that may help temper any fallout.
Mexico, which buys more U.S. beef than any other country, said it has no plans to halt imports and that it would maintain the same regimen of inspections for trade across the border.
Vietnam, which suspended U.S. beef imports between December 2003 and September 2011, also said it had not changed its policy on U.S. beef in response to the latest news.
It has also been a difficult period in the domestic market, with firms still reeling from fallout over a ground beef filler that critics called pink slime, which was pulled from grocery store shelves and forced one producer to idle several factories and another to file for bankruptcy.
Tyson's shares closed up 1.5 percent at $17.93 on Tuesday, triple the gain of the wider stock market. JBS shares closed down 0.3 percent in Sao Paolo.
Beef exports plunged nearly 75 percent in 2004 in the wake of the first U.S. incident in late-2003, with USDA reporting net cancellations of beef sales in five out of the first six weeks following the news. Overall beef exports were 321,967 tons in 2004, down from 1.27 million tons in the previous year.
Sales would not rebound to more than 1 million tons until 2010. The value of U.S. beef exports totaled $809 million in 2004, down from $3.86 billion in 2003, according to the U.S. Meat Export Federation.
MAD COW
BSE, or mad cow, is a neurological disease caused by an abnormal form of a protein called a prion and can damage the central nervous system of cattle.
Greater awareness, surveillance and control over animal feed has helped contain the disease; last year 29 cases were diagnosed worldwide, down from under 200 in 2007, the American Meat Institute says.
Reported cases peaked in peaked at 37,316 in 1992, 99.9 percent of which were in Britain, according to the Office of the United States Trade Representative.
Experts insisted that as the dairy cow had not been eaten by other animals, there was no risk of the disease being spread, and estimated the chance of an animal spontaneously contracting the disease at about one in a million.
There's always been concern that there could potentially be a spontaneous form of mad cow disease that just arrives and doesn't get transmitted through feed, George Gray, director of George Washington University's Center for Risk Science and Public Health.
It's not like classic mad cow disease that's transmitted by animals being exposed to the infectious parts of other animals.
(Writing by Matthew Robinson and Michael Urquhart; Editing by Bob Burgdorfer, Jonathan Leff and Alex Richardson)
© Copyright Thomson Reuters 2023. All rights reserved.