'Magic Mike XXL': Meet The Real Male Strippers At Hunk-O-Mania NYC Who Aim To Please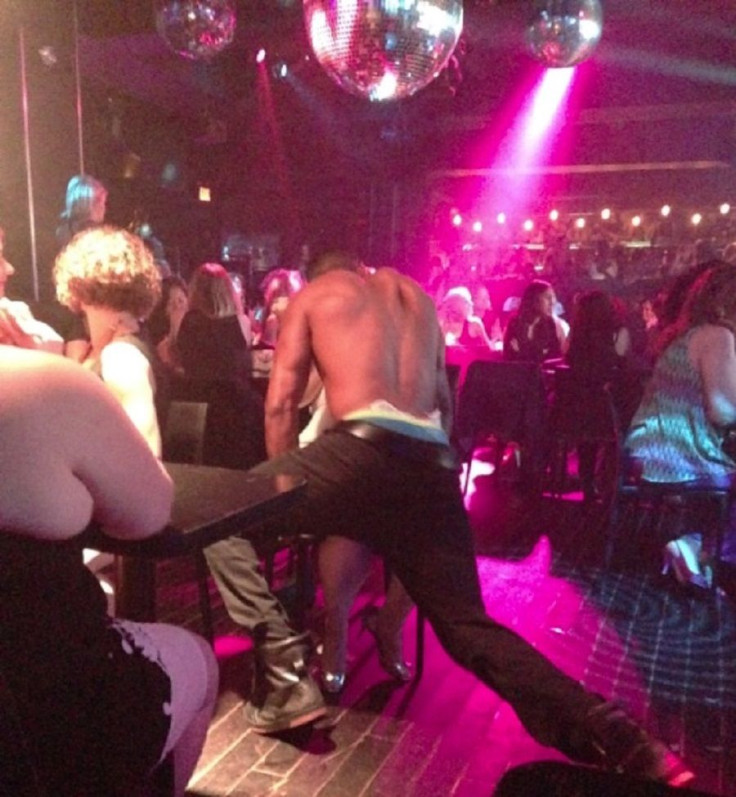 Two big, burly security guards are the only barrier between a crowd of women in tight dresses and high heels and the performance space of Hunk-O-Mania on 42nd Street in New York City Saturday night. The women are there to celebrate bachelorette and birthday parties, and as they stand in the waiting room for their table numbers to be called out, their excitement about the imminent show, which will feature well-built, near-naked men dancing for them -- and on them -- is palpable.
Steven Soderbergh's 2012 film "Magic Mike" gave movie-goers a peek into the world of male strippers, and its reboot, "Magic Mike XXL" debuts Wednesday nationwide. But what is it really like to be a male stripper? And is it truly sexually liberating for a woman to flip the gender script and go to a male strip club or hire a male stripper for a lap dance?
Shirtless men referred to by the club as "massage guys" walked the floor of Hunk-O-Mania before the stage performance, taking drink orders (tips in pant-fronts, please) and the emotional temperature of the room to see which bachelorette or birthday girl might want some special attention.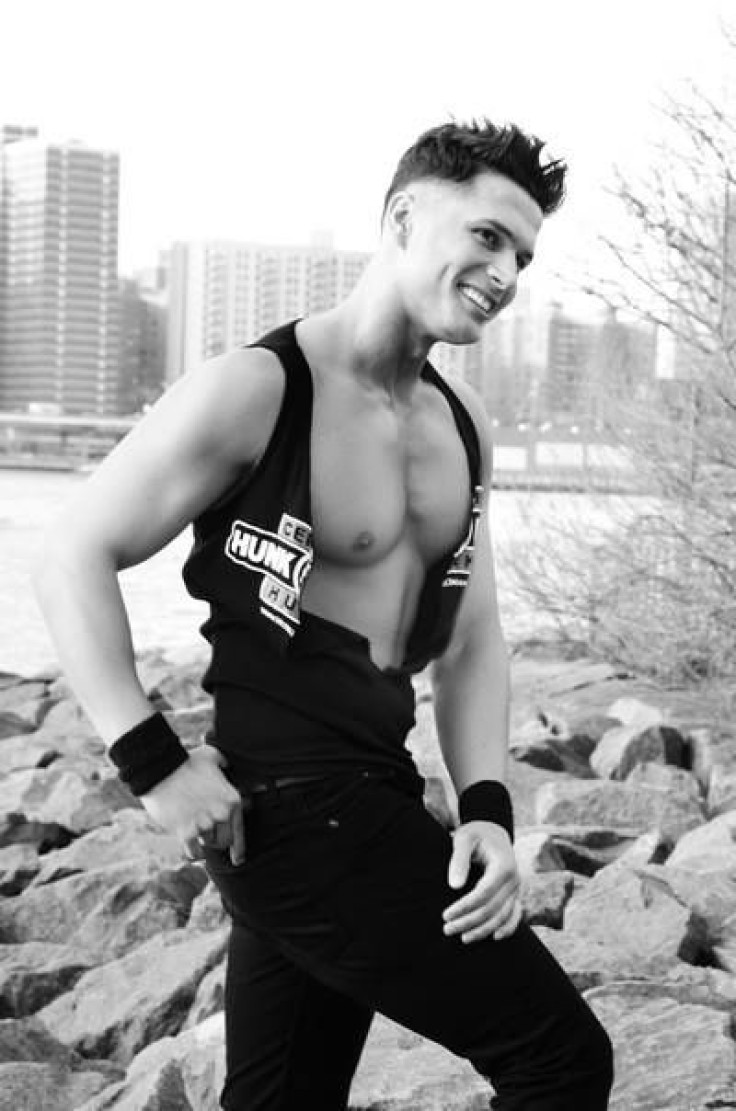 The massage guy walks to the table looking for a woman wearing a tiara, which identifies the bachelorette. He might touch her hair, caress her neck, kiss her ankles and legs, and in short order, if it looks like she's receptive to it, straddle her for a tame lap dance. Occasionally, he might get a little more hard-core and move her into sexually suggestive positions to mime more X-rated moves, as the wide-eyed giggling woman is rapt with fascination and a hint of trepidation.
It's not every day, after all, that a shirtless stranger with bulging pecs and biceps sits in your lap and starts grinding.
"I can feel the fear in their eyes sometimes," Rudy, a 28-year-old sometime model from Switzerland and dancer at Hunk-O-Mania told International Business Times. "They worry they're going to be raped or something. So we have to do it drop by drop, until they're comfortable."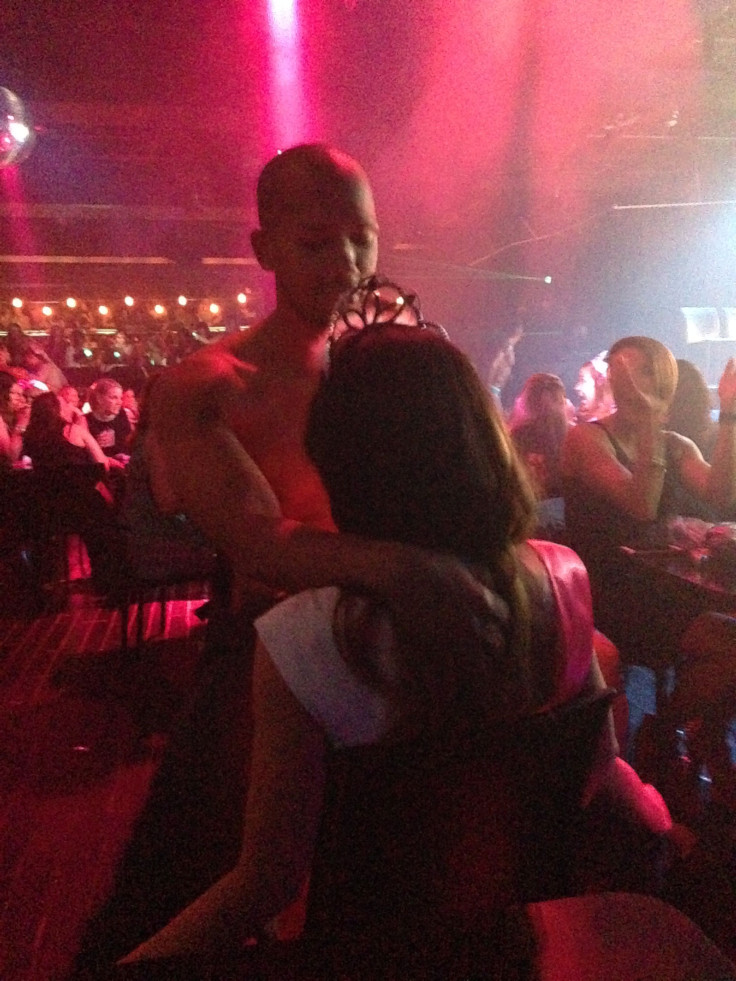 The stage show at Hunk-O-Mania is less about the kind of cheesy but dazzling choreographed dances Channing Tatum and Joe Manganiello of "Magic Mike" perform, and more about getting pre-selected women on stage to be in a series of sexually-charged numbers with male dancers, alternately dressed, for example, as Wall Street business hunks, soldier hunks, or "Top Gun" Air Force hunks. In some cases, the women look like participants in quasi-sex acts they don't all seem entirely thrilled about.
The pre-show performance is much more tame and mutual than what takes place on stage, and the dichotomy is one of the first visible contradictions in a space that's supposed to be about catering to women's pleasure. What the floor-show is to foreplay, the stage show is to a porno vision of sex, in which men give women what they think women want, which is to be man-handled and to have little control over what's going on as things are done to them.
The paradox of the male strip club for women is that it's a place where conventional gender roles are simultaneously reversed and reinscribed: Women get to express a kind of raw desire for beautiful bodies and sex with men as their objects, but the men are still "on top."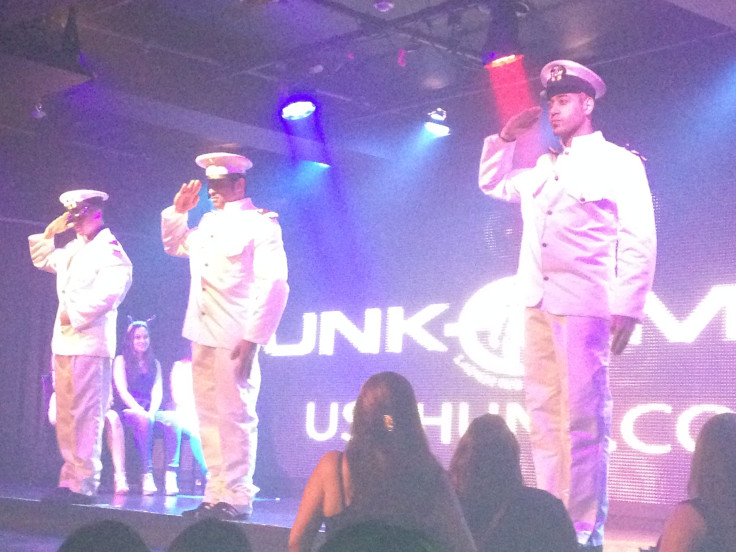 "If there was anything your mother ever told you not to do, do that s--- tonight," M.C. Jordan tells the audience at the beginning of the show. A decade ago, 32-year-old Jordan was a stripper, and he occasionally still gives lap dances for $50, he told IBTimes. Although he said the money was good, he had a lot of free time, and "having a pretty face scream for you to take your clothes off" was fun, "The high is short-lived," he said.
According to Jordan, the women selected to go on stage aren't told ahead of time what to expect, which means that their reactions to being picked up and spun around, maneuvered to mime sex acts, and even forced to put their hands down a strippers' tight briefs -- occasionally gets angry and traumatized rather than delighted reactions.
"Women have been upset, you can tell," said Jordan. "The performer might be overly aggressive and slap their butt or something, and the women cry and walk off stage. Her girlfriends might run to the stage and then later the whole party wants their money back." But he said women -- at least after the first performance, see what's going to happen on stage, and the performers try to use common sense.
"I'm not going to pick up a woman in neckbrace," he said, "or women wearing miniskirts. I'm not going to place a woman in a white dress on the floor. Common sense."
What are the qualifications for being a male stripper? At Hunk-O-Mania auditions, you can have zero experience, but will get picked if you have a great body and OK face or an OK face and a great body, said Jordan. If the prospective stripper can dance, great, but if they have "two left feet," they still might be hired if they have "a look, an X factor, or somehow be charismatic," according to Jordan.
For the epic finale performance, GQ, dressed as a cop, dances for a woman in jeans and a bridal veil. After stripping down to skimpy briefs, he enlists her in a series of dizzying positions: She's turned upside down in a "69" sex position, rolls around on the floor with him miming sex acts, and is generally thrown around like a rag doll.
She seems into it.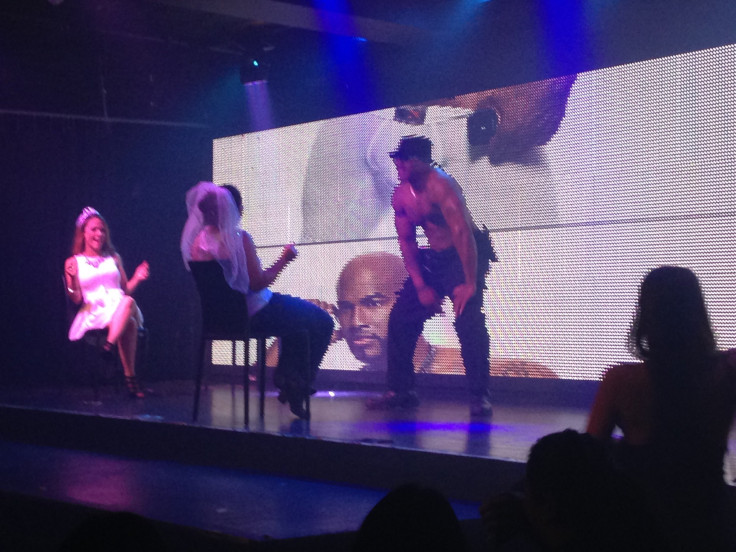 But what do the women in attendance really think? Rosemarie from Connecticut, who was ensconced in an area adjacent to the stage and audience where dancers give women lap dances in a more private space, told IBTimes she had a blast. And the men? "Sexy."
After the show, a group of Latina women who have been seated far from the stage grade the Hunk-O-Mania performance. "They did a good job for their audience," said the bride-to-be, Estrella. "It's a funny-embarrassing story. Like, 'Oh, my god! I can't believe he really did that!' " "But there was no actual dancing," one woman complained.
When asked what they thought about all the man-handling, "It was for the white girls. If it was me, you would not be touching me like that. You would not be putting your hands in my cooch. They coulda stopped it, but they wanted it." Jordan concurred that there was a sort of racial sexual tourism that was evident at Hunk-O-Mania.
"They want to be with the Dominican guy," Jordan said using more colorful language about some of the white Hunk-O-Mania attendees. "But they're not marrying the Dominican guy."
"None of that for me – sorry," said Estrella. "The Latina women – we're the conservative ones in the situation. That's why we're back here. They [dancers] came over here and we shut 'em down. We were like, 'We're good.' "
© Copyright IBTimes 2023. All rights reserved.
FOLLOW MORE IBT NEWS ON THE BELOW CHANNELS