Making A Baby Boom: Singapore And The Politics Of Procreation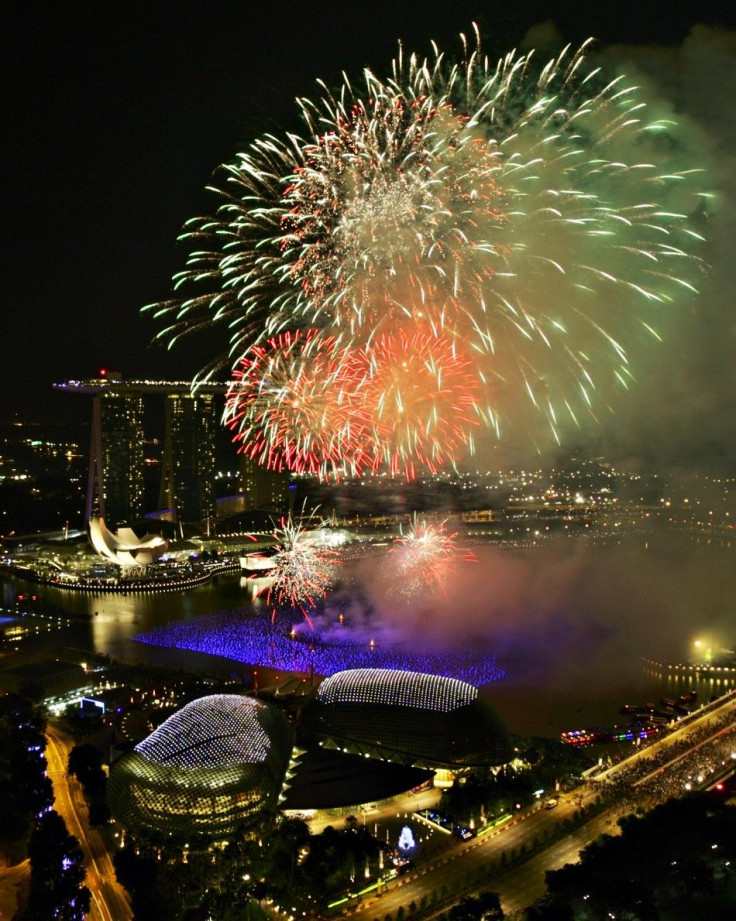 "We gotta go all the way for Singapore, you know what I'm sayin'?"
So goes a line in a recently released music video. The song commemorates National Day, the Aug. 9 anniversary of Singaporean independence -- but for different reasons than you might expect.
The music video, which was part public service announcement and part advertisement for the breath mint company Mentos, features two vocalists: a rapping man and his singing, giggling wife.
"Singapore's population, it needs some increasin'. So forget waving flags; August 9th we be freakin'," says the male vocalist.
The song is hilarious -- but for Singapore, the issue at hand is a serious one. This tiny city-state of nearly 5.4 million people is going through a major population shift, with more people passing the retirement threshold and not enough young adults to replace them in the workforce.
Many Singaporeans are also worried that the low birthrate might enable the migrant population to surpass that of native-born citizens, making the sensitive subject of family planning a highly politicized and ethnically charged issue.
That's why the Mentos song includes plenty of nods to the national government. "I know you want it," says the male vocalist. "So does the SDU!" That's a reference to Singapore's Social Development Unit.
Not In The Mood
Singapore's current birth rate -- less than 8 births per 1,000 people annually -- is extremely low. It puts Singapore at No. 219 out of 228 countries, as ranked according to birth rate by the U.S. Central Intelligence Agency.
It's not that Singapore's young adults can't afford children. GDP per capita is more than $60,000, giving Singapore the fifth-highest rank for individual wealth in a global list of 226 countries. Unemployment, meanwhile, is down around two percent.
Excepting what goes on in the bedroom, Singapore is one of the most industrious, productive nations on Earth. The population enjoys a high standard of living; capitalism and consumerism play a huge role in the city-state's enviable economic health.
Maybe that's why the Mentos baby-making song contains this gem, belted out by the female vocalist and apparently apropos of nothing: "I can't wait to buy a $900 stroller. ... It's gonna be a really really really really fancy stroller!"
Politicizing Procreation
If birth rates don't pick up soon, Singapore may not be productive enough to retain its high standard of living.
That's why some top-level Singaporean officials are raising the alarm. None other than Lee Kuan Yew, who was the country's first prime minister and is widely considered the father of Singapore, warned the populace that society might "fold up" if things don't change.
"We've got to persuade people to understand that getting married and having children is important," he said, according to a Sunday report from Malaysian news agency Bernama.
"Do we want to replace ourselves, or do we want to shrink and get older and be replaced by migrants and work-permit holders? That's the simple question."
A more complicated question is what the government could do to effect the necessary change. Child-rearing is, after all, a personal choice. Then again, the Singaporean government is quite unique for the scope of its power.
Though elections are widely considered free and fair, the same political party has been in control since Singapore's independence in 1965. According to the BBC, many have accused the People's Action Party, or PAP, of rigging the system by making it harder for opposition figures to gain seats in the government and rewarding loyal districts with more federal funding.
PAP has been a competent steward of Singapore's booming economy, which relies heavily on tech exports and financial services. Nevertheless, there are concerns about the ruling party's iron grip on the central government and the Singaporean citizenry.
A 2011 global survey from the Economist Intelligence Unit ranked 167 countries and territories by the quality of their democracies. Singapore was dubbed a "hybrid regime," the second-to-worst category that includes nations like Pakistan, Uganda and Iraq.
But although Singapore scores poorly in terms of party pluralism and political participation, the functionality of its government rivals that of many countries in the top-ranked category.
This is what makes Singapore so unique. Its government wields great power over society but does not seem inclined to abuse that power. In one annual study that measures governments' freedom from corruption, Singapore consistently scores well. In 2011, it was ranked the fifth "cleanest" country on Earth, coming in behind New Zealand and three Nordic states. That's an excellent record, especially considering the disquieting strength of the Singaporean government.
Can this strong administrative body effect a rise in birth rates?
No amount of political coercion can force people to reproduce, but there are other ways to go about it. Some suggest that cultural changes can help to make child-rearing more appealing.
All Work And No Play
One prominent Singaporean sociologist, Paulin Straughan, thinks the country's low birth rate has to do with its demanding work culture.
According to her, young adults in Singapore often feel intense pressure to compete in the workplace. This leads to long hours at the office, as well as a general shift in life priorities.
"[Meritocracy] is what pushes our young Singaporeans into overdrive in paid work," she said, according to Yahoo! News. "Because we are a capitalist economy, work achievements have transformed the way we deal with ourselves until it has become, for many, the only mark of success."
More flexible work hours, systems that reward performance over hours-in-office and accommodating maternity programs could all help to address this fundamental issue.
"With better work-life balance, many professionals will definitely be more motivated to consider starting a family," Straughan said.
That'll be one of many options on the table this year as the PAP addresses Singapore's birth rate. On Monday, Deputy Prime Minister Teo Chee Hean told reporters that the government has already begun to work on solutions.
"We intend to put out a White Paper at the end of this year so that we can bring Singaporeans together to discuss this issue, to understand what the implications are and to come together to see what are the possible ways forward which will give us a sustainable population, a cohesive population and a population that will ensure our vitality into the future," he said.
As the government works to set the mood, perhaps the gears are already in motion. The aforementioned Mentos video exhorted citizens to start making babies on National Night, which was last week. And who could resist those lyrics?
"I'm a patriotic husband, you my patriotic wife. Let me book into your camp and manufacture a life."
With any luck, some bao, or Singaporean buns , may already be in the oven.
© Copyright IBTimes 2023. All rights reserved.