Malia, Sasha Obama Are Happy, Excited For Mom Michelle Ahead Of 'Becoming' Documentary's Release
KEY POINTS
Michelle Obama's daughters Malia and Sasha are happy and excited for their mother
Michelle Obama's documentary "Becoming" will premiere on May 6.
Michelle Obama praised the director of "Becoming" for her skills
Malia and Sasha Obama are very happy and excited for their mom Michelle Obama ahead of her documentary's release.
In April, the former first lady announced on Twitter that her book "Becoming" would be coming to Netflix as a documentary. And now her two daughters have spoken about the upcoming documentary and they said that they are happy and excited for their mom.
"I'm excited for her to be proud of what she's done," Sasha, 18, said in an interview that's also featured in the documentary's teaser. "Because I think that that's the most important thing for a human to do, is be proud of themselves."
Meanwhile, Barack Obama and Michelle's eldest daughter expressed her happiness for the ex-FLOTUS. According to Malia, 21, she's happy for her mother because Michelle is "no longer facing that same scrutiny" she was subjected to when Barack was still the president.
"Being able to let all that leave your mind, creates so much more space," Malia added.
She also congratulated Michelle for her impact and reminded her mom that what she did when they were still at the White House was worth it.
"This has demonstrated, in a way, just like, damn, those eight years weren't for nothing, you know? You see that huge crowd out there? And that last speech you gave…" she added. "People are here because people really believe in love and hope in other people."
Michelle's Netflix documentary is named after her memoir. It offers a rare, up-close view of Michelle as she embarked on a 34-city tour to promote the book. Both the film and the memoir highlight the power of community and how people are brought closer to each other by sharing their own stories.
The documentary was directed by Nadia Hallgren. The Higher Ground approached Hallgren to film Michelle's tour. The director said that it wasn't easy following and filming Michelle during her busy schedule.
"She moves quickly and I had to learn to move with her — I filmed in tight, private spaces in a way that required the smallest possible footprint, but also allowed me to build a close relationship with her," Hallgren revealed.
Meanwhile, Michelle praised Hallgren's skills. According to Barack's wife, she is a "rare talent" whose intelligence and compassion for others become visible in every frame she shoots.
Michelle's "Becoming" documentary will be released on Netflix on May 6.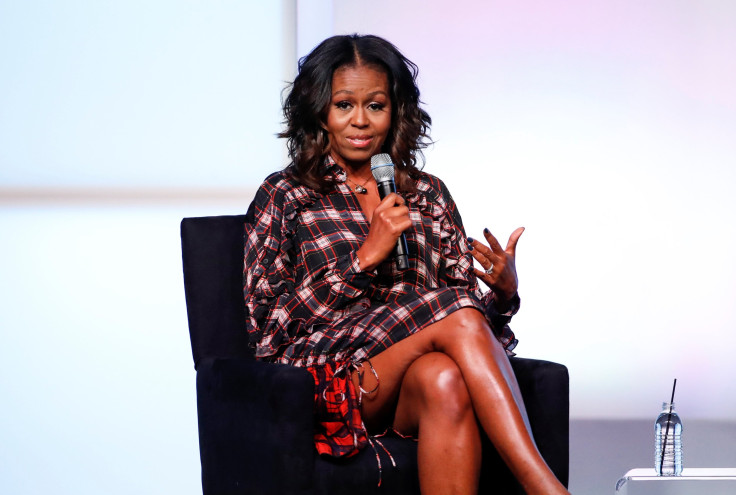 © Copyright IBTimes 2023. All rights reserved.