Malia And Sasha Obama Twitter, Snapchat Accounts: What We Know About First Daughter's Secret Social Media Feeds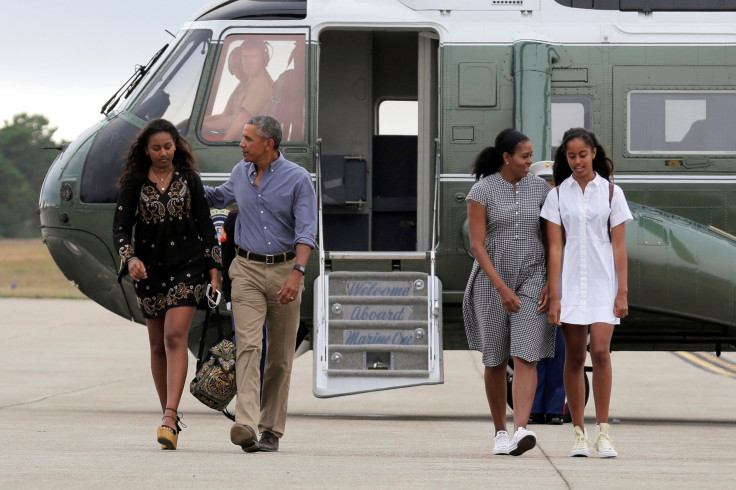 Social media accounts may very well be the lifeblood of the millennial generation, and few Generation Y parties are exempt from its pull – that includes both first daughters.
Malia and Sasha Obama have been the subject of delight and curiosity on multiple instances when news has surfaced hinting at their social media usage. There was President Barack Obama's aside about how Sasha tweets, a leaked selfie from what could have been Malia Obama's "private" Instagram account and, more recently, an adorable anecdote that the president recounted to Jimmy Kimmel Monday about Sasha Snapchatting him at the dinner table.
Although the first daughters' actual accounts are difficult to come by, it's apparent that they use them, just like any other teen. What we also know is that, like most teens, they take to social media to "troll" or poke fun at their parents.
During Monday's Jimmy Kimmel Live TV show, the president made a guest appearance and recounted a story about Sasha's Snapchat usage.
"One night at dinner we're sitting there, and I had read that Snapchat was becoming really popular among her age cohort," Obama told Kimmel, referring to Sasha. "So I said: 'So tell me about Snapchat.'"
Obama recalled how his youngest daughter explained the filters and posts to him. "And I started talking to Michelle about the implications of social media and what all this means," he said. "[And I] come to find out she was recording us the whole time, and then sent to her friends afterwards: 'This is my dad lecturing us on the meaning of social media.'" Then, in typical teen form, she followed up the Snap with a picture of herself looking bored.
Sasha may not be able to escape her parents through social media accounts, though. First lady Michelle Obama joined Snapchat in June, according to the BBC.
Malia and Michelle also appear to have Instagram accounts that are "run by the Office of the President" or by "the Office of the First Lady Michelle."
© Copyright IBTimes 2023. All rights reserved.
FOLLOW MORE IBT NEWS ON THE BELOW CHANNELS