Marc Staal Injury Revives Visor Debate in NHL; NY Rangers D-Man Return Date Unknown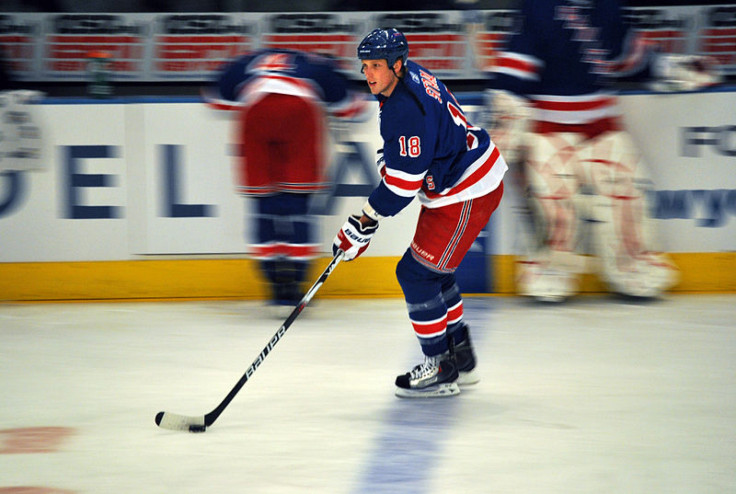 New York Rangers players and fans watching from their seats were shaken this week when star defenseman Marc Staal was struck by a slap shot in the eye. Blood streaming from behind the hand that covered his face, Staal was helped off the ice by a trainer.
Just how long the defender will be sidelined after Tuesday's injury wasn't immediately clear, with brother Eric Staal – a player on the rival Carolina Hurricanes – telling the press they're waiting for an update from doctors before an estimation can be made. The Rangers have said doctors are hopeful of a full recovery.
"It's hard to say now," Eric Staal told NHL.com. "They're just waiting for the swelling to go down. He sounded like he was in OK spirits, but we didn't know a lot right now. Obviously we're saying prayers and hoping he dodged a bullet as far as being struck in that area. We'll know more with some more time."
Six minutes into the third period, a Philadelphia Flyers defenseman let loose a shot from the top of the Rangers' zone. Marc Staal, who does not wear a protective visor, went down to block the shot and screamed from the pain.
"You can feel that it took the life out of the bench a little bit and the whole crowd," Rangers captain Ryan Callahan told reporters from NJ.com (The Newark Star-Ledger). "It's a scary moment."
The team would go on to beat the Flyers 4-2, but the victory was overshadowed by the now-regular debate over whether visors should be mandatory among NHL players. Notable players including Bryan Berard, Chris Pronger and Manny Malhotra have all seen their careers put at risk because of eye injuries. Now a record 73 percent of NHL players wear protective equipment, but in an email to USA Today, NHL Deputy Commissioner Bill Daly said the league has been vocal in advocating making it 100 percent.
Leaguewide polls have consistently found that players want it to be their own choice on visors, not a league mandate.
"The NHL is in favor (and has been in favor for many years) of the introduction of a rule that makes visor use mandatory," Daly wrote. "We have worked with the players association for a number of years spanning at least back to the early 2000s on further regulation in this area and at least to (this) point, the PA has consistently supported maintaining this as a matter of 'players' choice.' Instead, they have favored and advocated for increased visor usage by players through continued education and sensitization to the dangers associated with not using visors."
© Copyright IBTimes 2023. All rights reserved.