Marilyn Manson Responds To Sexual Abuse Allegations, Calls Them 'Distortions Of Reality'
KEY POINTS
Marilyn Manson shut down Evan Rachel Wood's abuse allegations, calling them "horrible distortions of reality"
He claimed that his relationships have always been with "like-minded" partners and completely "consensual"
Actress Charlyne Yi previously accused Manson of making inappropriate sexual remarks on the set of "House"
Marilyn Manson has finally broken his silence over the multiple allegations of sexual and physical abuse leveled against him by ex-fiancée Evan Rachel Wood and four other women.
Taking to Instagram, the 52-year-old musician vehemently denied all allegations in a statement regarding the ongoing episode. Manson, whose real name is Brian Warner, explained how his art and career have always been mired in controversy.
However, he made it clear that the recent claims made by the "Westworld" actress and other women are nothing but "horrible distortions of reality."
In his statement, the "Sweet Dreams" hitmaker also claimed that his relationships have always been with "like-minded" partners and completely "consensual."
"Obviously, my art and life have long been magnets for controversy, but these recent claims about me are horrible distortions of reality. My intimate relationships have always been entirely consensual with like-minded partners. Regardless of how – and why – others are now choosing to misrepresent the past, that is the truth," Manson wrote on Instagram.
The statement comes a few hours after his record label, Loma Vista Recordings, removed his name and recordings from their official website following the sexual abuse allegations.
"In light of today's disturbing allegations by Evan Rachel Wood and other women naming Marilyn Manson as their abuser, Loma Vista will cease to further promote his current album, effective immediately. Due to these concerning developments, we have also decided not to work with Marilyn Manson on any future projects," the record label said.
AMC Networks also confirmed that it won't be showing a segment of the anthology series "Creepshow" in which Manson makes an appearance, Vanity Fair first reported.
This is not the first time Manson has stirred controversy in his illustrious career. Actress Charlyne Yi accused the musician of making inappropriate sexual and racial remarks on the set of the hit show "House." In 2018, the actress claimed that Manson harassed "just about every woman" and called her a "China man," reported The Hollywood Reporter at the time.
"Ugh don't even get me started on Marilyn Manson. Yes, this happened a long time ago - on the last season of 'House' he came on set to visit because he was a huge fan of the show & he harassed just about every woman asking us if we were going to scissor, rhino & called me a China man," THR quoted Yi's tweet as saying.
Manson has been one of the most controversial artists of all-time. In 1995, while performing onstage in San Francisco, Manson ended up hurting his upper torso for life by smashing a beer bottle and cutting his chest from left to right.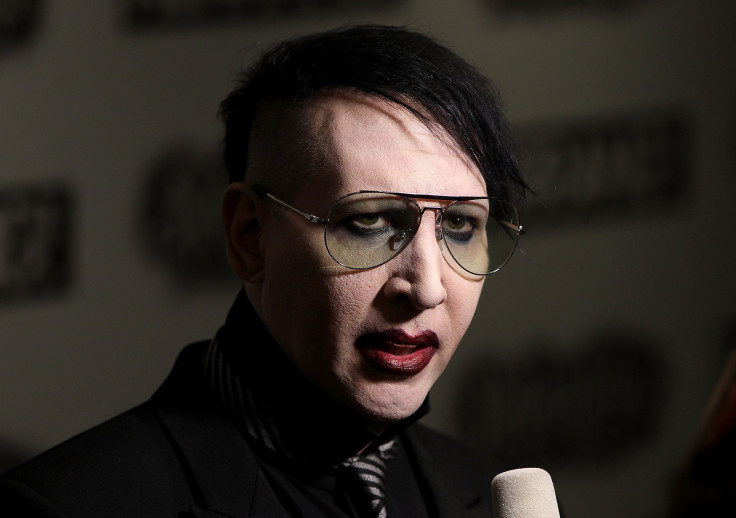 © Copyright IBTimes 2023. All rights reserved.