Is 'Married At First Sight' Real? Why 'Australia' Doesn't Show Real Weddings
"Married at First Sight" fans know that the marriages are supposed to be very real. Experts match strangers who are legally married moments after they meet at the altar, and they'll have to get a real divorce if it doesn't work out. However, the Australian version of the show is different.
Lifetime will start airing "Married at First Sight: Australia" on Wednesday after "Married at First Sight: Couples' Cam." Viewers will notice that the couples are taking part in a "commitment ceremony." That's because strangers can't legally get married down under.
Australian law dictates that a couple must give several weeks notice before the nuptials. "In order to comply with the Australian Marriage Act (1961) which requires one month and one day notification, a marriage in law was not conducted," a spokesperson for Nine Network (the Australian home of "MAFS") told Now to Love.
Instead, couples take part in commitment ceremonies, which have all the typical wedding traditions from white dresses to a kiss at the altar. Those who decide to stay together at the end of the reality show's filming period have the option to make their union legal. U.S. law differs, so the marriages on all 10 seasons of the American version have been very real and legally binding.
That isn't the only way "Married at First Sight: Australia" is different, though. There are way more couples down under. While the U.S. version just expanded to five couples per cycle with Season 10, Australia viewers meet 12 different couples throughout the season. They don't all get introduced at once, and there are re-commitment ceremonies throughout the season.
READ: 'MAFS' Alum Jamie Otis Reveals Quarantining With Doug Hehner Isn't Easy
The overseas version also includes a relationship that the U.S. version has never showed--a gay couple. Amanda and Tash will be the first same-sex "MAFS" couple that American viewers have seen.
Because it's international, "Married at First Sight: Australia" has already aired in Oz. That means U.S. fans should be careful of spoilers. Though this is the first time it's playing stateside, fans will notice it listed as "Season 7" on their DVRs. Lifetime is airing the latest season, which debuted on Australia's Nine Network in February.
"MAFS" has many international versions. Before it came to the States, it was a Danish TV show. It has since expanded to the United Kingdom, South Africa, Bulgaria, Israel, New Zealand, France, Italy and more.
"Married at First Sight: Australia" airs at 9 p.m. EDT on Lifetime. "Couples' Cam," which features all the American couples who are still together, airs at 8 p.m. EDT.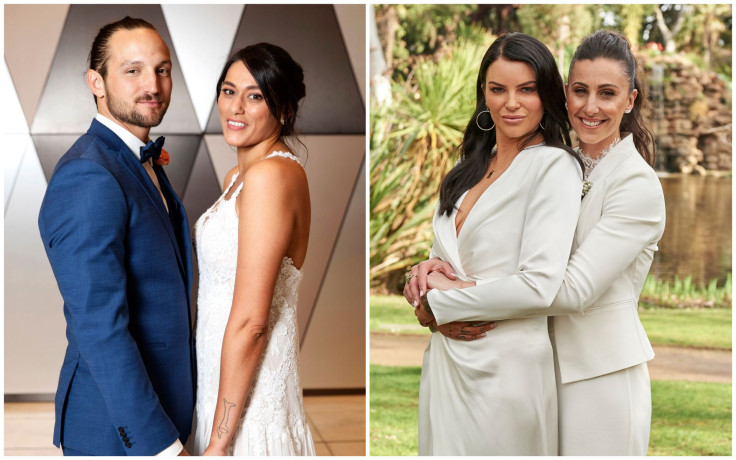 © Copyright IBTimes 2023. All rights reserved.