Meghan Markle Called Lazy Amid Rumors She Faked Interviews For 'Archetypes' Podcast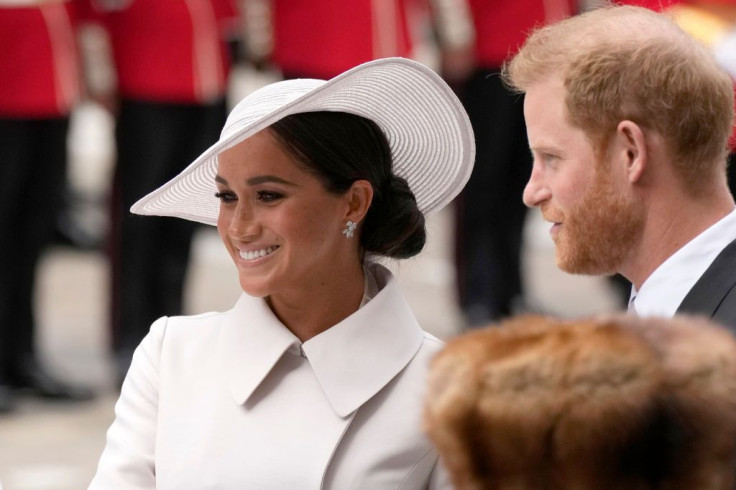 KEY POINTS
Josh Glancy said many thought Meghan Markle would conduct the interviews for her podcast
Glancy claimed the people who worked with Markle were also the ones who exposed what she did
Nick Hilton said it's normal for producers to conduct interviews for documentaries, TV films and podcasts
Meghan Markle got called lazy after getting accused of faking some interviews for her Spotify podcast.
Sunday Times special correspondent Josh Glancy and podcast industry analyst Nick Hilton joined Vanessa Feltz for a recent interview on TalkTV. They discussed the rumors that the Duchess of Sussex allegedly faked some of the interviews on "Archetypes."
"When Spotify unveiled their big podcast deal with Meghan and Harry for about $20 million, we probably thought that Meghan was to actually conduct these interviews, herself. I mean, they're incredibly softball interviews, so it's not very difficult. She sits there with famous people like Serena Williams and Paris Hilton and says, 'You know, let's talk about how we're sort of labeled as women or labeled as celebrities' and that's the end of it," Glancy said.
"But we have now discovered that actually some of these interviews, she didn't even do that, someone else conducted the interviews, and they sort of cut her questions in over the top, which strikes me as rather lazy."
When asked how the alleged editing of Markle in the interviews conducted by another person was discovered, Glancy said that the people who worked with Markle spoke about it, perhaps because their deal with Spotify already got axed.
"I think people think it's quite funny, and I think because now their podcast deal is falling apart, so after that they said they don't want to work with Meghan anymore because they're not producing enough content, and I think the subtext of that is the content they were producing was dross," he claimed. "So, I think now the whole thing's falling apart. People are opening up about what it was like a bit more."
Peltz asked Hilton how permissible or if it's allowed to do the podcast for Markle while another person was doing the actual interviews.
"I think the thing is that $20 million, Spotify thought they were getting this very kind of lavish maybe documentary-style project. When it ended up being a much more kind of conventional sort of interview show, and I think when it was pitched as this sort of documentary about our archetypes, then it would be much more normal," he explained.
"There are all sorts of criticisms we could levy at it, but I think clearly, it's fairly normal in a documentary, podcast documentary, TV documentary film for producers to conduct interviews that are later woven into the narrative to make it not completely clear who is conducting the interview. I don't think that's a terrible thing, but actually the podcast ended up sounding like a very, very kind of bland run-of-the-mill interview podcast, and I think that's why people are a bit confused about exactly how it was."
International Business Times could not independently verify the claims.
Andy Scott, who produced "Archetypes," addressed the allegations on Twitter.
"We did occasionally have producers do interviews, though never the main ones, and we never edited her asking questions into interviews that producers conducted," he wrote.
"GB News" host Dan Wootton called Markle and Prince Harry lazy. In a recent interview with Daily Telegraph's Celia Walden, he mentioned, "One of the courtiers silly would say to me all the time, you know that moaned, I'd they are entitled, they are lazy, they're afraid of hard work."
However, the Sussexes allegedly get away with it because "they would say all the men in gray suits, they're just trying to stop us. They just trying to make sure that we can't be a success."
He claimed that there is a lot of evidence that they don't do much work. Wootton also mentioned journalist Valentine Low, who alleged in his book that Markle said she couldn't believe they were not paid for doing a walkabout after doing it in Fiji.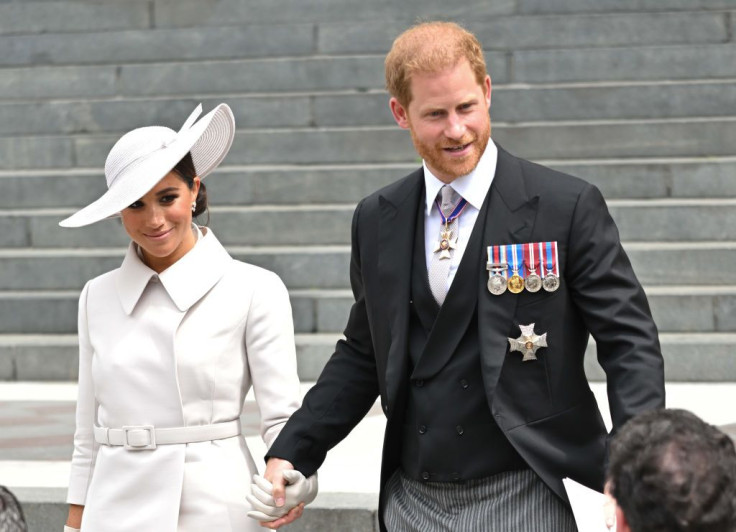 © Copyright IBTimes 2023. All rights reserved.