Melania Trump Bashed After Fans Claimed She's Smarter Than Ex-FLOTUS Michelle Obama
KEY POINTS
Melania Trump slammed for claims she is smarter than Michelle Obama
Melania Trump's plagiarism issue resurfaced
Melania Trump mischaracterized by the press
Melania Trump received intense backlash after fans claimed that she is smarter than Michelle Obama.
In December 2017, a comparison of Michelle and Melania's IQ was shared on Twitter. A photo featured the former FLOTUS and the current first lady's IQ and accomplishments. It shows that Melania is more intelligent than Michelle.
The issue has resurfaced two years later. Andrea Jefferson said that they did some investigation about the issue especially that the first lady's IQ has been a source of speculation since her husband run for the White House.
Jefferson said that Michelle is a highly intelligent and driven woman. It's also possible that Melania is just as bright but "we've yet to see any public sign of it," she added.
Jefferson mentioned Melania's plagiarism issue and her controversial "I don't really care, do u" jacket. She also recalled the faux pas the first lady did when she attended the D-Day ceremonies in Europe.
Aside from Jefferson, several online media users reacted about the issue on Twitter. Many of them directly criticized Donald Trump's wife.
"Melania has said literally 500 words since becoming FLOTUS, 400 of those were Michelle Obama's And only 250 of those were intelligible," one user wrote.
"Sleeping with a rich man makes her so smart," a different user opined.
"Oh is that why Melanie Trump stole Michelle's speech, committed plagiarism, because she's smarter than Michelle Obama?" @Black_Audacity wrote sarcastically. .
Another social media user said that Melania could never match Michelle's intelligence. Meanwhile, another brought back the FLOTUS' modeling career against her by mentioning her nude photos and accusing Melania of marrying Donald for money.
Melania's plagiarism issue has resurfaced following the release of her and Donald's Christmas card. Many noticed that her signature is very similar with her husband. However, many also defended the first lady from the plagiarism issue. They said that Melania was not to blame because it was her staff who prepared her speech who turned out to be very similar with Michelle Obama's.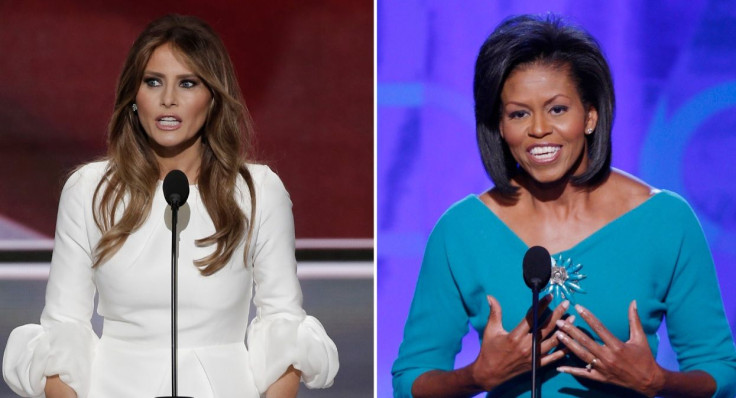 © Copyright IBTimes 2023. All rights reserved.