Melania Trump Mocked: FLOTUS Called 'Disgusting', 'Laziest' On Twitter After Commemorating President Donald's Inauguration Anniversary
KEY POINTS
Melania Trump commemorated President Donald Trump's third-year inauguration anniversary on social media
Avid supporters of the FLOTUS said America is lucky to have her and the current President
Melania Trump was lambasted and described as the 'laziest' FLOTUS in the history of the United States
It has been three years since Melania Trump assumed the role of being the First Lady of the United States from Michelle Obama. The FLOTUS's husband, President Donald Trump, took oath of office on the West Front of the United States Capitol Building in Washington, D.C. on Jan. 20, 2017, with approximately 300,000 to 600,000 people in attendance.
On Monday, Melania celebrated her third year as FLOTUS by sharing a photo of her during the 58th presidential inauguration on social media. "It is a great honor to serve the people of this incredible country. #InaugurationDay2017," the FLOTUS wrote on Twitter. As per usual, Melania's post was met with mixed reactions from fans and critics alike.
Avid supporters of Melania Trump gave praises for her works since the start of the Trump presidency. "You are amazing, America LOVES you!" Matt Couch commented on her post. "Thank you for all you do! You make us very proud!" Cari Kelemen stated. "You are lovely. You will be doing this again 2020. God bless you and yours always," JudyLynn Geier wrote.
"You're such an elegant lady. I'm proud to call you my FLOTUS! Thank you for all you and your husband do for our country!" Angela Currin Austin said. "We thank you, respect you and appreciate all you do for our great Nation. God bless you and our great PRESIDENT," another netizen added. "We are proud to have you Mrs. Trump. Thank you for all that you do for this country and especially the children," a sixth Twitter user responded to Melania's tweet.
Melania Trump's critics took the opportunity to mock her and President Donald Trump. "You are disgusting for marrying a bastard," American author Jeffrey Guterman penned in the comment section. "Name us one thing you've done to serve this country...I'll wait!" one netizen commented. "Serve? Or take everything-that's-not-nailed-down from?" FP Smith stated.
"Your obsession is disturbing," a ninth netizen wrote. "Trump needs to buy a magazine and put @FLOTUS on the cover. Over and over," another Twitter user said. "Yes it is such an honor to this country to have a softcore porn actress who got here on a fraudulent visa and then brought her parents here on chain immigration," Ryan Graney added. Melania Trump has yet to comment on these harsh remarks.
Aside from the FLOTUS, Ivanka Trump also commemorated the inauguration anniversary by sharing a photo of the first family on Instagram. "3 years to the day later...America is safer, stronger and more prosperous than before!" she captioned the picture. "God bless the President and God Bless the USA!" she wrote in the caption.
In 2019, Melania Trump also remembered one of the most important days of her life being the FLOTUS by sharing an inauguration throwback photo on Instagram. "It has been an unforgettable two years in the @WhiteHouse," Melania wrote last year. "I am honored to serve this great nation!" Barron's mom went on.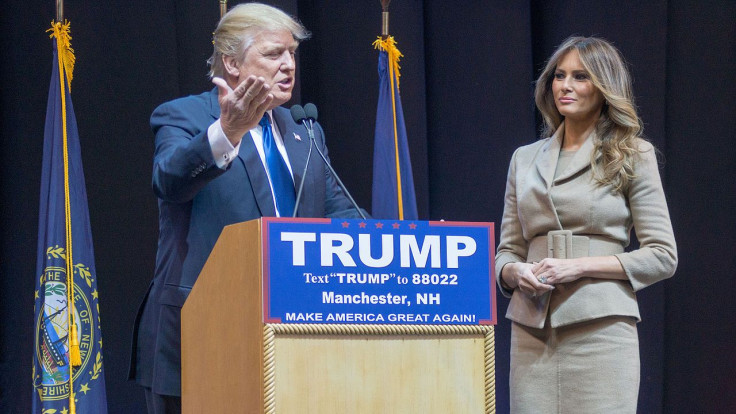 © Copyright IBTimes 2023. All rights reserved.