Memo To Thorsten: Here's How You Can Rebuild RIM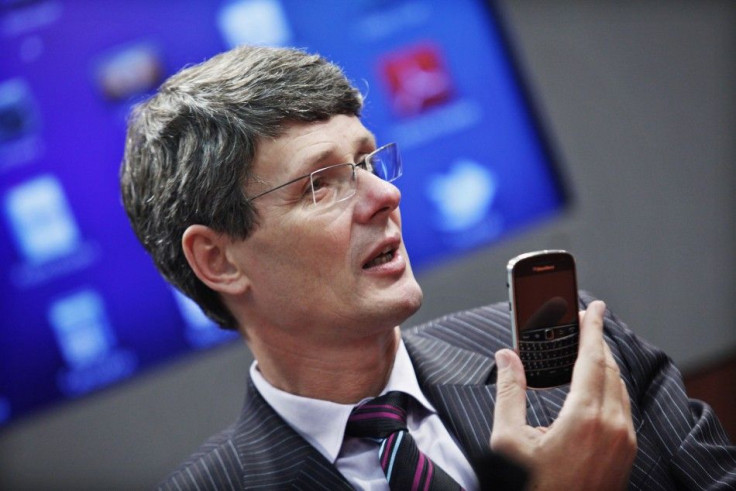 Guten Morgen, Herr Heins:
Now that you've shown some spine in starting to turn around Research In Motion Ltd., the market is giving you a small vote of confidence.
Shares of RIM (Nasdaq: RIMM) opened up 22 cents and kept climbing Friday until they at $14.70, a gain of 7 percent, or 97 cents. But the stock is down 74 percent since this time last year.
Kudos for taking some difficult steps right away: Taking $621 million in fourth-quarter charges and reporting a big loss of $125 million, or 24 cents a share, was one thing. Forcing Jim Balsillie, one of RIM's co-founders, out of management, was another. You've replaced the chief technology officer and are seeking a new operating chief.
Some of these things are reminiscent of what Louis Gerstner did when he was recruited to International Business Machines Corp. (NYSE; IBM) in 1993, Within a quarter, several old-timers were gone, a strategic review was underway and the company wrote down a whopping $8.9 billion. That was the end of IBM's new beginning.
Unlike outsider Gerstner, you had been inside RIM for four years, so you know the company, but as you said Thursday, the perspective is different as CEO.
Here are five things to keep in mind:
Play to RIM's strengths. You're running a company that already has 77 million global BlackBerry users, most of whom depend on them all day for business. In the developing world, they're used for personal communications, with millions of users in countries including Indonesia and India.
President Barack Obama has one. Do whatever it takes to ensure RIM remains on the U.S. government's approved-vendor list.
Then make sure new BlackBerrys are great products. As you said after the loss was announced, RIM's products have to be aspirational, with high degrees of desire.
Surely the BlackBerry 10 can be one of them, provided you ensure it's designed right and works well.
Learn from Apple. One reason why RIM lost share and momentum is that your predecessors, Balsillie and Mike Lazaridis, were blindsided by the iPhone, which was what Harvard business professor Clayton Christensen terms a disruptive technology.
Then the two former co-CEOs responded clumsily with the PlayBook, RIM's tablet response to the iPad.
Now learn from Apple Inc. (Nasdaq: AAPL), which lacks the enterprise presence RIM already owns, and make sure new products are terrific. And make sure there are no service glitches that aren't acknowledged immediately, as happened with last October's email and messaging outage.
Leverage RIM's patents. You were part of management last year when RIM paid as much as $700 million as part of its share of the $4.5 billion required to buy the patent portfolio of defunct Nortel Networks. RIM worked with Apple, as well as other technology leaders like EMC Corp. (NYSE: EMC) and Sony Corp. (NYSE: SNE) as part of that syndicate.
Now use them, as well as the thousands of others in the bank, for sale or licensing, as you indicated you might. The market for patents is booming, said Paul Ryan, CEO of Acacia Research Corp. (Nasdaq: ACTG), who was involved in the Nortel Networks auction.
There's a huge number of companies coming to us right now to see the value of their patents, Ryan said, without specifically mentioning RIM.
Sale and licensing of patents, which was banned by previous management, might be a good way to go.
Use RIM's cash. The company now has cash and investments exceeding $2.1 billion, which rose $610 million in one quarter alone. That's money to be used for research and development and to deal with marketing.
Imagine if the cash were dwindling. You also could make some small acquisitions, such as the Paratek deal that brought in some radio-frequency (RF) capabilities.
Listen to dissidents. There are several, such as Jaguar Financial Corp.'s Victor Alboini, a dedicated BlackBerry user who sees value in the company, as well as Leon Cooperman of Omega Advisors. Both have become significant RIM shareholders. If you haven't met the men already, call them.
© Copyright IBTimes 2023. All rights reserved.
FOLLOW MORE IBT NEWS ON THE BELOW CHANNELS