Merck's 4Q Tops Expectations, R&D Costs Down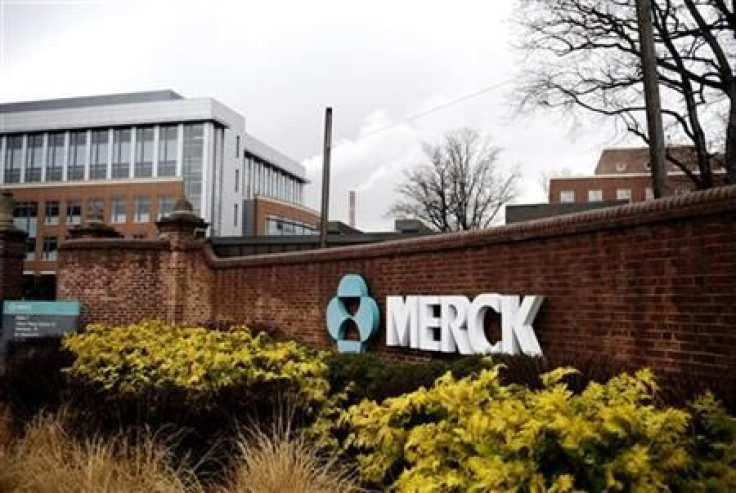 (REUTERS) -- Merck & Co (MRK.N) on Thursday reported better-than-expected fourth-quarterearnings, helped by a decrease in research spending, and predicted relatively flat 2012 results as the No. 2 U.S. drugmaker girds for cheaper generic forms of its biggest product, asthma drug Singulair.
Merck posted a fourth-quarter net profit of $1.51 billion, or 49 cents per share, compared with a loss of $531 million, or 17 cents a share, a year ago, when the company took a $1.7 billion charge related to a major clinical setback.
Excluding items, including acquisition and restructuring expenses, Merck earned 97 cents per share. Analysts, on average, expected 95 cents per share, according to Thomson Reuters I/B/E/S.
Global revenue rose 2 percent to $12.29 billion, just shy of Wall Street expectations of $12.53 billion.
Sales of Singulair, whose U.S. patent lapses in August, jumped 8 percent to almost $1.5 billion, well above any other Merck product. Sales of its Januvia diabetes drug soared 42 percent to $960 million, while a related combination product called Janumet jumped 34 percent to $386 million -- suggesting the fast-growing diabetes franchise will be able to help offset Singulair's approaching decline.
But sales of arthritis treatment Remicade fell 28 percent to $511 million following arbitration that assigns rival drugmaker Johnson & Johnson (JNJ.N) a wider sales territory for the medicine. Merck acquired the widely used product in 2009 through its purchase of Schering Plough.
Schering Plough and J&J had a longstanding agreement that divided up sales territories, but J&J demanded and won a more favorable arrangement after Merck bought Schering Plough.
Mark Schoenebaum, an analyst with ISI Group, said results were dampened by weak Remicade revenue and sales and administrative expenses that came in $141 million above expectations. He said earnings were bolstered, however, by research spending that was $145 million lower than Wall Street forecasts.
The company said it expects to seek approvals of five new medicines between 2012 and 2013. They include two products that have been delayed for years by regulators: Bridion, to reverse the effects of anesthesia, and Tredaptive, a form of niacin meant to raise good HDL cholesterol without causing facial flushing.
Merck said it expects full-year 2012 earnings of $3.75 to $3.85 per share, excluding special items. Analysts, on average, expect $3.83 per share. The forecast reflects earnings 0.5 percent lower to 2.1 percent higher than those seen in 2011.
© Copyright Thomson Reuters 2023. All rights reserved.