Mexico's Drug War: A New President Outlines A New Strategy Likely To Produce Old Results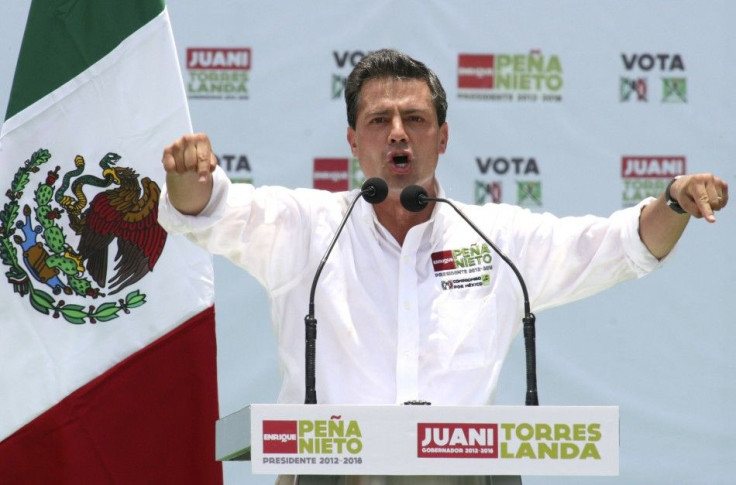 In the old days of Mexico's Institutional Revolutionary Party (PRI), the party of President-elect Enrique Pena Nieto, a systemic culture of government corruption ensured that the drug cartels would be more or less left alone in exchange for hefty bribes at multiple levels, and as the drugs flowed north into the U.S. there was relatively little violence.
The center-left party's 71-year stranglehold on the Mexican presidency ended in 2000 with the election of Vicente Fox of the conservative National Action Party (PAN), but it was fellow PAN member President Felipe Calderon, elected in 2006, who would launch the war on drugs that has agitated the cartels into a frenzy like a stick thrust into a hornet's nest, resulting in an escalation of violence in Mexico on a scale unheard of in modern times.
The fresh-faced and mediagenic Pena Nieto has come to rehabilitate his party's sullied reputation, and to execute a new strategy against the drug cartels with the priority of cutting down on the rampant violence which has plagued Mexico's weary populace over the past several years.
To those concerned about a return to old ways, fear not. At 45, I am part of a generation of PRI politicians committed to democracy, Pena Nieto, wrote in an op-ed for the New York Times, following his contested election victory. I reject the practices of the past.
I want to address the issue of organized crime and drug trafficking head-on. There can be neither negotiation nor a truce with criminals, he continued. With over 60,000 deaths in the past six years, considerable criticism from human rights groups and debatable progress in stemming the flow of drugs, current policies must be re-examined.
Pena Nieto, set to take office in December, announced a list of new security initiatives he plans to implement to continue the drug war, while reducing its violent reverberations.
He intends to create a 40,000-member National Gendarmerie, a paramilitary police force that will focus on combating violent crime in rural regions.
Alejandro Hope, a security analyst and an official in CISEN, Mexico's equivalent of the CIA, called the plan half-baked in an interview with the Associated Press, adding that the move would pull away sorely needed troops deployed in embattled urban areas.
I think they haven't thought through their position, Hope said.
But it is Pena Nieto's goal to eventually recall the armed forces, some 40,000 troops, from Mexico's streets and return them to their barracks. To this end, he plans to expand Mexico's federal police by at least 35,000 officers.
The newly-elected president's overall approach is to bolster national police forces to fill the security void left by ineffective and corrupt local departments, while shifting away from President Calderon's kingpin strategy of targeting cartel leaders, a policy which has sparked widespread infighting and turf wars among cartels as new leaders rise with the violence spilling out into the streets and pulling civilians into the crossfire.
It is a common misconception that the victims of the drug war have all been people involved in trafficking.
Calderon has claimed 90 percent of victims of the drug war were engaged in criminal activity, but fewer than five percent of the homicides have ever been investigated, political activist and author Tom Hayden wrote in an article titled, Mexico's Election: A Vote for Peace, a Plan for War, for the Nation magazine.
The tragic reality is that it is the everyday people -- shop-owners, laborers, farmers, and yes, those seeking to cross the border into the U.S. illegally in search of a life free from destitution and death -- that are being victimized, for refusing to pay extortion fees, to become drug mules, or who were just in the wrong place at the wrong time (which increasingly is becoming anyplace and anytime).
The Mexican people are demanding an end to the bloodshed, but there is a concern, particularly within the U.S. government, that fulfilling this request will come at the cost of reducing pressure on the cartels despite Pena Nieto's pronouncement of no negotiations, no truces.
Nevertheless, Pena Nieto's main priority will be ending the violence.
[T]his modified perception of Mexico's national interest could produce tension with Washington, where stopping the flow of drugs into the United States continues to be the top priority, Pamela K. Starr, professor of international relations and public diplomacy at the University of Southern California, wrote in an article titled What Mexico's Elections Means for the Drug War for Foreign Affairs magazine.
Starr also points out that security cooperation between the U.S. and Mexico has been built upon personal relationships between personnel on both sides, rather than institutionalized policies.
A new administration in Mexico City will thus create significant turnover in the personnel who work with U.S. officials on security issues, Starr wrote.
Even in the best of circumstances, it will take time for the new players to develop the same degree of mutual confidence that currently facilitates effective cooperation.
The role of the U.S. in drug war cannot be separated from Pena Nieto's new strategy. America is the primary market for drug traffickers and the main source of weapons that arm the cartels. Mexico depends a great deal on American intelligence and counter-narcotics training, a relationship that Calderon was keen to develop.
Peter Hakim, senior fellow at the Inter-American Dialogue, a Washington, D.C.-based organization focused on research and analysis of issues in the Western Hemisphere, argues that cooperation will remain relatively stable between the U.S. and Mexico despite administrative changes.
Nothing is going to change drastically over a short period, Hakim said. These things take time.
Hakim's argues that while Pena Nieto will be pursuing a new strategy in fighting the drug war, he still requires the cooperation of the U.S. to a large extent implement it to, so he is not likely to take any action -- such as relaxing too much pressure on the cartels -- that would upset that relationship.
© Copyright IBTimes 2023. All rights reserved.
FOLLOW MORE IBT NEWS ON THE BELOW CHANNELS