Michelle Obama Beats FLOTUS Melania Trump As Most Admired Woman Of 2019
KEY POINTS
Michelle Obama beats FLOTUS Melania Trump in Most Admired Woman poll
Melania Trump bashed after fans claimed she's smarter than Michelle Obama
Melania Trump accused of plagiarism
Michelle Obama beat first lady Melania Trump as the Most Admired Woman of the Year.
Gallup released the results of their recent poll for the Most Admired Woman of the Year. The ex-FLOTUS topped the survey for the second year in a row.
According to Gallup, it's more common for a former first lady to be named the most admired woman than for a former president to be named most admired man. This is likely true since Michelle has been holding onto the recognition for two years now.
Aside from Barack Obama's wife, six former first ladies held the same recognition. Eleanor Roosevelt (1948-1950 and 1952-1961), Jacqueline Kennedy (1963-1966), Mamie Eisenhower (1969-1970), Betty Ford (1978) and Hillary Clinton (2002-2017).
The current first lady only finished second this year. Making it to the top five were Oprah Winfrey, Hillary Clinton and teen climate change activist Greta Thunberg. The remainder of the top 10 includes British monarch Queen Elizabeth II, House Speaker Nancy Pelosi, Supreme Court Justice Ruth Bader Ginsburg, Massachusetts Sen. Elizabeth Warren, German Chancellor Angela Merkel and former U.S. Ambassador to the United Nations Nikki Haley.
Michelle and Melania are often compared. Just recently, the FLOTUS was criticized after her fans claimed that she is smarter than Michelle.
A snap comparing the two ladies showed that Melania has a higher IQ and more accomplishments than Michelle. A number of Twitter users reacted and slammed the FLOTUS.
"Oh is that why Melania Trump stole Michelle's speech, committed plagiarism, because she's smarter than Michelle Obama?" @Black_Audacity wrote sarcastically.
"Melania has said literally 500 words since becoming FLOTUS, 400 of those were Michelle Obama's And only 250 of those were intelligible," one user wrote.
While many slammed Melania for plagiarism due to the similarities of her speech at the opening day of the Republican National Convention in Cleveland on July 18, 2016 with that of Michelle's remarks at the Democratic National Convention in Denver on Aug. 25, 2008, some believed that she was not to blame for it.
Several online users shared their thoughts on Quora and said that it was Melania's staff's fault because they weren't up to the task. Another called the FLOTUS' staff "lazy and incompetent."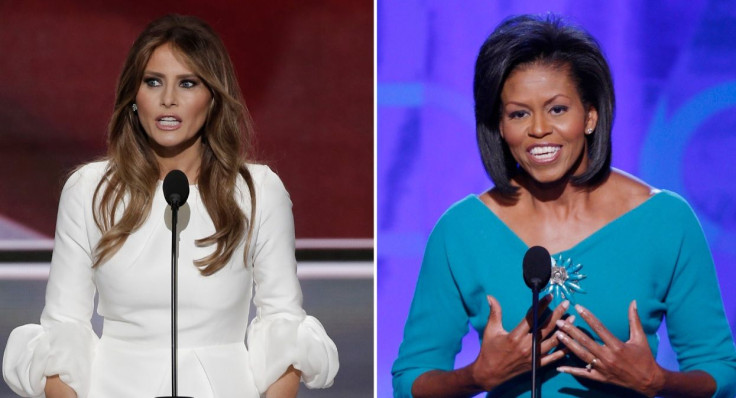 © Copyright IBTimes 2023. All rights reserved.