Michelle Obama Birthday 2017: 10 Most Inspiring Quotes From FLOTUS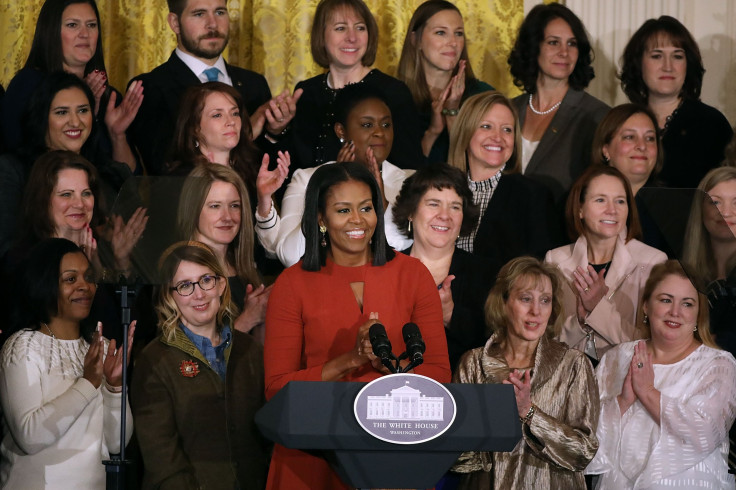 Michelle Obama will celebrate her birthday just days before a new president and first lady take the White House. Tuesday marks the first lady's 53rd birthday, and also marks the eight-year of her husband's presidency.
Mrs. Obama concludes her time as FLOTUS with a number of initiatives under her belt, from health to education. She was not only celebrated for her smart, engaging speeches but also her witty sense of humor. She gave her final public speech as FLOTUS at the beginning of January, bidding the American people farewell.
"Being your first lady has been the greatest honor of my life, and I hope I've made you proud," she said during the remarks for a ceremony for the 2017 School Counselor of the Year.
In celebration of the first lady's birthday, and final week in office, here are 10 of Obama's most memorable quotes from Brainy Quote, Good Reads and from some of her most inspiring speeches.
"Success is only meaningful and enjoyable if it feels like your own."
"For all of the young people in this room and those who are watching, know that this country belongs to you – to all of you, from every background and walk of life. If you or your parents are immigrants, know that you are part of a proud American tradition – the infusion of new cultures, talents and ideas, generation after generation, that has made us the greatest country on earth."
"There are still many causes worth sacrificing for, so much history yet to be made."
"We need to do a better job of putting ourselves higher on our own 'to do' list."
"So don't be afraid. You hear me, young people? Don't be afraid. Be focused. Be determined. Be hopeful. Be Empowered. Empower yourself with a good education. Then get out there and use that education to build a country worthy of your boundless promise. Lead by example with hope; never fear."
"I never cut class. I loved getting A's, I liked being smart. I liked being on time. I thought being smart is cooler than anything in the world."
"You can't make decisions based on fear and the possibility of what might happen."
"My most important title is still "mom-in-chief." My daughters are still the heart of my heart and the center of my world."
"With every word we utter, with every action we take, we know our kids are watching us. We as parents are their most important role models."
"People who are truly strong lift others up. People who are truly powerful bring others together."
© Copyright IBTimes 2023. All rights reserved.