Michelle Obama Talks About Marriage, Why Finding LeBron James Qualities Is Essential
KEY POINTS
Michelle Obama likened marriage to a basketball team
Michelle and Barack Obama have been married for 28 years already
The former first lady said marriage is hard and it requires work
Michelle Obama opened up about marriage and she likened it to a basketball team.
The former first lady spoke with Conan O'Brien in the latest episode of "Michelle Obama Podcast." During their conversation, they talked about the importance of finding partners for marriage and Obama suggested to look for LeBron James qualities in a spouse because marriage is like picking a basketball team.
"Because if you're looking at a team, the people you want to win with, then number one you want everybody on your team to be strong," Obama said as quoted by Entertainment Tonight.
"You don't want any weak links, you don't want somebody that you can dominate, you don't want somebody who's kind of a loser, right. And also, if you're on a team, you've got to be able to do everything, especially in basketball, it's like, you would never pick somebody that says, 'I only dribble. I don't shoot, I don't defend, I just dribble," she continued.
"If we looked at marriage as a real team, you want your teammate to be a winner. You want LeBron, you know?"
O'Brien joked that Obama got him thinking about marrying the NBA superstar. But the ex-FLOTUS reminded him that his wife, Liza Powel, is James' version in his life.
Obama acknowledged that "marriage is hard," so people should ask themselves if they want to spend a lifetime with somebody or if they are willing to build something with someone because it's not easy.
She encouraged the people to master the "basics of finding somebody" by being honest about wanting to date the person or making a commitment.
"There's work and practice that goes into [deciding,] 'I'm going to get off the apps, and I'm going to actually ask this girl out, and I'm going to take her out for a few months. I'm going to invest in this other person,'" Obama explained.
Obama has been married to her husband, Barack, for 28 years already. She's aware that many look up to them as a couple. In a previous interview, she reminded them that "marriage is work."
"Even the best marriages require work," Obama said.
"You don't do it because it's easy. You do it because you believe in it. You believe in the other person."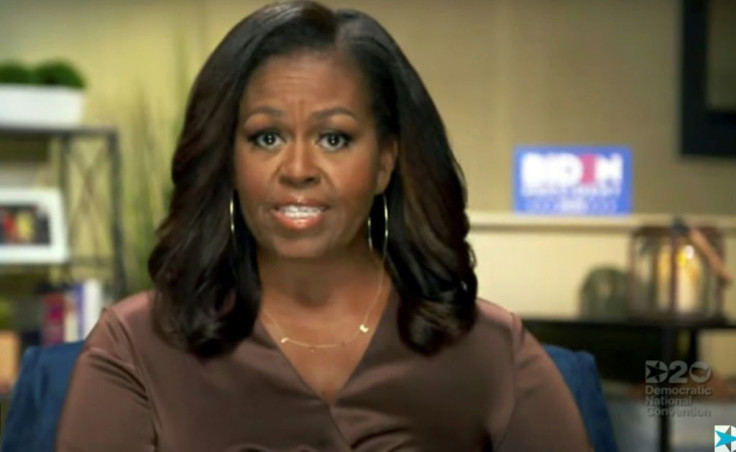 © Copyright IBTimes 2023. All rights reserved.