Michelle Obama's Girl Education Program Not Being Scrapped By Trump Administration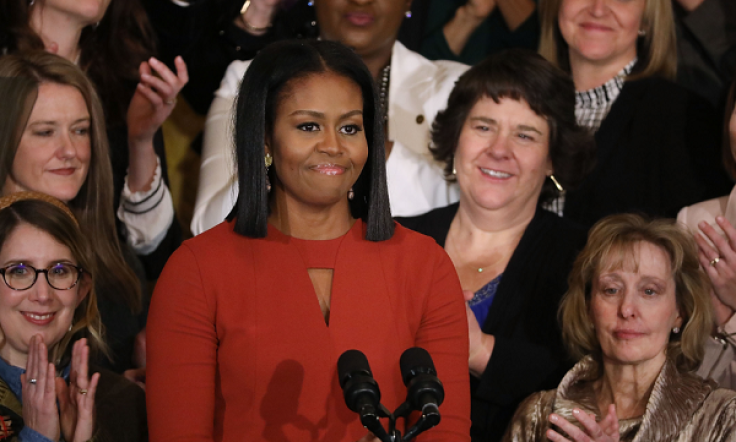 Amid report about former first lady Michelle Obama's signature girls' education initiative, "Let Girls Learn," being scrapped by the administration of President Donald Trump, a White House spokesman clarified Monday the program was not shutting down.
The White House response came hours after CNN reported about an internal document, which it had obtained, suggesting the program started by Michelle and her husband, former President Barack Obama, in 2015, would cease operation immediately.
Read: Barack And Michelle Obama Enjoy French Polynesia With Others Celebs
Sheila Crowley, acting director of the Peace Corps, sent an email to employees this week saying the education program was shutting down. "Moving forward, we will not continue to use the 'Let Girls Learn' brand or maintain a stand-alone program," Crowley wrote in the message obtained by CNN.
The Peace Corps is a volunteer program run by the U.S. government. Its mission is to help people outside the U.S. to understand American culture, and to help Americans understand the culture of other countries, as well as provide technical assistance to train men and women in other countries, according to its website. Education is the Peace Corps' largest program area.
The Obamas introduced the "Let Girls Learn" program after meeting with Malala Yousafzai, the Pakistani teenager who was shot in the head by Taliban gunmen for speaking out in support of girls' education, in 2013 in the Oval Office. As part of the program, federal agencies were directed to put additional resources toward helping girls attend school, the Washington Post reported.
The program was launched March 2015, bringing together the Department of State, the Agency for International Development, the Peace Corps, the Department of Labor, the Department of Agriculture and the Millennium Challenge Corporation, as well as the President's Emergency Fund for AIDS Relief. It aims to address the challenges that prevent adolescent girls from attaining a quality education, which in turn could empower them to perform to their full potential, according to "Let Girls Learn" website.
In her first public appearance since leaving the White House, Michelle Obama said last week she was eager to continue the "Let Girls Learn" program initiative.
"One issue that I am excited about continuing to work on is... to help young girls get an education around the world. The plight of women and girls is real. ... The struggles are real," she reportedly said Thursday at the American Institute of Architects' annual convention in Orlando.
Some other analysts also questioned if Ivanka Trump, who, works toward several women-related issues would let the "Let Girls Learn" program shut down. According to the Post, Carl Sferrazza Anthony, a historian with the National First Ladies' Library, said: "Given that Ivanka Trump and Melania Trump have both, in a general way, spoken about the need for gender equity, especially among young women, it would seem that both or either of them would have a strong interest in ascertaining why this Peace Corps program is being cut, reviewing the process for its possible restoration or, at the very least, creating a venue for private fundraising and funding so that it continues."
Anthony's comments were made before the White House asserted it would continue backing "Let Girls Learn."
Ivanka Trump was also criticized on social media soon after rumors started floating about Trump considering shutting down "Let Girls Learn" program.
© Copyright IBTimes 2023. All rights reserved.