Midwest Storms 2012: Pictures Of 'Horrific' Devastation From Harrisburg To Branson [PHOTOS]
At least 12 people are dead after a series of powerful storms spawned tornadoes that tore through the Midwest on Wednesday, hitting towns from Harrisburg, Ill., to Branson, Mo.
18 tornadoes ripped through six states in the U.S., starting in Kansas and Missouri in the early hours of the morning before sweeping through Tennessee, Nebraska, Indiana, and Kentucky.
The Midwest storms raise fears that 2012 will be another terrible year in weather warnings. Last year, tornadoes claimed the lives of 550 people in the U.S., causing $28.7 billion in damage in striking the states of Mississippi and Alabama particularly hard.
Forecasters, meanwhile, are predicting more tornadoes and other severe storms in the Mid-Atlantic states and parts of the Southeast.
We have a number of strong, severe storms ongoing from the Appalachian Mountains through the Southeast, meteorologist Jared Guyer of the National Weather Service Storm Prediction Center told Reuters.
Tornado watches issued for parts of Mississippi, Alabama, Tennessee, Kentucky, Virginia, West Virginia and Ohio.
The worst damage so far, however, has been in Illinois.
The National Weather Service's Storm Prediction Center rated the tornado that devastated Harrisburg, Ill., an EF-4, only one notch below the strongest tornadoes. The storm brought wind speeds of up to 200 miles per hour, as strong as the tornado that killed 64 people in Tuscaloosa, Ala., in April 2011, and the EF-5 disaster in Joplin, Miss. in May that killed 160 people and cost the ravaged city $3 billion.
Two men and four women died in Harrisburg when a tornado lifted a house up and dropped it on top of other homes in a subdivision near a strip mall. Mayor Eric Gregg described the damage to Harrisburg in the aftermath of the Midwest storms as horrific.
There are hundreds of homes damaged, millions of dollars in damage, Gregg told Reuters. The hospital is severely damaged. There's a mall with 10 stores that was destroyed.
In the resort city of Branson, Mo., meanwhile, an EF-2 tornado with winds of 120 to 130 mph smashed through at least seven miles of the town's commercial strip, injuring 33 people and damaging property just before prime tourist season is about to begin.
Although Mayor Reanne Presley reports that the damage from the Branson tornado is not as bad as in other states, the storm stirred memories of the Joplin tornado.
Melissa Brumfield, who lost her home back in May, was terrified when a thunderstorm of heavy rains, lightening flashes and high winds hit the area near Branson late Tuesday night. "I haven't been to sleep; I was scared to death," she told The Joplin Globe.
I woke up this morning and looked outside and saw houses were destroyed, Branson resident Steven Scharmanzer said of the tornado damage. I've never seen anything like this in the 20 years I've lived here.
Below, see pictures of the devastation in Harrisburg, Ill., Branson, Mo. and the other towns hit by Midwest tornadoes so far this week.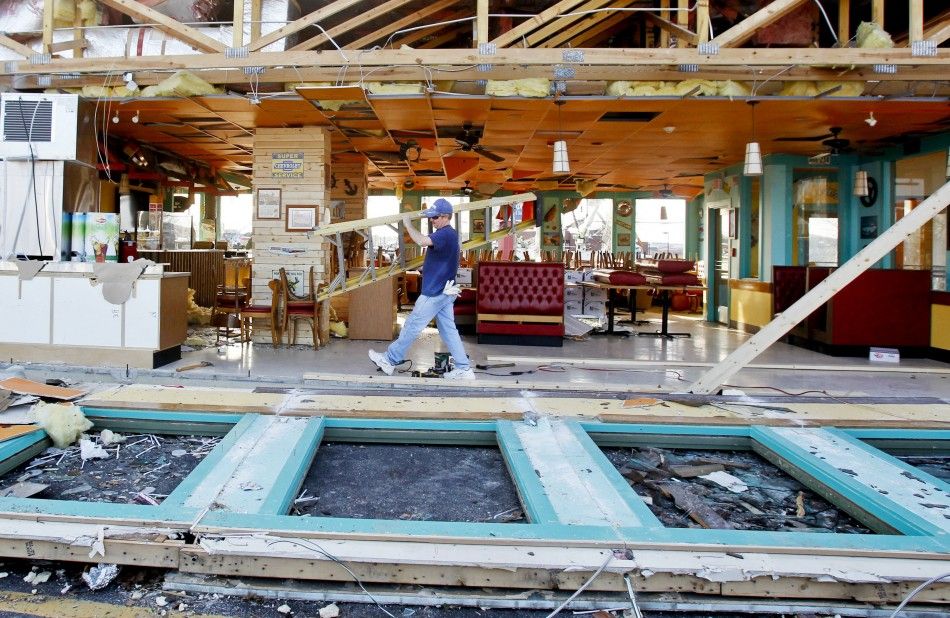 © Copyright IBTimes 2023. All rights reserved.