Missing Argentine Submarine Latest: ARA San Juan Could Not 'Guarantee Watertightness' Beyond Certain Depth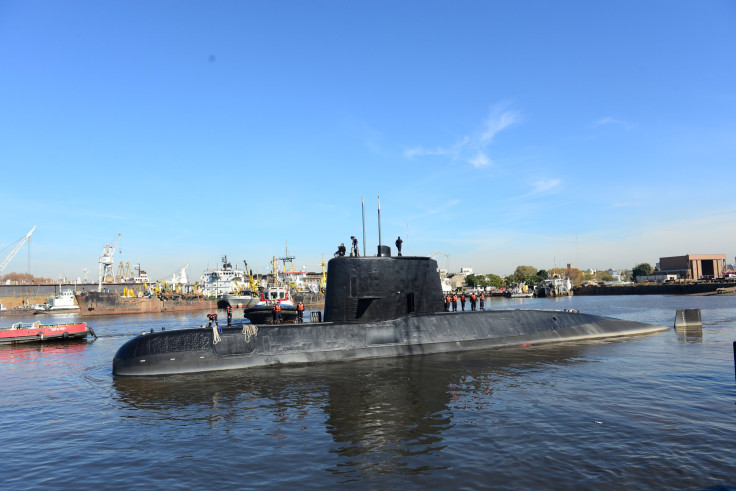 An internal document regarding a missing Argentine submarine revealed that the vessel was "limited" in how deep it could go, according to Argentinian journalist Juan Amorin. The ARA San Juan was "'limited' in its operational depth at 100 meters (328 feet) because at greater depth [it] could not 'guarantee its watertightness'," according to the document.
The submarine and its 44 crew members went missing Nov. 15 off the coast of southern Argentina. A multinational search and rescue mission was launched, though the vessel still had not been found.
The new internal document may be able to shed light on what happened to the ARA San Juan. Officials still had not determined the cause of the submarine's disappearance, though a report released in January by SaveTheRoyalNavy.org said it was likely that all crew on board died from an explosion on the vessel. An acoustic signal was detected the day the submarine disappeared that authorities said was consistent with the sound of an implosion of pressure inside the ship at a depth of 388 meters, or 1,272 feet. The report stated the explosion was equivalent to 5,669 kilograms of TNT which would have destroyed the hull in 40 miliseconds.
"They did not suffer or drown," the report said. "Their death was instantaneous."
The Argentine Navy had not weighed in on the report or confirmed its findings.
While the rescue mission for the crew was officially called off, the search for the submarine continued. Repeated discoveries of potential objects in the ocean raised the hopes of family members of crew on the ship, though none turned out to be the ship. The Argentine navy was working in conjunction with Russian ships and technology to explore the deep sea with submersibles that might detect the submarine's remains.
Meanwhile, accusations of corruption and bribery surrounded the investigation into the submarine's disappearance. Cornelia Schmidt-Liermann, chair of the Foreign Affairs Committee of the Argentine Parliament, told German public radio outlet BR that the batteries replaced on the vessel may have been "partly or not of the quality they should have [been]."
© Copyright IBTimes 2023. All rights reserved.